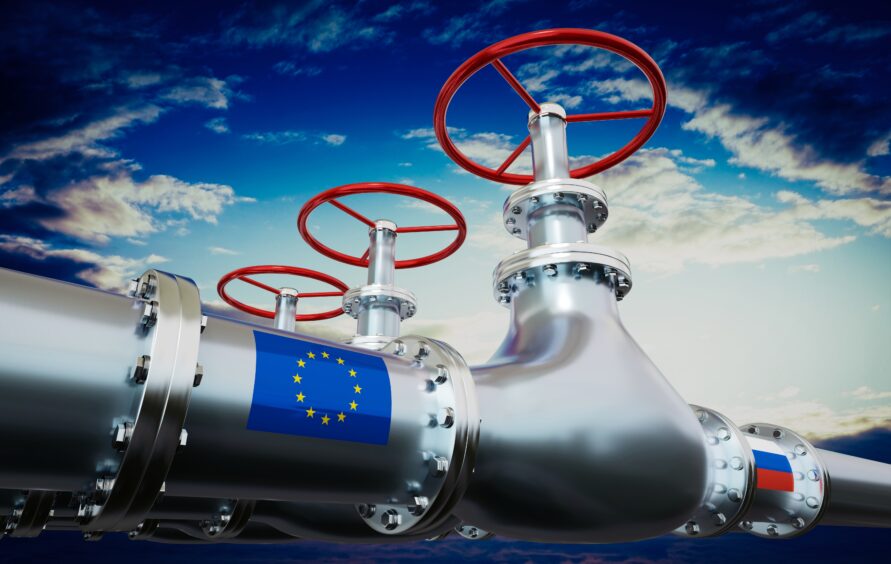 The EU has announced a €210 billion plan to accelerate the shift to net zero while decreasing reliance on Russian gas. Driven by both climate and energy security concerns, the bloc's REPowerEU strategy will see the overall clean energy target increased to 45% by 2030.
Efficiency is finally getting a boost as well, with targets up to 13% from the 9% announced in 2020. Overall, the strategy will provide a strong impetus for the EU Green Deal.
An EU statement said: "The new geopolitical and energy market realities require us to drastically accelerate our clean energy transition and increase Europe's energy independence from unreliable suppliers and volatile fossil fuels… The REPowerEU plan sets out a series of measures to rapidly reduce dependence on Russian fossil fuels and fast forward the green transition, while increasing the resilience of the EU-wide energy system."
In total, the REPowerEU Plan would bring the total renewable energy generation capacities to 1,236 GW by 2030, in comparison to the 1,067 GW by 2030, envisaged under Fit for 55 for 2030.
Investment will be required to reduce EU oil imports from Russia
What's interesting here is that while to EU is planning additional investments of €210 billion to achieve its goals and help phase out Russian fossil fuel imports by 2027, this has been set out against the related import costs which are currently nearly €100 billion a year, making the payback period incredibly short.
Facilities already exist to support the move, as the EU announced plans to use the remaining Recovery and Resilience Facility (RRF) funds, which has €225 billion available currently.
Other funds available to support the move include Cohesion Policy funds, the European Agricultural Fund for Rural Development, the Connecting Europe Facility, the Innovation Fund, and the National and EU funding in support of REPowerEU objectives.
It also suggests that national fiscal measures, private investment and the European Investment Bank help with funding.
Carbon markets will be crucial for funding
One of the more controversial elements of the strategy is the plan to use the carbon markets to part-fund the investment. The EU has suggested that new RRF grants could be funded by the auctioning of Emission Trading System (ETS) allowances, currently held in the Market Stability Reserve, worth €20 billion.
Such an auction will see the release of new emissions and as such, seems to contradict the move towards greening the economy and, unsurprisingly, involved a drop in the price of credits from €92 to €85 per tonne of CO2 within a day.
There are supply-side concerns, as the Market Stability Reserve was intended to be non-discretionary and only used to manage a scarcity of CO2 credits.
While analysts suggest that such a move undercuts trust in the market, Climate Commissioner Frans Timmermans said the move was necessary and that even if the credits were auctioned off, the decrease in available credits would keep overall plans for the EU carbon market on track.
Public support for EU reducing Russian oil and gas dependency
Overall, however, there seems to be strong support in Europe. The EU Flash Eurobarometer survey (April 2022) shows broad support for the EU's actions in the field of energy aimed at getting rid of dependency on Russian fossil fuels.
While 86% of European respondents say that rising energy prices have a significant impact on their purchasing power, there is support for the EU's move.
There is a large consensus on filling up gas storage in the EU to avoid risks of shortage for next winter (86%), on the EU taking measures to increase energy efficiency of buildings, transport and goods (85%), and on the fact that the war in Ukraine makes it more urgent to invest in renewable energies (84%). 90% of Europeans agree measures should be taken at the European level to limit the impact of rising energy prices on consumers and companies.
Renewables fundamental to the EU's net zero target
A significant part of the EU's strategy is an increased focus on renewable energy. As part of the REPowerEU plan, this strategy aims to bring online over 320 GW of solar photovoltaic newly installed by 2025, over twice today's level, and almost 600 GW by 2030.
These frontloaded additional capacities displace the consumption of 9bn cubic metres of natural gas annually by 2027.
There are concerns that the EU will burn more coal (an increase of up to 5%) as it shifts away from Russian case but trade-offs between different policy needs are an ongoing battle at every scale of action, from the international, to domestic, business and individual.
Timmerman said there is no choice but to act, but the EU still plans to meet its commitment of emissions cuts to 55% of 1990 levels by 2030.
Electrification, energy efficiency and uptake of renewables could allow industry to save 35 bcm of natural gas by 2030 beyond the existing Fit for 55 targets.
The largest reductions in gas under consideration, almost 22 bcm, could be made from non-metallic minerals, cement, glass and ceramics, chemicals production and refineries.
Decarbonisation a critical part of the strategy
Hydrogen is also getting a boost, with around 30% of EU primary steel production expected to be decarbonised on the basis of renewable hydrogen by 2030.
The decarbonisation of steel, cement, glass, etc will have a considerable impact on the building environment and construction, industries which are currently under significant decarbonisation pressure.
There is no question that ending the EU's reliance on Russian fossil fuels will require a massive scale-up of renewables as well as faster electrification and replacement of fossil-based heat and fuel in industry, buildings and the transport sector.
While somewhat abrupt, however, the strategy does provide a transition plan which is both meaningful and affordable, especially over the medium term. It will also provide a strong driver for demand for relevant technologies and new approaches.
That not only means opportunities for new business but, as the market grows, wider access and cheaper prices for such approaches. That means those companies looking to renewables and efficiency to address their own emissions profiles should be encouraged for the future.