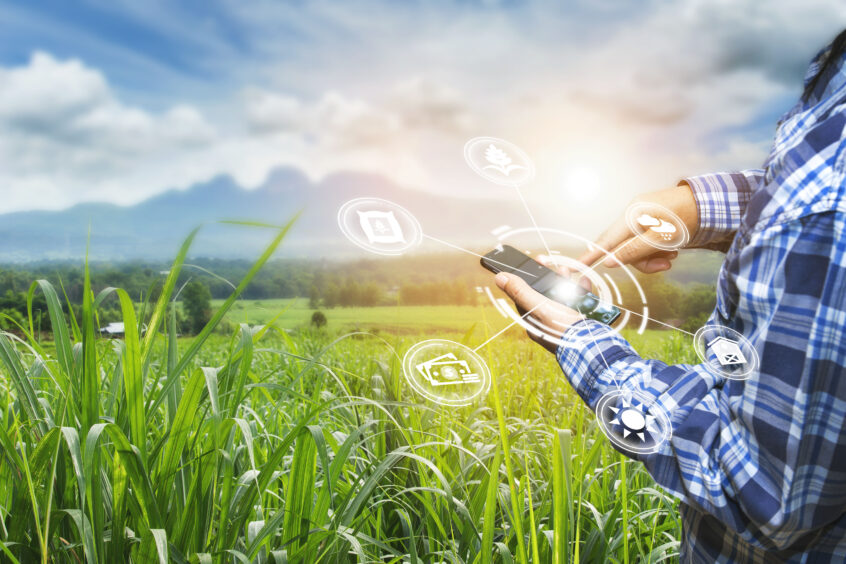 Climate and fintech company Agreena, which operates one of the world's largest soil carbon platforms, today announced its Series B raise of €46 million, to support the expansion of its global carbon farming initiatives, as well as new fintech solutions.
Commodity trading platform Agreena plans to deliver Europe's first soil carbon certification programme, helping farmers deploy effective regenerative farming practices.
Regenerative agriculture provides several ecological benefits and is often financially beneficial in the long run.
Upfront costs and a lack of access to market opportunities, however, have limited its adoption by smaller farmers.
Led by Germany's leading multi-stage investor HV Capital, the round has new investors including impact fund AENU and fintech-focused Anthemis. The equity raise was also supported by a doubling-down from existing shareholders, including evergreen food investor Gullspång Re:food, tech investor Kinnevik and Denmark's Export and Investment fund.
"In order for the world's farmers to transition to regenerative agriculture and create a scalable climate impact, the financial rails to support and pay them for it need to be built," said Simon Haldrup, co-founder and chief executive of Agreena. "Agreena is building out technological and financial services infrastructure throughout the agriculture value chain as the industry increasingly becomes a focal point for decarbonisation efforts."
The funding comes one year after the company's €20 million Series A. Since then, Agreena has scaled its activities by ten times, expanded its geographic footprint to cover farmland in 16 European countries, and partnered with farms to help them transition more than 600,000 hectares towards climate-positive, regenerative farming.
Agreena was originally founded with seed investment from Danish farmers and agricultural families. The company's next phase will introduce a vertically integrated platform and marketplace. Working first with farmers in the field to monitor their carbon impact, Agreena will issue certificates constructed into scalable portfolios for corporates, tailored to their unique ESG strategy.
Why agriculture matters for climate and sustainability goals
Today's food and agricultural system accounts for more than 30% of global greenhouse gas emissions. At the same time, the sector is extremely vulnerable to the increasing impacts of extreme weather, biodiversity loss and water scarcity. The agriculture sector is said to be dependent on nature to the tune of $2.5 trillion and is increasingly at risk from climate change, making its transformation a necessary part of achieving climate goals.
This is not simply because of the role of soil as a store for CO2, but because agricultural business practices can have a negative impact on water health, food supply and the food system overall.
Croplands cover around 10% of the Earth's surface, meaning changes in the ways that it is managed could have a dramatic impact on emissions. Such interventions range from types of crops grown, use of fertilisers and irrigation, changes to tilling, the integration of livestock on farmland etc. In fact, the Sustainable Markets Initiative's Agribusiness Taskforce recommends that at least 40% of global cropland should be transitioned to regenerative farming methods by 2030, an increase of 15% from today's figure. 
Researchers have estimated that soils, predominantly agricultural soils, could store over a billion tonnes more CO2 every year. Momentum around regenerative farming is sweeping the globe, with corporates, governments and supply chains turning their focus to agricultural soils for carbon removals in order to meet global net zero targets.
There is compelling, quantitative evidence to suggest that regenerative agriculture may be the solution. Through regenerative practices such as no-till farming, permaculture design or crop rotation, farmers can achieve increased yields while reducing soil erosion, improving water retention, increasing carbon sequestration capacity and supporting local biodiversity. 
Through the adoption of regenerative agriculture practices, farmers will play an increasingly essential role in tackling climate change, food insecurity, and other critical environmental issues. If regenerative agriculture is to be scaled to the desired level, that means we need to ensure that it is an economically viable option for individual farmers.  Agreena has developed a way to turn farmer's impact into a new and additional revenue stream for farmers to help finance the transition by leveraging the carbon market.
There is growing appetite amongst a range of companies looking towards regenerative farming as a carbon solution. Food companies including PepsiCo (NASDEQ:PEP), Mondelez (NASDQ:MDLZ) and McDonald's (NYSE:MCD) published a report in 2022 on the need for an expansion of regenerative farming, while fashion companies such as H&M (STO:HMB) and Inditex (BME:ITX) have committed to purchasing more sustainable fibres. 
What does Agreena's platform do?
Through the company's digital platform, farmers can plan, track and validate improvements for their regenerative journey, in the transition from emitting CO2 to drawing CO2 down and storing it within their soils.
The improved soil health and biodiversity reduce the need for inputs while enhancing farmers' resilience to increasingly adverse climate conditions, such as drought or flooding, enhancing the overall operational performance of farms.
On the other side of the equation, Agreena's certificates and downstream services support climate-focused companies already working to decarbonise, as well as companies in the food supply chain increasingly requiring field-level traceability of their agricultural commodities to comply with Scope 3 reporting requirements.
Scaling with technology
The acquisition of remote sensing company Hummingbird Technologies has enabled Agreena to expand its offering beyond farmers to encompass agridata services for supply chain players, governments and other institutions.
Prioritising a science-based and technology-first agenda, Agreena's platform now includes an AI-based monitoring and verification solution that uses satellite imagery, coupled with ground-truth data and machine learning to identify and report on-farm regenerative agriculture practices. By providing global monitoring, the company says it "is on a mission to take the lead in supporting the road to net zero for the full value chain".
"Real climate impact is only created at scale and Agreena is perfectly positioned to distribute their carbon farming capabilities across the globe to bring high-quality, verifiable and nature-based carbon credits to the market. Only with carbon removals, can net zero targets be met," said Alexander Joel-Carbonell, partner at HV Capital.
The company says it is providing the technological rails for the growing market with innovative financial solutions. Examples include using sustainable blockchain technology for enhanced traceability and transparency of carbon credits, and e-money and smart contracts to facilitate payment exchanges between climate-conscious corporates and farmers with immediate reconciliation at scale.
"We are on a journey to remove the economic barriers to adoption of regenerative agriculture for farmers and their entire ecosystem – carbon is just the beginning," concluded Haldrup.