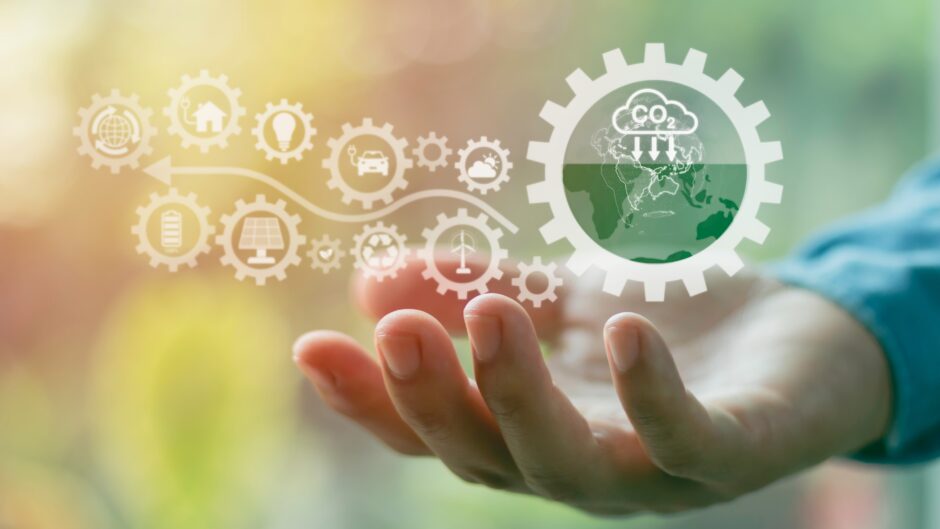 Gold Standard, environmental impact platform Milkywire and new arts charity Murmur have announced a collaboration on establishing guidance, tools and infrastructure for 'beyond value chain mitigation' (BVCM).
Addressing emissions beyond the value chain is becoming a core pillar of corporate climate action to fairly and credibly take responsibility for ongoing emissions.
Concerns about the credibility of carbon neutrality or net zero claims are causing problems in the market

–

often parts of a business are ignored.
Refocusing corporate approaches to collaborative actions that address both climate and nature challenges is the next step in credible corporate action.
This BVCM programme will provide operational principles, processes, and guidelines for companies to follow in order to make credible and transparent contributions to global net zero, beyond purchasing carbon credits. These public guidelines will help companies understand how to measure the long-term results of action – refocusing action towards public goods rather than individual action.
In support of these aims, these tools will also be available to project and portfolio proponents seeking to provide credible climate action through this source of finance. This will include those in the carbon markets as well as funds. Murmur, a soon-to-be-launched charity, and Milkywire, a platform which runs a climate transformation fund, will help drive project identification and selection.
Owen Hewlett, chief technical officer at Gold Standard, said: "Currently, there is no comprehensive guidance available to help companies apply a BVCM strategy in a high-integrity manner, nor to those seeking to develop high quality climate mitigation to serve them. Our collaboration will provide guidance and standardisation for companies to become credible contributors to global net zero."
Why does 'beyond value chain mitigation' matter?
Leading companies are already transitioning away from the former approach of merely offsetting emissions and proclaiming carbon neutrality. According to Net Zero Tracker, over 90% of global GDP is committed to net zero according to the headlines – yet the world is still on track for a 2.7 degree temperature increase. There is growing concern that the focus on net zero targets is distracting companies from actually implementing the actions required to remove emissions.
Author Holly Jean Buck has argued that the framework of net zero and its concentration on emissions divert public and policy attention from the fundamental task of ending the use of fossil fuels, which would ensure effective and lasting climate change mitigation.
The Intergovernmental Panel on Climate Change (IPCC) physical science report released in 2021 made clear that the decade to 2030 will be critically decisive in tackling climate change. As things stand today in terms of policy, finance and behaviour, the chances of achieving the overall Paris Agreement goals remain uncomfortably low.
According to the IPCC, the remaining 'carbon budget' for a 50% chance of limiting warming to 1.5˚C is only 500 GT CO2. That budget is reduced to 400 Gt if we want a two-in-three chance of achieving the 1.5˚C goal.
Steve Rogzenweig of General Mills (NYSE:GIS) highlights the usefulness of regenerative agriculture models as being less rigid than the climate goals, enabling interaction between global goals and local impact. For landscape investors such as agricultural giants which need to generate multiple outcomes, the approach is seen as transformational.
Following the science
In 2021, the Science-Based Targets initiative (SBTi) released its Corporate Net-Zero Standard, which outlines how corporates should set science-based net zero targets – such targets are seen as 'science-based' if they align with what the latest climate science identifies as the necessary measures to limit global warming to 1.5˚C.
It sets out clear abatement (i.e. value chain emission reduction) requirements, clarifying that most companies are expected to align their near-term emissions reductions with 1.5°C and make reductions of at least 90% through long-term science-based targets to reach net-zero before 2050. But, in line with the mitigation hierarchy, SBTi also strongly recommends that companies contribute to societal net zero: thinking beyond their own value chains when decarbonising.
This has meant a focus on what the SBTi calls 'no regrets' actions. These have centred around two key approaches: securing and enhancing carbon sinks, and scaling up permanent GHG removals. Research shows that, on current trends, natural ecosystems can provide 30% of the mitigation needed by 2030 to stay on track for 1.5°C.
Is the polluter pays fit for purpose?
One of the key principles of climate action has been the idea that the responsibility for paying for mitigation should lie on the shoulders of those that created them. Today however questions are being raised as to the extent to which this is the most useful and practical approach. In November 2022 the Carbon Gap launched its report, Bridging the Ambition Gap, which explored the concept of responsibility being allocated through the idea of profit per tonne.
According to the analysis, 85% of corporate profits come from companies with less than 15% of emissions and the suggestion is that high profit companies (with low internal needs for costly transition investments) such as banking, insurance and technology, should contribute more to climate action.
As the report says: "The ability to pay for external climate projects is dependent both on corporate profits per ton emitted, and the internal investment needs a company has to reduce their own emissions. This ability to pay differs wildly between industries, and is highest among low emitters, illustrating the limitations of relying on the polluter pays principle when looking at how to finance carbon removal."
As Hewlett points out, the use of profit per tonne as a mechanism for driving funds for climate action offers the potential of driving a body of capital that can focus on investment needs that sit outside any particular value chain. By setting an internal cost of carbon that directs capital towards such investment, companies could provide a funding source for truly public goods.
What will the collaboration create?
The consortium will create guidance, closely aligned with the SBTi, around:
commitments that companies should make before engaging with BVCM;
appropriate costing approaches such as adopting an internal carbon fee;
categories of activity a company could invest in to achieve climate impact;
criteria for investment as well as how companies might measure impact from BVCM contributions; and
what they might claim from using a BVCM strategy.
The focus on creating a detailed guide for operationalizing BVCM aims to complement and build upon the work of the SBTi which is currently preparing high-level guidance on BVCM.
Gold Standard will lead the consortium and coordinate the activities of the parties. Milkywire and Murmur will provide expertise and support as needed and will participate in the development and testing of operational principles, processes, and guidelines. The consortium also intends to engage with additional partners and stakeholders, such as external expert groups, which can support the development and implementation of the BVCM pillar of corporate action.