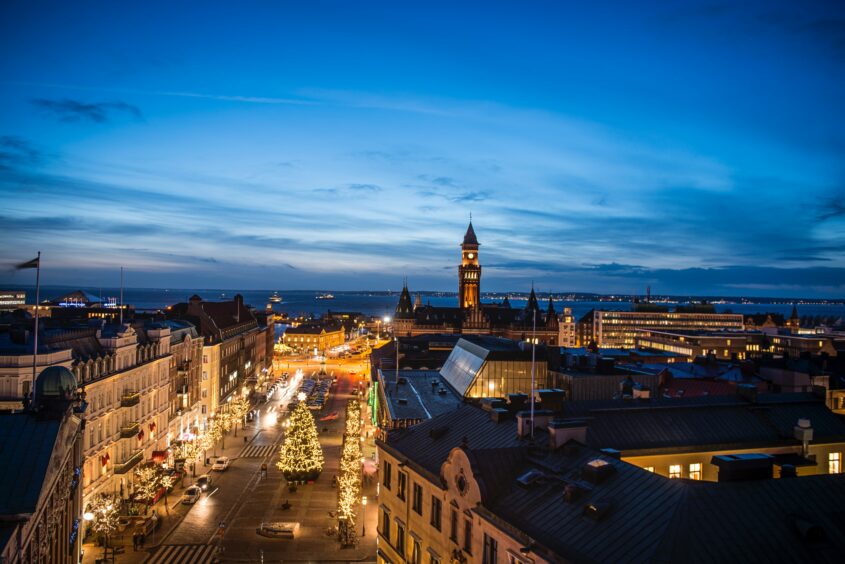 Swedish climate tech start-up ClimateView has announced a €14 million funding round, led by European investors, to revolutionise cities' climate investment planning through the development of its ClimateOS. While financing green infrastructure will play a critical role in achieving net zero, accessing the financial markets has proven a challenge.
Cities account for around 70% of global emissions and are expected to be home to nearly 70% of the world's population by 2050.
Urban temperatures are increasing and driving more need for cooling, pushing up energy demand and affecting livability.
The World Bank has estimated that only 7-10% of funds required for green infrastructure are reaching cities (€355 billion out of an annual funding requirement of €4.1-5 trillion).
In the global pursuit of net-zero emissions, cities play a vital role, accounting for over 70% of CO2 emissions. The World Bank, however, reports an annual funding requirement of €4.1-5 trillion for green urban infrastructure, while only €355 billion currently reaches cities.
According to Tomer Shalit, founder & chief visionary officer, ClimateView however: "Cities face enormous struggles in getting to net zero. A city climate strategis has  limited resources, yet needs stakeholder alignment, and is navigating through vast amounts of data and opinions."
ClimateView provides a technology platform that enables cities to design, manage and track their net zero action plans, and its latest funding will be used to develop ClimateView's climate finance platform and to further support cities in their climate investment planning needs. Its approach supports cities in making data-driven decisions based on the costs and co-benefits of the transition.
Challenges for cities in green finance
A major barrier to scaling funding is a lack of available data and analyses from cities. The Cities Climate Finance Research Alliance recently released a report highlighting how much work there is to do in facilitating investment flows for cities, especially in terms of regulatory obstacles, differing standards, and silos between institutions. These challenges hinder the climate transition but one of the most difficult obstacles to overcome is access to appropriate finance.
While both public and private funding exists – most notably as part of the EU's programme 100 Climate-neutral and Smart Cities – cities often struggle to access available funds because financiers need to understand the economic costs and benefits of plans and proposed policies before committing funds. Most cities today rely on qualitative information, while financiers and investors need quantitative data.
Paul Morgenthaler at CommerzVentures said: "Cities face an unprecedented investment challenge with a tight timeline. How can they secure the support of top-notch investors? The key lies in the accountable use of resources. When raising green financial instruments, it is crucial to report on the environmental and financial aspects, showing the effective allocation of funds."
ClimateView is developing its 'Impact Intelligence' platform which, the company says, allows cities to easily measure and quantify these necessary impacts in useful ways, and therefore create Climate Investment Plans for financiers to buy into.
The resulting Climate Investment Plans (CIPs) can be used to apply for public grants or to create city climate bonds to raise private financing. Morgenthaler added: "With ClimateView, we tap into existing data to drive transparency and maximise impact."
What sort of data is used to drive data for CIPs and how?
More than 30 cities including metropoles like Madrid, Dortmund, Cincinnati and Nottingham are already using ClimateView, and the sort of data they use includes health care and fuel savings, pollution reduction, and lower city expenses are the result of shifting from car to bike. Apart from the 115g of CO2 that is saved per kilometre, cities get quantifiable, social and economic co-benefits.
Shalit explains that the Impact Intelligence methodology underpinning ClimateView's approach focuses on measuring impact by looking at specific indicators that can be measured. He says: "in other words: we are inferring impact, based on specific indicators, that can be directly measured, and shows if we are going in the right direction earlier. These indicators include things like how often buses come, the presence of green spaces, and whether bus stops are well-lit at night. "
"When these aspects of a city change, it becomes easier for people to change their behaviour. So, we can measure the impact by tracking things like how many people switch from driving cars to riding bikes for their daily commutes or how many homes undergo energy renovations. These changes in behaviour lead to new impacts that have a direct impact on climate change, such as reducing emissions, lowering noise levels, decreasing occurrences of respiratory diseases, and promoting physical movement and better health."
Understanding Impact Intelligence
Shalit says: "In the past, cities have relied on action tracking as a measure of project success, and national data releases to assess impact. To monitor and report on the completion of projects is good, but not that insightful. While it provides an idea of progress, it falls short in revealing the true impact of these actions. It also rarely has evidence to what worked, or what went wrong. Without insight into the things happening between action and impact, we miss the opportunity to course-correct."
The platform brings together all stakeholders and their data in one place, making it easier for them to analyse the interconnections. They get the big picture, and can explore the relationships between emissions, actions, and economics, and make data-driven decisions.
Shalit adds: "Climate Action Plans are a central component of cities' net zero efforts. By digitizing these plans, there are great benefits in terms of breaking silos, building institutional capacity and memory, and inviting citizens to see the journey to net zero."
Investors in the future of city finance
The investment round was led by France's 2050 with 115K (the VC fund of La Banque Postale), Sandwater, Polar Structure and existing investors CommerzVentures, NordicNinja, SEB Greentech VC and Norrsken VC. Three financial institutions and an infrastructure investor in the round highlight the importance of ClimateView's technology in bridging the city climate finance gap.
2050 sees ClimateView's platform ClimateOS as the key to creating interoperability between a complex set of frameworks and regulations imposed on cities. Marie Ekeland, Founder of 2050 said: "We are halfway to 2030, yet cities are missing nine out of every 10 dollars needed for their transition. ClimateView has an incredible opportunity to scale its impact globally, helping cities unlock the funding they need. We are excited to support them again to drive innovation in this critical area."
With its first investment outside of France, 115k – the VC fund of La Banque Postale, connected to many local governments in France, recognizes the need for cities to have better data to raise funds. "Through our investment in ClimateView, we actively support cities in taking impactful climate action." said Laure de Buyer, Investment Manager at 115K – the VC fund of La Banque Postale. "The company simplifies cost-benefit analysis, forecasting and financial reporting for cities, enabling them to forge stronger partnerships with banks and financial institutions to identify and invest in local and long-term projects.