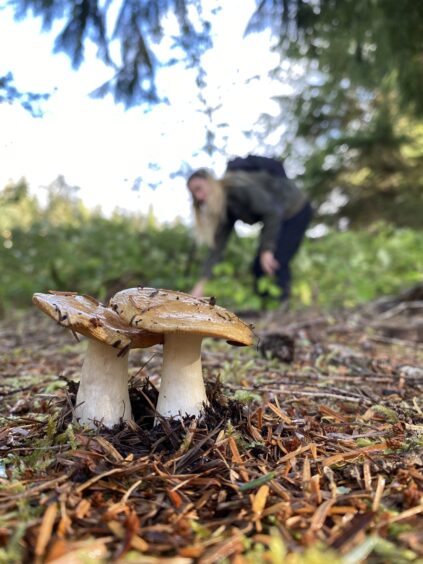 Edinburgh-based biotech startup Rhizocore Technologies has raised £3.5 million to revitalise forest restoration through fungal networks.
The company has raised £3.5 million from ReGen Ventures, Collaborative Fund and Grok Ventures to deploy its fungal pellets.
These pellets support mycorrhizal funghi networks –  its estimated that around 90% of all plant species depend on these to survive.
Studies have shown that trees share water and nutrients through mycelium networks. Supporting their health and growth offers a unique approach to forest restoration and regeneration.
The conservation and responsible use of forests are essential for maintaining the health of ecosystems, safeguarding the many species that live within them and protecting a forests ability to effectively capture carbon. Up to 15 billion trees are cut down every year across the globe. Although new trees are frequently planted, up to 80% will not survive.
Founded in 2021 by chief executive Toby Parkes and chief mycologist David Satori, the company has developed a first-of-its-kind fungal pellet, which supports a vital underground nutrient exchange between trees and fungi known as the Wood-Wide Web.
This is the system through which trees pass and receive water, carbon, sugar, and other valuable nutrients, a sharing of resources particularly beneficial for the growth of young trees By supporting the development of these networks, the company helps to transform the growth of new forests and the regeneration of those that already exist.
Rhizocore's approach to the restoration of underground fungal networks offers a new and sustainable solution to accelerating woodland regeneration, improving forest productivity and increasing the potential for carbon capture. The company has plans to scale its operations over the next two and half years, with the aim of planting up to 5 million trees with accompanying fungal pellets in 2025 alone.
Launching at scale is now imperative to creating the necessary impact, and the £3.5 million in backing is described by the company as "an investment in the fungal kingdom that has the potential to increase the restoration of biodiversity in ecosystems around the world."
Toby Parkes, Rhizocore's chief executive added: "To receive such global backing really is a validation of our product's potential to restore ecosystems around the world – but it's also a recognition of the transformative power that fungi hold, as the crucial foundation of the planet's ecosystems. This is a radical approach to tackle climate change that we're developing at Rhizocore, and with the support from our investors, we will be able to sequester gigatons of carbon to protect the future of the Earth for generations to come."
Contributing to forest regeneration
Forestry management is a crucial aspect of preserving and promoting biodiversity.  Rhizocore uses locally-adapted mycorrhizal fungi in its pellets, in a way that's designed to enhance tree planting success – enhancing the growth, resilience, and carbon sequestration potential of newly planted forests and woodlands. It helps to ensure that new saplings flourish, build resilience to drought, and overcome the mortality rates so often seen across the forestry industry.
It does this by building the connections between mycorrhizal fungi, drastically reducing newly planted tree mortality rates driven by a lack of soil connectivity. The company also says that the use of its pellets improves growth rates by 20% and helps trees manage more effectively in periods of drought.
Understanding the role of mycelium
There is a rapidly accelerating global call to protect ecosystems, and while biodiversity and nature as a whole are part of the conversation, less attention has been paid to soil health. One of the most fundamental building blocks of soil is the fungal network and mycelium and mycorrhizal networks transfer water, nutrients, and information between trees.
Its destruction accelerates climate change, biodiversity loss, and interrupts global nutrient cycles.  Yet healthy fungal networks can decrease leaching of nutrients in the soil by 50%, as well as contribute up to 80% of a plant's phosphorus supply.
The mycorrhizal network fungus connect trees through tiny threads called mycelium. Fungi mycelium, or fungal networks, have been subject of fascination in many different ways with ecologists even questioning whether they may act as a rudimentary form of communication between trees and plants. Even the size of fungal networks is difficult to comprehend – globally the total length of fungal mycelium in the top ten centimetres of soil has been estimated to be more than 450 quadrillion kilometres – or around half the width of the Milky Way.
Essentially, however, they underpin the health of soil ecosystems and therefore tree health, growth and carbon sequestration potential. Deforestation and chemical pesticides can all severely damage and disrupt mycorrhizal networks but Rhizocore's pellets can help to regenerate them.
Nature based solutions and forestry
Globally, approximately 75% of the terrestrial carbon has been estimated to be stored in soil, which is up to is three times more than the amount stored in living plants and animals. That means that improving the health of soil, and the relationship between fungal networks or mycelium and forests can play a major role in increasing carbon sequestration.
In fact, 2019 research from Serita Frey at the University of New Hampshire suggests that 5 billion tons of carbon dioxide flow into fungal networks each year, equal to more than half of all energy-related CO2 emissions in 2021. Scientists are now revising this estimate, which some believe could be three times this amount (or around 17 billion tons), when all types of fungal networks are included.
All this makes Rhizocore a potential contributor to the growth of nature-based solutions in the global carbon markets.
Who is backing the company?
The recent seed-round funding was led by ReGen Ventures, Collaborative Fund and Grok Ventures. Their investment will allow Rhizocore to expand its 10 person team and develop the infrastructure needed to rapidly scale its solutions.
"Rhizocore's mycorrhizal solutions are really exciting. Toby and David have pioneered a breakthrough approach that can accelerate reforestation while moving the needle for traditional forestry companies  —  both critical means to addressing a vast and unresolved issue in climate change,"said Guy Vidra, Partner at Collaborative Fund explained.
With this support, Rhizocore also joins ReGen Ventures' investment portfolio of global regenerative technology companies that are supporting planetary scale regeneration. Founder and managing partner Dan Fitzgerald said: "What Rhizocore has built is incredibly powerful. We're excited to support David, Toby and the team to build their networks of fungal diversity that can be deployed across the world".
It's a backing that Grok Ventures believes will be critical to scaling global nature-based carbon sequestration. Principal, Sam Tidswell said of their collaboration, "We love what Rhizocore do – harnessing the power of fungi to help their customers maintain natural capital ecosystems better, improving their bottom line and drawing down more carbon."
SGV Take
Rhizocore's innovation highlights the numerous options available for the delivery of nature-based solutions. While the planting of trees has long been the dominant form of nature-based investment, allowing companies to claim their carbon neutrality or demonstrate their support of sustainable initiatives, the rising awareness of deeper nuance is gradually eroding its credibility.
Issues surrounding biodiversity, social equity and the permanence or additionality of carbon sequestration have fostered distrust in the carbon markets, but the need for the solutions they offer continues to rise.
The emergence of novel solutions with a demonstrable scientific backing could help companies to differentiate their approach to nature's protection while learning more about the meaningful impact that their investment will truly deliver. As such, companies like Rhizocore may find that their solutions are particularly high in demand.