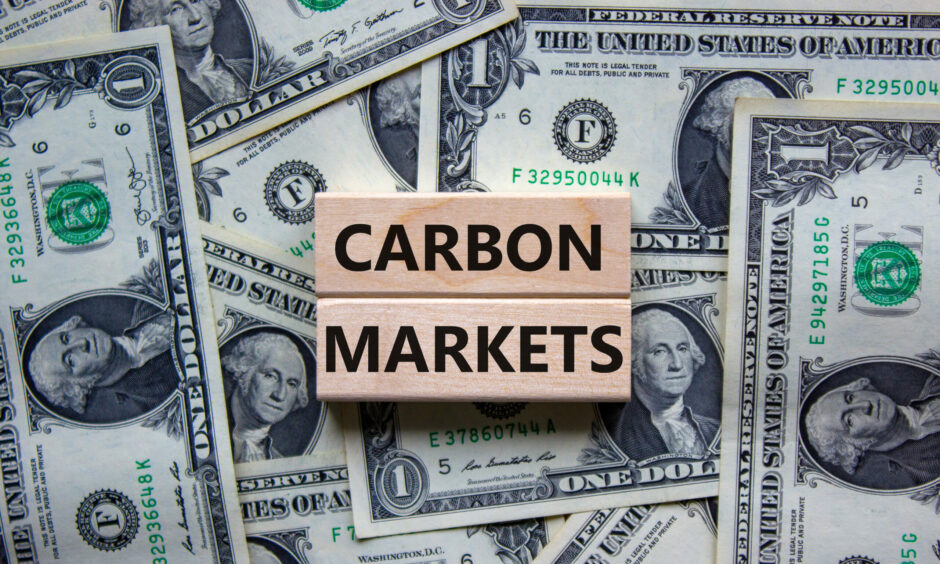 London-based vetted carbon removal marketplace Supercritical announced it has raised $13m in Series A funding, led by Lightspeed Venture Partners.
Supercritical raised $13 million in a Series A led by Lightspeed and included backers from RTP Global, Greencode Ventures, MMC Ventures and others.
Today's carbon removal market is only at 0.01% of the capacity the IPCC says will be needed by 2050.
Supercritical plans to use the funding to scale up – the IPPC has estimated that 1300x more CDR from new technologies may be required to hit net zero targets, twice as much as from trees and soil.
As countries and companies set out their net zero strategies, most if not all are reliant on carbon offsets, especially in hard to abate sectors. Supercritical's marketplace allows corporations to purchase fully qualified carbon removal credits, as set out in the industry standard Science Based Targets initiative (SBTi), that allow them to reach net zero. It is already responsible for 35% of corporate carbon removal purchases and counts two of the world's top 20 CDR buyers among its customers.
Co-founder and CEO Michelle You, said: "Carbon removal – in parallel with aggressive decarbonization – is required to stay below 1.5C of warming and avoid the worst effects of climate change. As the only marketplace exclusively focusing on high quality carbon removal, it's our mission to act as a trusted partner to businesses serious about net zero."
Credits available for purchase include those generated from projects using engineered solutions such as biochar, direct air capture (DAC) and enhanced weathering in addition to nature-based solutions such as afforestation. All CDR projects on the marketplace must pass through Supercritical's vetting process, with only 6% making the cut.
The company says that it's committed to accelerating the urgent scaling of carbon removal technologies by aggregating business demand and innovating with new purchase models. It plans to use the funding to grow its team, expand its product offering, and acquire additional customers.
You says: "Legacy third party certifiers for conventional offsets have been failing the market. They are slow to keep pace with the rapid innovation happening in carbon removal and take too long to onboard new removal methodologies. And they have consistently certified credits that have had no climate impact. In the absence of a third party certifier we can trust, we plug the gaps ourselves as we believe trust and integrity is critical to getting carbon removal to scale."
The rise of carbon removal credits
Although corporate climate commitments are now commonplace, too many focus on carbon avoidance offsets, which many find difficult to understand due to the complexity of methodological approaches and ever-changing understanding of the scientific basis for estimating carbon. This complexity and volatility have undermined trust in the voluntary carbon markets, driven by concerns about integrity in calculation and measurement.
You says: "This is largely because 95% of the carbon markets are for emissions avoidance offsets—paying others not to emit a tonne of CO2, which is based on a hypothetical baseline scenario of what would have happened if the carbon credit were not purchased, e.g. how many trees would have been cut down. This incentivizes offset projects to inflate this baseline scenario to create more carbon credits."
That being the case carbon removal (CDR) offsets can be considered the only offsets that count towards net zero, actually taking carbon out of the atmosphere and storing it away permanently. The Intergovernmental Panel on Climate Change (IPCC) found that to keep global average temperature rises below 1.5C, carbon removal solutions will be essential. But the industry faces a massive scaling challenge in the years ahead: across the whole of 2022, around 600,000 tonnes of CDR were purchased, less than 0.01% of the 10 gigatonnes the IPCC says will need to be available annually by 2050.
Yet almost all current CDR comes from conventional removal methods on land (2 GtCO2 per year), primarily via planting trees and managing soils which can be affected significantly by climate change itself. Nearly all net zero pathways however require significant amounts of novel CO2 removals. According to the latest IPCC modelling, no single CDR method has the capacity to reach the 10 gigatonne annual scale required by 2050 in order to stay below 1.5C of warming, s a patchwork of various removal methods to add up to 10 gigatonne capacity is needed.
According to the first State of Carbon Dioxide Removal report, closing the CDR gap will require rapid growth of these new CDR technologies, by a factor of 1,300 on average by 2050. And, You adds: "Supercritical is the only marketplace that exclusively focuses on carbon removal rather than avoidance offsets."
Scaling the carbon removals market
To date, the Supercritical market has been responsible for more than 39,000 tonnes of carbon removed and You says the company intends to play a core role in the rapid scaling of the CDR market. It plans to use the funding to "accelerate its aggregation of business demand for cutting edge CDR technologies and innovating with new purchase models to fast track market scaling."
Supercritical works with some of the most ambitious businesses when it comes to carbon commitments, including leading business banking platform Tide, who working with Supercritical, this year became the first fintech to remove 100% of their emissions; and leading algorithmic trading firm XTX Markets who, in partnership with Supercritical, have become one of the top 10 purchasers of CDR globally. Other notable customers include Veriff, Multiverse and IMC.
Aggregating demand
A common criticism of carbon removal is how supply constrained and small it is. But the only way for carbon removal to scale to the gigatonne capacity humanity requires to stay below 1.5C and survive is for early demand to support suppliers in scaling. You says: "Every single company in the world will be required to buy permanent carbon removal to reach net zero, this is a non-negotiable component of reaching net zero according to leading industry standards like the Science Based Targets initiative."
But for there to be enough supply for corporates to buy millions of tonnes of permanent carbon removal,  ambitious and forward thinking companies need to send demand signals to CDR suppliers to provide certainty that there is demand and revenue for their credits.  You explains: "New purchase models like long-term offtake agreements enable suppliers to scale. The pre-purchase commitment to buying carbon removal credits upon delivery in the future enables suppliers to take this contractually guaranteed revenue to their project financers and access the financing they need to build their facility."
She adds: "We recently facilitated an offtake agreement for Carbo Culture, a biochar company, enabling the pre-purchase of 7,500 tonnes of biochar removal offsets over a three year period. The guaranteed revenue from this deal has allowed Carbo Culture to access funding that will support the development of C1, its first-of-a-kind facility that uses patented Carbolysis technology to convert carbon-containing biomass into an ultra-stable material called biochar at a commercial scale for the first time. "
By aggregating demand from corporate buyers, Supercritical is acting as a market maker, helping CDR projects scale. It is also spearheading innovative new purchase agreements to jump-start accelerated CDR capacity growth.
Supercritical's 'vetted' carbon removals
You says that the vetting process so important because the lack of quality in the voluntary carbon markets has prevented it from scaling. She says: "Despite these offsets being certified by third parties like Verra and Gold Standard, study after study have debunked them as greenwash. In the absence of a third party certifier we can trust, we do an additional layer of vetting to ensure trust in our marketplace."
Every carbon removal offset project offered in Supercritical's portfolio is vetted by a rigorous 8-point process, with fewer than 6% making the cut. You says: "We look at everything from the full lifecycle analysis of the project to ensure that the carbon removal credit is truly net negative of the project's emissions. We have a team of climate scientists that has created methodology to vet each removal pathway.
"For example, enhanced rock weathering mineralizes CO2 into crushed up rock whereas biochar uses waste biomass and converts it via pyrolisis into a stable substance so the CO2 is stored. Each method requires a different set of diligence questions. We also do commercial diligence on the viability of the project to ensure they can deliver carbon removal and have a path to scale.'
The path to acceptance is not straightforward
As offset buyers increasingly require carbon credits to have verified emissions reduction impact, additionality and permanence, carbon removal would seem like a natural fit. In fact, the IPCC has said that the use of carbon removal is "unavoidable" to offset hard-to-abate emissions and achieve net zero.
Yet CDR is not included in the EU-ETS, it's not part of Paris Agreement's Article 6 arrangements, and recently an UNFCCC committee came out and said that CDRs should not be included in the global carbon markets under the Paris Agreement, on the grounds that the relevant technologies were 'unproven' and questioned both the technical and economic viability of the sector.
You said: "The most recent Article 6 news feels like it contradicts the UNFCCC's own stated mission of scaling carbon removal to 3.5 billion tonnes by 2030 and the IPCC's own report of needing to scale carbon removal to 10 billion tonnes annually by 2050 in order to stay below 1.5C of warming. Climate science requires us to scale engineered carbon removal responsibly and we simply don't have the choice to ignore it and rely on nature based solutions. We don't have enough land on the planet to sequester 10 gigatonnes of CO2 annually by 2050 without severely competing for resources against food production.
She continued: "Of course engineered CDR is technologically and economically unproven, that was the founding story of absolutely every single technology in widespread use today. Instead of squashing its potential, the UN should be actively involved in shepherding these technologies to scale in a responsible way as we require that to happen to get to net zero emissions and stay below 1.5C of warming… instead of unhelpfully stating engineered CDR is not fit for carbon markets, the UN should be asking how we can make it so. Because we have no choice not to."
SG Take
While CDR may be in the early stages, it is a rapidly growing market and there is an increasing amount of technical expertise and capital being funnelled towards the sector. Given that it provides a means of removing CO2 from the atmosphere on a 'permanent' basis, and one that is not subject to change as the climate changes, it seems as if this is a sector destined for rapid growth.