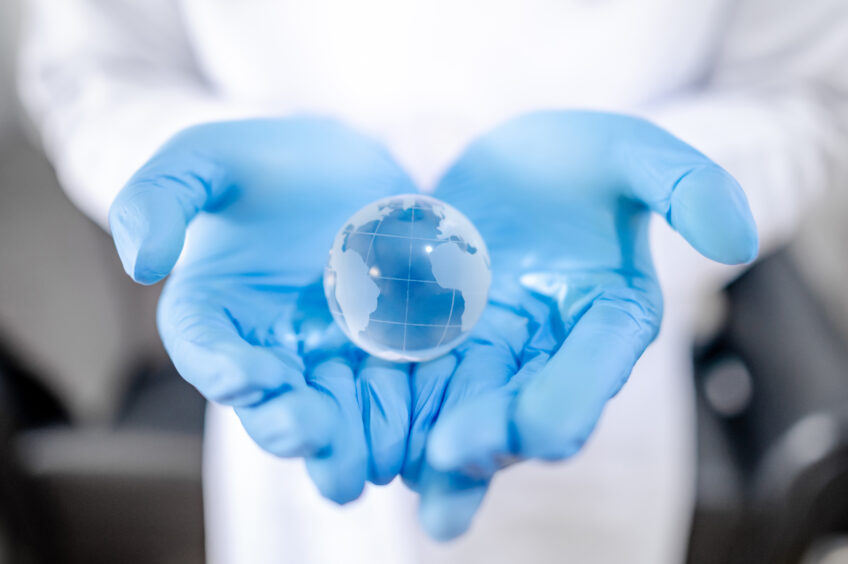 Global healthcare business Bupa is backing a cohort of start-ups working at the interface between climate change and human health in its eco-Disruptive programme. They will receive financial backing and commercial support from Bupa as the company focuses on the link between the environment and health.
Environment and health are clearly linked – one in ten deaths in the EU is linked to pollution, and the extreme weather driven by climate change is exacerbating risk.
97% of the EU's population was exposed to fine particulate matter – an air pollution problem greater than CO2 in the short term.
Addressing climate and environmental challenges is going to play a critical in future-proofing the healthcare industry moving forward.
Alongside Bupa's ongoing drive to achieve its net zero target by 2040, global chief executive Iñaki Ereño said the initiative showed that "by working with disruptive and promising start-ups, corporates can accelerate the transition that we urgently need. The eco-Disruptive programme also provides an opportunity for Bupa colleagues to learn agile ways of working from start-ups, and engages all of Bupa's workforce on delivering its sustainability agenda."
The initiative will culminate in an inaugural event in London in July 2023, where start-ups will have the opportunity to showcase their novel approaches to reducing emissions to potential investors and Bupa colleagues, as well as collaborate with like-minded entrepreneurs.
The 18 finalists have been selected by Bupa employees across the world in a competition where they picked their preferred businesses from more than 1,000 hopefuls based on their positive impact to both healthcare and the environment.
Colleagues made their selection from innovative start-ups based in countries including the UK, Spain, Hong Kong and Australia. The 18 finalists each receive £25,000 (or local currency equivalent) to develop a minimum viable product and the winner receives £200,000 (or local currency equivalent) to help develop their product further. In addition, squads of Bupa colleagues join forces with the start-ups to brainstorm development ideas and further opportunities.
Companies from the 2022 shortlist are already working with Bupa
Ereño said: "As a provider of healthcare services to millions of people across the world, we recognise the link between the environment and human health. We know that we cannot solve these global challenges on our own, so we are joining forces with others to make a difference." Examples from the 2022 shortlist include:
SageTech Medical, which has created a process to capture and recycle waste anaesthetic gases. These volatile gases are highly damaging to the environment and significantly contribute to the total carbon footprint of healthcare
Upcycled Medical, which manufactures personal protective equipment such as medical scrubs, gowns and workwear from waste plastic collected from the sea and landfill
Cassava Bags, which has created a 100% natural biodegradable alternative to plastic bags made from the roots of cassava that can dissolve in boiling water in minutes
The link between environment and health
Heath and well-being, which are goals under SDG 3, may seem at first glance to be impossible to address. Such a goal covers everything from universal health coverage to cutting road traffic accidents and substance abuse, the costs of medicines and patent protections by country and brings up huge questions like personal choice, responsibility and freedoms, preventing problems versus treating them. But health matters for the economy – morbidity and mortality rates show us how many working days are lost to ill-health – and are closely related to the environment.
According to the European Environment Agency (EEA): "Environmental risks are estimated to cause over 18% of cardiovascular disease-related deaths in Europe." At the same time the increase in the volume of dangerous chemicals dumped int0 local systems was 230 million tonnes in 2022, up 4% from 2018.
Climate change is exacerbating the weather hazards that people face, from droughts, floods and storms. The knock-one effect is likely to the most impactful however, as such extreme weather affects water suppliers, food insecurity and more.
While such questions may seem to be the purview of states, the scale of disasters does seem to be on the increase and companies are increasingly being asked to take responsibility for their part in the damage being caused, and attempts to ameliorate them. That seems to be the thinking behind Bupa's eco-Disruptive approach. Health, just like any other sector is set to be disrupted by transition and smart companies are getting ahead of the curve.
Nigel Sullivan, Chief Sustainability & People Officer at Bupa has said: "As a global healthcare company, we understand the relationship between our health and the health of the planet, from the way in which people's health can be affected by the environment to the impact that the healthcare sector has on the environment and climate."