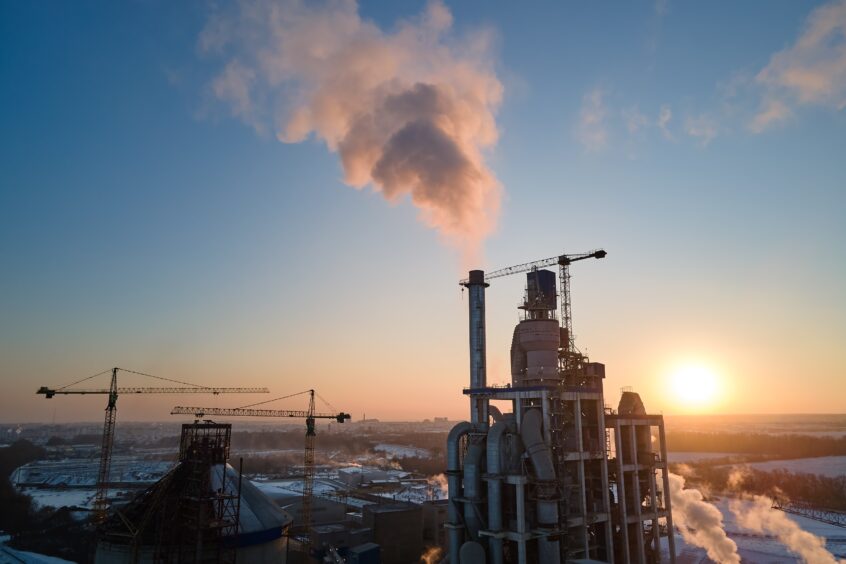 Canada's CarbonCure Technologies, a specialist in carbon dioxide removal technologies for the concrete industry, has announced a major investment led by Blue Earth Capital, as part of a broader collaborative investment round totalling more than $80 million.
CarbonCure has raised $80 million to develop a roadmap and drive growth for its carbon sequestering concrete into new markets.
Cement, a required component of concrete, is responsible for an estimated 7% of the world's carbon dioxide emissions.
The built environment is in the throes of significant change and the use of low carbon concrete could be transformative in supply chain emissions management.
The investment will enable CarbonCure to accelerate toward its mission to reduce and remove millions of metric tons of carbon dioxide emissions from the atmosphere each year.
Already operating in 30 countries, this funding will support CarbonCure in achieving its growth plans and accelerating its product roadmap, allowing its hardware and software platform to deliver commercial value and sustainability benefits to concrete producers while meeting global climate goals.
Driving growth at CarbonCure
The new funding also includes strong and substantial support from existing shareholders, including Breakthrough Energy Ventures, Taronga Ventures, Amazon's Climate Pledge Fund, Microsoft Climate Innovation Fund and 2150. New strategic investors include BH3 Growth Equity (BH3) and Samsung Ventures (Corporate VC fund backed by Samsung C&T).
In addition to their financial backing, these firms are force multipliers of sustainability and innovation, with direct involvement in new product development and acting as market demand catalysts.
Robert Niven, Chair and CEO of CarbonCure Technologies said: "This latest investment underscores the growing appetite across the public and private sectors for proven solutions and the most impactful strategies to advance industrial decarbonization and accelerate carbon removal pathways that are immediate, permanent and verifiable."
"Our solutions help concrete producers deliver high quality, lower carbon concrete in an efficient, economical and non-disruptive way," add Niven. "With more than 750 systems sold, this latest investment will drive CarbonCure's deployment across the global concrete industry as the private sector doubles down on sustainability in new construction and as federal, state and even municipal procurement policies requiring green building materials continue to multiply."
To date, CarbonCure's technologies have already been used to produce nearly five million truckloads carrying more than 37 million cubic yards (28 million cubic meters) of lower carbon concrete, saving about 290,000 metric tons of carbon dioxide, the equivalent to taking more than 64,000 gas-powered cars off the road for a year.
Using concrete for CO2 emissions removal
In February 2023 the company announced the first successful storage of CO2 in concrete. In April 2023, the company announced the launch of its own verified carbon units. It's based on the idea that it ensures the permanent storage of carbon dioxide in concrete, with the advantages of concrete's global scale, active deployment and massive storage capacity, utilizing CO2 as a value-added product rather than simply burying it underground as waste.
Immediately upon injection into concrete by CarbonCure, CO2 chemically converts into a mineral and becomes permanently removed from the atmosphere. Short-lived carbon storage, on the other hand, involves methods that have a higher risk of being reversed over decades, such as reforestation. CarbonCure's mineralization of CO2 in concrete also boosts compressive strength, enabling reductions of carbon-intensive cement from each mix and reducing hard-to-abate emissions in the global concrete industry.
VCUs registered by Verra meet carbon market integrity standards established by trusted quality assurance organizations, including the Carbon Offsetting and Reduction Scheme for International Aviation (CORSIA).
Why is carbon sequestration in concrete so important?
The latest update to the United Nations' Intergovernmental Panel on Climate Change (IPCC), the Sixth Assessment Report Climate Change 2022: Mitigation of Climate Change included research calling carbon dioxide removal and carbon capture, use and storage as crucial climate solutions alongside the adoption of renewable energy and other decarbonisation strategies.
Even the most aggressive emissions reduction projections from the IPCC will require the removal of 6-10 billion tons of CO2 per year by 2050 to stick to a 1.5˚C warming pathway. According to the International Energy Agency, in 2021 only 36 billion tonnes were removed. New technologies such as the one offered by CarbonCure is going to be in increasingly high demand if it can be delivered at scale.
Perhaps the most important issue however is buildings, as the supply chain involved in delivering the built environment is under increasing pressure to address emissions. With global building stock expected to double by 2060 – the equivalent of building another New York City every month – addressing embodied carbon will play a central role.
Embodied carbon refers to the emissions associated with the materials and processes involved in the development of the built environment. Buildings already accounted for 30% of global energy consumption in 2021. In turn, buildings then account for 27% of total greenhouse gas (GHG) emissions from the energy sector. When factoring in the 6% carbon footprint of the cement, steel and aluminium used in building construction, the sector's total contribution to global GHG emissions rises to almost a third of total energy and process-related emissions. Concrete that stores carbon presents an important opportunity to store immense quantities of carbon dioxide in our built environment.
SGV Take
This deal is important because it highlights the growing demand for low carbon concrete, and the incredible challenge in the decarbonisation of the built environment.