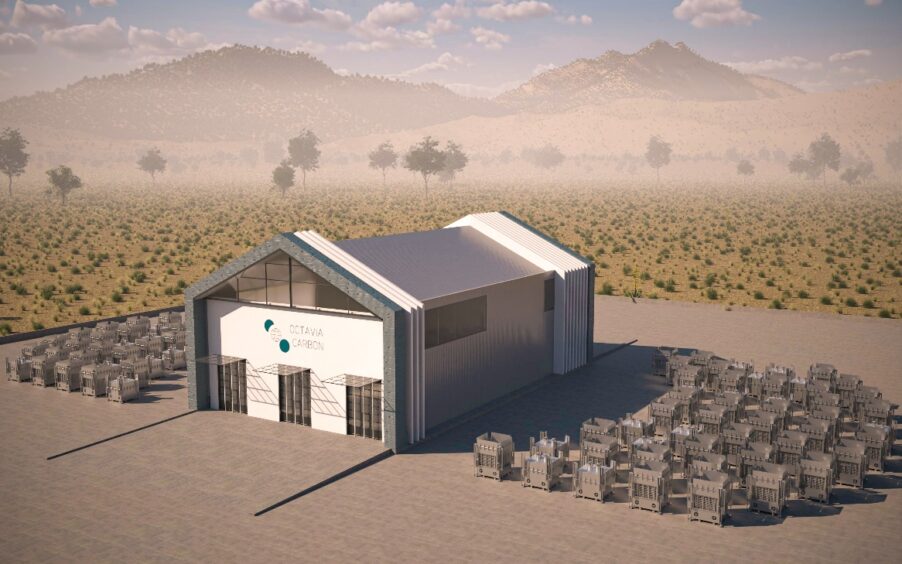 Octavia Carbon has commissioned Africa and the Global South's first direct air capture (DAC) and storage plant. The facility will remove carbon dioxide directly from the atmosphere and store the waste material permanently underground in the Kenyan Great Rift Valley.
Africa's first DAC CCS plant will be built in Kenya, with operations due to start in October 2024, fully powered by renewable geothermal energy. 
The project will remove 1000 metric tonnes of CO2 annually  – or 1 kilotonne (1KT) from the atmosphere through storage partner Cella, making it one of the world's largest

DAC

 and storage plants.
The project is being developed under Puro.earth's ICROA-endorsed Standard for Geologically Stored Carbon, with carbon credits to be issued into the Puro Registry.
Octavia Carbon, the Global South's first direct air capture (DAC) company, has agreed with Cella Mineral Storage, a carbon mineralisation company, to build a pilot DAC facility at Cella's storage plant. Operations for what is being called 'Project Hummingbird' are due to begin in October 2024, with plans to sell carbon credits certified by leading carbon removal platform Puro.earth.
Martin Freimüller, Octavia Carbon founder & chief executive, said: "Our mission is to position Kenya as a climate change vanguard by making Octavia Carbon a leading force in reversing climate change and ending the fossil fuel age. Through this first-of-its-kind facility and planned extensions, we aim to work alongside partners Cella Mineral Storage and Puro.earth to lead the charge on developing African climate tech innovation."
The DAC and storage facility will be located in Naivasha along the Great Rift Valley. It will leverage Kenya's abundant geothermal renewable energy to capture CO2 from the atmosphere and store around 1 kiloton, or 1,000 tons, of CO2 per year underground through CO2 mineralization partner, Cella.
CO2 removal through rock weathering
Cella accelerates the natural process of rock weathering by injecting CO2 directly into volcanic rocks in the East African Rift, which has an estimated minimum storage potential of ~400 gigatons of CO2.
Rock weathering, a natural component of the Earth's carbon cycle, is how most of the atmospheric carbon dioxide has been removed throughout natural history. It occurs when rainwater, made slightly acidic by the CO2 in the atmosphere, reacts with exposed silicate rocks exposed on the planet's surface. This turns the atmospheric CO2 into bicarbonate, which gradually runs into waterways where it is permanently sequestered as solid limestone.
The plant will apply strict monitoring, reporting and verification (MRV) criteria, working under carbon removal platform Puro.earth's ICROA-endorsed Standard for Geologically Stored Carbon. Octavia Carbon is expected to become the world's first DAC company operating in an emerging market to be certified under an ICROA-endorsed methodology.
While commercial credits will sell from 2024, pre-order is available now
Project Hummingbird is expected to begin generating commercial carbon credits in October 2024 under the Puro Standard, which uses science-based laboratory testing and third-party auditing to verify all CO2 Removal Certificates (CORCs) for authenticity and long-term durability.
Credits are now available for pre-purchase through carbon credit marketplace partner Cloverly, which will be delivered over the next 10 years.  Jason Rubottom, chief executive of Cloverly said, "Scaling climate action relies on participation from all over the world.  Through partnerships like these, we connect organisations looking to invest in carbon removal with high-integrity projects.  DAC, in particular, plays a critical role in removing existing carbon from the atmosphere and thus represents an exciting addition to the Cloverly Marketplace."
Many carbon removal technologies are in the early stages and have associated high prices. Groups of corporations are coming together now though, as for example in the Carbon Removal Alliance (CRA), to pre-purchase credits from the DAC sector in order to grow the market as rapidly as possible.
According to the Intergovernmental Panel on Climate Change, if the world is to hit its climate targets, billion-tonne scale CDR is now "unavoidable". This will require trillions of dollars in investment to scale CDR solutions at speed, spanning both nature-based solutions such as afforestation and engineered solutions such as DAC.
Building up the DAC industry in Africa
Given Kenya's geology and abundant geothermal energy, it provides a great opportunity to to build out DAC. Freimüller said: "Our aim is to make Kenya the world's cost-effective hub to build and deploy DAC machines by 2025."
Kenya is increasingly focused on green growth opportunities, and is looking for around $16 billion to implement its Green Economy Strategy and Implementation Plan by 2030. According to local reports a Green Bank is in development through the National Treasury and Economic Planning department, and May 2023 saw agreement of World Bank support for around $1 billion in budget assistance.
New green and climate technologies, combined with a young and skilled population makes Kenya a natural home for climate tech development and deployment. Overall this particular project is expected to create over 100 highly skilled jobs and help drive Kenyan green growth.
Antti Vihavainen, chief executive of Puro.earth, added: "This project will mark the beginning of a new industry for trusted carbon removals in Kenya. We are pleased to be involved in this landmark development, helping ensure that the Kenyan engineered CO2 removal industry is built with integrity and credibility from the start. "
SGV Take
The majority of carbon offsets today come from avoidance or reduction, rather than removals and the market for removals itself has been dominated by forestry and nature-based solutions. There is clearly a role for technological solutions but it is critical to ensure that any energy demand is met by renewable energy. Kenya's expansive geothermal power sources and useful geology make it appear a natural home for DAC.
The fact that this is the first project in the Global South also addresses the challenge of climate justice – the fact that Kenya, like many other African nations, will face severe impacts of climate change without having contributed to its acceleration. By building new plants and technologies in the region, funds can flow to those that the situation affects most deeply.