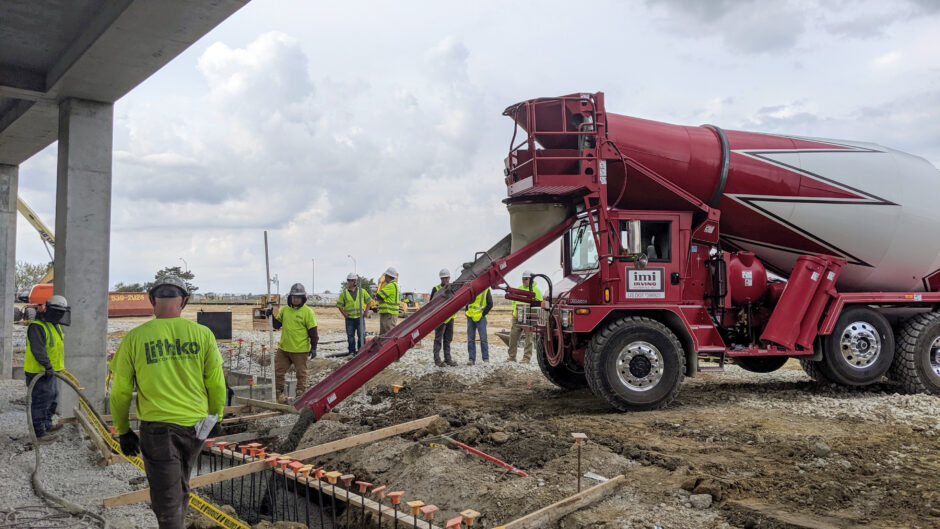 Researchers at Imperial College London have been awarded £986,176.28 in funding to develop a carbon negative cement additive.
Cement accounts for 7-8% of global emissions and must be decarbonised to reach net zero, but estimates suggest demand will rise 50% by 2050.
The cement industry is projected to grow at 3.3% over the next couple of years alone, increasing by almost 1 billion tonnes by 2026 – at a range of 600-900kg CO2 per tonne.
Changes to the process of making cement process could transform the construction industry and its emissions profile.
The project was funded as part of an £80 million government funding programme to help UK businesses address emissions, itself part of a £1 billion investment plan, the Net Zero Innovation Portfolio.
Lord Callanan, Minister for Energy Efficiency and Green Finance, added: "Britain has a long and proud history of pushing the boundaries in science – and our backing with over £80 million for these cutting-edge projects today will help make way for the next era of innovation. The transition away from fossil fuels presents a huge opportunity for our growing green energy sector and we will continue to make sure UK business can benefits from its full potential."
Sustainable materials in concrete
Imperial researchers are designing more sustainable building materials that are capable of capturing carbon. Their project transforms magnesium silicate minerals such as olivine, which are naturally abundant, into a supplementary cementitious material (SCM) – these are materials used as a partial replacement of Portland cement in order to make concrete mixtures more economical, reduce permeability, increase strength, or influence other concrete properties.
What makes the process particularly interesting that is that in doing so, they simultaneously capture CO2 in a form that can be used in a range of sustainable construction products.
The new process breaks down olivine into its constituent components – magnesia and silica. Since it is almost chemically identical to existing SCMs, the new material could be readily implemented within existing building codes, according to the researchers, and should produce concretes with the desirable strength and durability.
New CO2 capture process
Following the process of creating the SCM, there is magnesium left over. The remaining magnesia could be used to permanently sequester CO2, resulting in magnesium carbonate. This mineral is extremely stable, offering long term carbon storage with no danger of leakage. Other materials such as blocks could be made from the magnesium carbonate, allowing permanent CO2 storage within the built environment.
The government funding will be used to further develop and optimise the silica SCM and magnesium carbonate construction products, subjecting them to comprehensive testing regimes.
Professor Chris Cheeseman, of Imperial's Department of Civil and Environmental Engineering at Imperial, said: "The carbon footprint of cement is currently huge, so combining the production of a cement replacement material with carbon capture is a really innovative approach that has massive potential to decarbonise cement, concrete and therefore construction."
Imperial's cement project
The project, led byCheeseman, tackles one of the construction industry's most acute business challenges: how to make concrete a more sustainable building material. Alongside fellow inventor Professor Hong Wong, they have founded Seratech Limited. This is an Imperial startup under formation to commercialise this technology with the goal to make an impact with the production of the carbon neutral concrete and support the decarbonisation strategy of the construction industry.
Concrete is the world's second most consumed resource after water, and is widely used for commercial, industrial and domestic construction projects. The binding ingredient in concrete is Portland cement, which accounts for 8% of all global CO2 emissions. This makes developing more sustainable alternatives is a key priority.
As a 'hard to abate' sector, there is a general sense that concrete will prove difficult to decarbonise. June 2023 saw the launch of the Alliance for Low-Carbon Cement & Concrete (ALCCC), which argues that is a myth and is targeting the widespread use of low carbon concrete by 2040. Seratech joins UK consortia like Cement 2 Zero in addressing the need to decarbonise Portland cement.
Mature approaches to mitigation include clinker substitution, and to a lesser extent, carbon capture, although both face their own unique challenges. Clinker substitution involves the use of increasing amounts of SCM in place of clinker. These cements are already produced at scale by companies such as Ecocem, and can significantly reduce the emissions, depending on the rate of substitution. But the success of such businesses is, to an extent, dependent on available SCMs.
There is a great deal of interest in the SCM market. Innovators are increasingly raising funds to scale the use of alternative supplementary cementitious materials. Terra CO2 raised $46 million in June 2022 to accelerate the commercialisation of Terra's OPUS cementitious materials made from a variety of local feedstocks and waste products.
Meanwhile, Carbon Upcycling is piloting technology which will use its carbon utilization process to activate post-consumer coloured glass fines, sequestering CO2 emissions and producing high-performance SCMs.
SGV Take
Obviously any approach to the decarbonisation of concrete and cement is going to be significant, as it remains a fundamental material in the rapidly growing demand for buildings. At the same time, its positive to see the UK Government address the need for funding for new technologies.
Overall the Net Zero Innovation Portfolio, winners of which were announced in June at London Climate Week, remain predominantly large companies looking to cut emissions through electrification of ovens, or CCUS in manufacturing. Kellogs and Proctor and Gamble were provided with finance, as was Burton's Foods..  Its exciting to see such an interesting innovation with high potential impact get some funding.