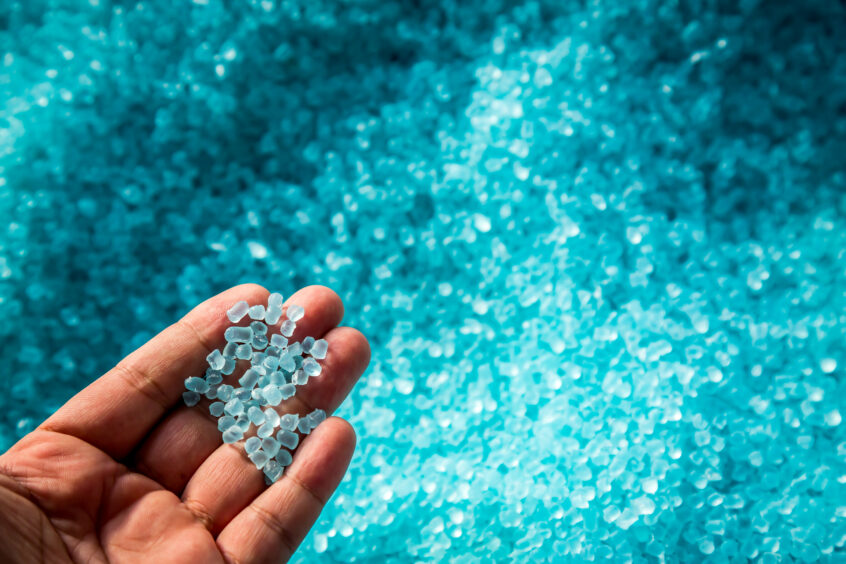 UK-based Matter has raised a $10 million Series A to develop its microplastic filtration technology, which can be used for capturing, harvesting and recycling microplastics from wastewater.
The new funding offers the potential for sustainable laundry, as each home wash is estimated to release 700,000 pieces of microplastics. 
Up to 171 trillion pieces of microplastics are believed to be within the oceans and global water system, affecting human health as well as the environment.
Major plastic companies could be exposed to $20-100 billion in liabilities and litigation costs if they do not act soon to reduce their environmental impact.
The round was led by S2G Ventures, the direct investment team for Builders Vision, and SOUNDWaves, the sustainability-focused investment vehicle backed by Ashton Kutcher and Guy Oseary. Kate Danaher of S2G Ventures and Katherine Keating of SOUNDWaves will both join Matter's expanded board of directors.
Additional investment came from Leonardo Dicaprio-backed Consumer ClimateTech fund Regeneration.VC, and Katapult Ocean, which has made a significant follow-on investment via its new Deep Blue Fund since co-leading the seed investment round, along with a small number of strategic investors.
Why do microplastics matter?
Microplastics are tiny plastic particles less than five millimetres in size and are produced through the production and use of our clothing and textiles. For each laundry cycle, up to 700,000 microplastic fibres are released from washing machines and into waterways.
It has been estimated that there are approximately 50-75 trillion pieces of plastic currently in the ocean, with eight million pieces of plastic (11 million tonnes) thought to enter the ocean every single day. There are estimated to be up to 171 trillion microplastic particles as well. Microplastics have been found everywhere from the Amazon to the Arctic and 2022 saw them found within the human bloodstream.
Plastics play a harmful role, both in terms of their negative impact on the environment themselves, and in terms of their creation from fossil fuels. Growing research suggests that microplastics are harmful to the environment, as well as human and animal health. The situation continues to worsen every day: in just 30 years it is believed that fish in the ocean will be outnumbered by pieces of plastic.
"Matter's vision is to live in a world without micropollutants. We are dedicated to building the necessary tools, techniques, and scalable solutions to drive this transformation," said Adam Root, founder and chief executive of Matter.
"We knew from the start that as a small company intent on tackling this global problem, we'd need to work with partners who have the scale, vision and resources to help us deliver our technology as quickly and effectively as possible. The combined support and expertise of our investors enables us to accelerate our work, moving beyond laundry into industrial-scale applications of our technology, and drive globally meaningful reductions in micropollutant emissions with confidence and speed."
Moving from laboratory to commercialisation
One of the company's products connects to ordinary washing machines and filters out the microplastics from everyday laundry. There can be as many as 700,000 microplastic fibres from an individual washing cycle that are then let into the water network.
Matter is working with domestic and commercial laundry appliance manufacturers to integrate its technology into their products ahead of incoming French legislation requiring new domestic and commercial washing machines to be fitted with microfibre filters by January 2025.
The company said that it is also partnering with textile brands and manufacturers to help them better understand and prevent pollution from microfibre fragmentation in the textile manufacturing process. The company is exploring ways in which the retained microplastics could potentially be recycled for other uses.
"As established partners of Matter, we've been impressed by the relentless determination and speed at which they've been able to develop innovative solutions and demonstrate an instant impact on the industry," said Kate Danaher, managing director at S2G Ventures. "Continued investment in solutions like the ones Matter provides are critical, if not essential, to ensuring the long-term health of our oceans, and subsequently, the overall health of our planet."
SGV Take
While Matter is not the first to be working on a microplastics filtration technology, the backing of such high-profile investors will play an important role in raising its profile. There are significant risks to both human health and the environment from microplastics, and it is a challenge that will have to be addressed upstream, through manufacturing and downstream.
With a Global Plastics Treaty expected to be enacted imminently, business as usual will no longer be an option and there is growing liability concern, with major plastic companies potentially being exposed to $20-100 billion in liabilities and litigation costs. The commercialisation of such filtration technology could provide a breathing space for many textile manufacturers and fashion brands to retool and rework their operational processes and impacts.