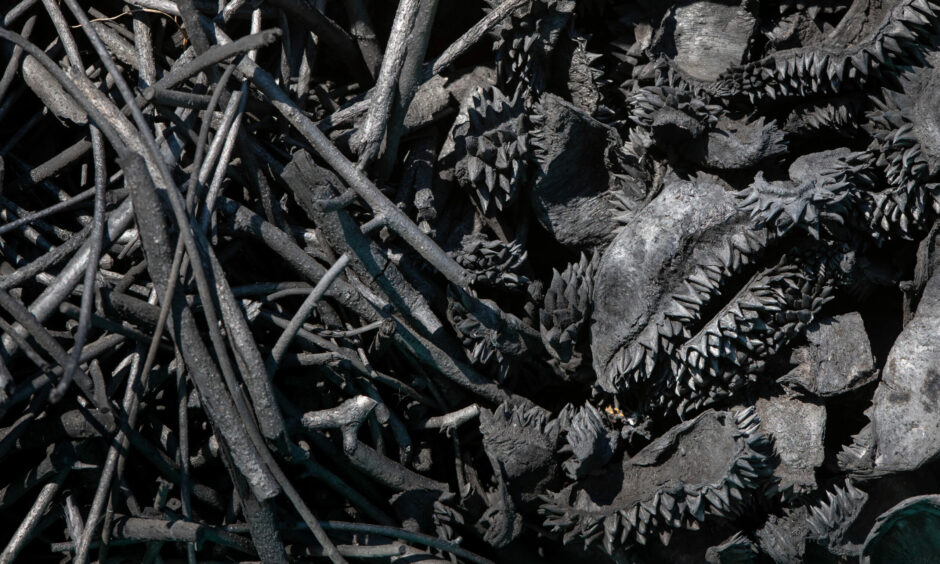 US biochemicals start up Nature Coatings, which is focused on transforming wood waste into pigments, has raised a $2.45 million seed funding round. The round was led by The 22 Fund and Regeneration.VC, with participation from Leonardo DiCaprio, Safer Made, and Portfolia.
Traditional approaches to creating carbon black release around 1.38 kilogrammes of CO2 for every kilo of pigment manufactured. 
The use of a bio-based source and closed-loop manufacturing transforms the climate impact of black pigment, with health benefits as it creates no carcinogens.
If BioBlack TX replaced all carbon black used in plastics, inks, paint and coatings, Nature Coatings says its pigment would remove 4.62 million tonnes of CO2.
The investment follows the launch of Nature Coatings' flagship product, BioBlack TX, which the company describes as a 'carbon-negative and high-performing alternative to polluting and toxic petroleum-derived carbon black'. Petroleum carbon black pigment is made by burning fossil fuels, the soot is collected, and that becomes the colour, or the pigment.
Nature Coating's solution transforms wood waste into black pigments for inkjet and analogue printing, coatings, dope dye, paint, and the apparel industry.  The pigment can be used with existing printing equipment and infrastructure, meaning the barrier to adoption is low.
The company intends to use the funds to expedite the adoption of its black pigment, by expanding manufacturing capabilities, strengthening the senior team, and establishing a global distribution network. The company says that BioBlack is a certified 100% bio-based, high-performing and carbon-negative alternative to petroleum-based carbon black, which is widely used in textiles, print and paint.
It has been certified by Certified by FSC®, OEKO-TEX®, USDA BioPreferred, and is listed on ZDHC Gateway 3.0. To date, it has been embraced by renowned fashion brands like the Kering Group, Levi's, Bestseller's Jack & Jones and Selected HOMME, as well as Vollebak.
Taking a circular approach to pigment development
Nature Coatings was founded by natural dye specialist Jane Palmer, who saw demand for more environmentally friendly pigments in her work as a maker of vegetable dyes for fashion brands.
She said: "Working in the pigment and dyes industry for over 20 years, I've seen the negative impact it has had on our environment and health. This inspired me to find a way to develop something better, something that is safe enough to be buried in my vegetable garden. At Nature Coatings, our vision is to create a future where the chemical industry operates in harmony with nature, and this new investment will take us closer to our goal."
BioBlack TX is produced through a closed-loop, circular system of manufacturing: there's no burning of the wood waste and no chemicals added, and the only by-product of the process is steam, which is captured and used to power parts of the production facility.
ALBINI_next, the think tank from the luxury textile group the Albini Group, has been working with BioBlack TX as part of its commitment to accelerating ideas and the technological transfer between science and industry. It took BioBlack TX to its "Black Wood" project, industrialising the formula for spray-dyeing this pigment. It did this  through its partnership with Dyeberg, a yarn-dyeing company with a 100-year tradition, and its patented 'ONE to ONE' machinery.
With this innovative machine, yarn is not immersed in a bath, but sprayed, thus saving considerable amounts of water compared to classical dyeing systems. In fact, this technique uses only 1 litre of water per 1 kg of yarn (thereby explaining its 'ONE to ONE' name), which only improves the sustainability of the product footprint.
Fossil fuel and carcinogen-free
Amongst the benefits, Palmer says that the product eliminates fossil fuels completely from the pigment source, while its manufacturing process cuts CO2 emissions by 70%. Because it's made from wood waste, it does not contain any carcinogens. With health being the third Sustainable Development Goal, the product allows customers to address a range of climate and sustainability goals in unison.
Founded in 2017 with a grant from the US National Science Foundation, the company created a biochemical solution that not only benefits the planet by being free of fossil fuels and sequestering more carbon dioxide than it emits, but it also prioritizes the health and well-being of individuals by containing non-detected Polycyclic Aromatic Hydrocarbons (PAHs) and carcinogens, and having less than 0.1% of Volatile Organic Compounds (VOCs).
Dan Fishman, general partner at Regeneration.VC, said: "As a Consumer ClimateTech fund focusing on the reimagination of consumer industries, we have been searching high and low for a drop-in replacement to petroleum-based carbon black that is 100% bio-based and at price parity. Jane and the Nature Coatings team are reshaping the chemical industry and we are excited to support their journey."
The company says that BioBlack TX is both cost-competitive and has a superior performance to carbon black. It believes that the use of its pigment can help companies in their decarbonisation efforts, as well as with compliance with impending regulations like MRSLs (Manufacturing Restricted Substance Lists). In addition to the textile industry, BioBlack TX can be applied in various other sectors, including paint, automotive, package printing, and more.
Previous investors that supported Nature Coatings are Fashion for Good, Apex Black Ltd, Bestseller's HEARTLANDS A/S, Textile Innovation Fund and Los Angeles Cleantech Incubator (LACI) Impact Fund.