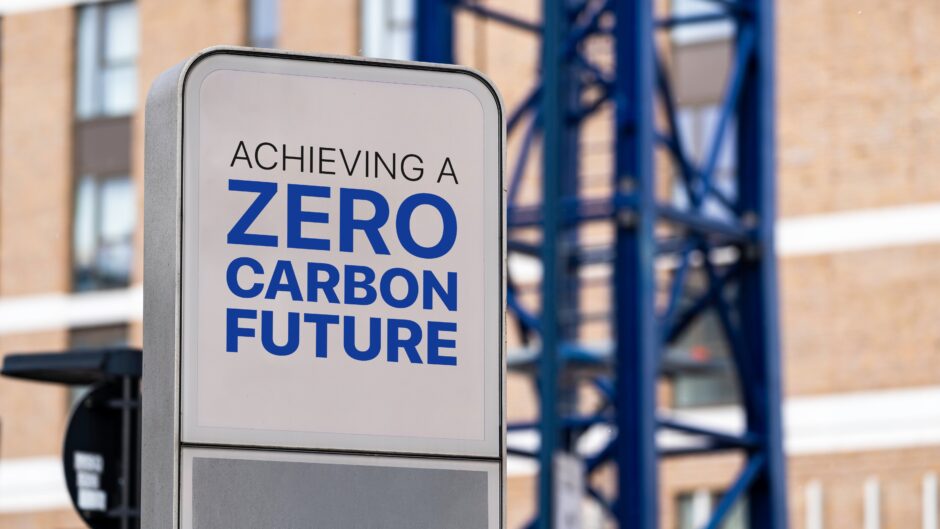 As part of President Biden's Investing in America agenda, the US Department of Energy (DOE) today announced up to $1.2 billion to advance the development of two commercial-scale direct air capture (DAC) facilities in Texas and Louisiana.
Direct air capture is increasingly seen as a core lever in addressing climate change.
There are now at least 18 direct air capture plants operating worldwide, according to the International Energy Agency, and more are coming online.
Direct air capture alone could be a nearly $1 trillion business in the next decade, according to projections from researchers at BloombergNEF.
The announcement represents the world's largest investment in engineered carbon removal in to date and each project is expected to eventually remove more than 250 times more carbon dioxide than the largest DAC facility currently operating.
These projects—the first of this scale in the United States—represent the initial selections from the President's Bipartisan Infrastructure Law-funded Regional Direct Air Capture (DAC) Hubs program, which aims to kickstart a nationwide network of large-scale carbon removal sites to address legacy carbon dioxide pollution and complement rapid emissions reductions.
There is a growing acceptance that even if countries and companies address their ongoing emissions, this will have no impact on the emissions to date that are in the process of transforming the atmosphere. While nature-based solutions and carbon sinks such as oceans and forests have sequestrated large amounts of GHGs, the science suggests that they are reaching saturation point – that means that a technical solution is required.
The US regional DAC Hubs
The Hubs are expected to ensure meaningful community and labour engagement and contribute to the President's Justice40 Initiative. Together, these projects are expected to remove more than 2 million metric tons of carbon dioxide (CO2) emissions each year from the atmosphere—an amount equivalent to the annual emissions from roughly 445,000 gasoline-powered cars—and create 4,800 good-paying jobs in Texas and Louisiana.
Their development will help inform future public and private sector investments and jumpstart a new industry critical to addressing the climate crisis on a global scale—highlighting how Bidenomics is driving a manufacturing boom that is delivering new economic opportunities, positioning America to be a global leader in the industries of the future, and accelerating efforts to meet the President's goal of a net-zero economy by 2050.
US Secretary of Energy Jennifer M. Granholm said: "Cutting back on our carbon emissions alone won't reverse the growing impacts of climate change; we also need to remove the CO2 that we've already put in the atmosphere—which nearly every climate model makes clear is essential to achieving a net-zero global economy by 2050.
"With this once-in-a-generation investment made possible by President Biden's Investing in America agenda, DOE is laying the foundation for a direct air capture industry crucial to tackling climate change—transforming local economies and delivering healthier communities along the way."
The DOE has said it is "dedicated to ensuring that the selected Regional DAC Hubs projects deliver community benefits and avoid harm in those communities while also advancing the development of carbon capture, transport, and storage systems." The Hubs are expected to ensure meaningful community and labour engagement and contribute to the President's Justice40 Initiative.
The Initiative set a goal that 40% of the overall benefits of certain federal investments, such as climate and clean energy, go to disadvantaged communities that have been marginalised and overburdened by pollution and underinvestment. The DOE, in coordination with the selected project teams, is planning to co-host in-person community briefings to engage with local stakeholders in Texas and Louisiana in September 2023energ.
What is direct air capture (DAC)?
DAC is a process that separates CO2 from the air, helping to reduce legacy CO2 in the atmosphere. The separated CO2 can then be safely and permanently stored deep underground or converted into useful carbon-containing products like concrete that prevent its release back into the atmosphere.
Widespread deployment of DAC and other innovative technologies that capture emissions are key to combatting the climate crisis and reinforcing America's global competitiveness in the zero-carbon economy of the future.
DOE has estimated that achieving Biden's plan for a net-zero emissions economy will require that between 400 million and 1.8 billion metric tons of CO2 be removed from the atmosphere and captured from emissions sources annually by 2050. The two DAC Hubs selected for award negotiations  will help further demonstrate the ability to capture and store atmospheric CO2 at scale.
Selected projects include:
Project Cypress: In Louisiana Battelle, in coordination with Climeworks Corporation and Heirloom Carbon Technologies, plans to capture more than 1 million metric tons of existing CO2 from the atmosphere each year and store it permanently deep underground. This hub intends to rely on Gulf Coast Sequestration for offtake and geologic storage of captured atmospheric CO2. The project is expected to create approximately 2,300 jobs, with a goal to hire workers formerly employed by the fossil fuel industry for 10% of the overall workforce.
South Texas DAC Hub: In Texas 1PointFive, a subsidiary of Occidental, and its partners, Carbon Engineering Ltd. and Worley, are looking to develop and demonstrate a DAC facility designed to remove up to 1 million metric tons of CO2 annually with an associated saline geologic CO2 storage site. The project is estimated to create approximately 2,500 jobs in construction, operations, and maintenance with existing agreements for local hiring.
The DOE also announced 19 additional projects selected for award negotiations that will support earlier stages of project development, including feasibility assessments and front-end engineering and design (FEED) studies.
Fourteen projects will enable early-stage efforts to explore the feasibility of a potential DAC Hub location, ownership structure, and business model. Five projects will perform FEED studies that establish and define technical requirements focused on project scope, schedule, and costs to reduce risk during later project phases.
SGV Take
While there is a strong argument that the widespread government focus on the potential for carbon capture is a way of ensuring the continuing success of the fossil fuel industry, there is also little doubt that the achievement of 2050 net zero goals is going to require significant carbon removal. While nearly 90% of that today is biobased, the scale up needed is immense and there is little time. Hopefully this funding will scale up the process rapidly.