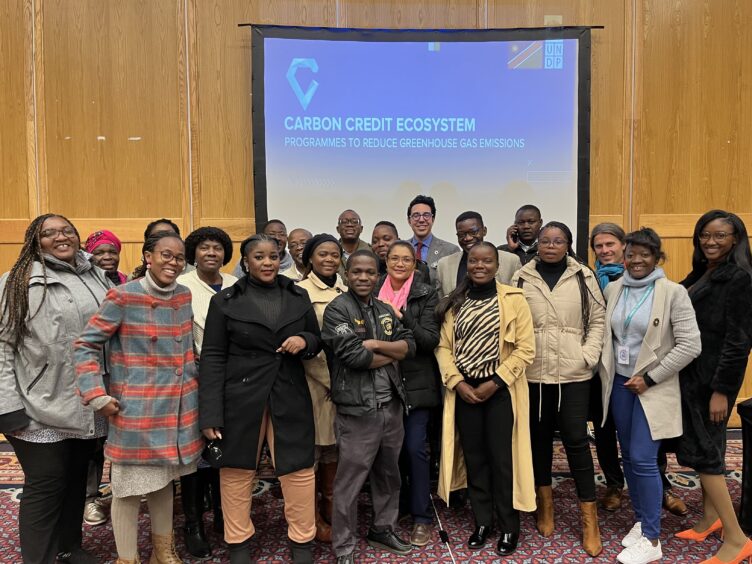 This week saw the accreditation of the UNDP's National Carbon Registry as a digital public good, investment in reinsurance solutions and ocean conservation in Gabon. While sustainable bonds continue to attract more issuance despite choppy macroeconomic conditions, world leaders are called to honour the commitments made at COP15.
UNDP's National Carbon Registry accredited as digital public good
The United Nations Development Programme's (UNDP) open-source software has been accredited as a digital public good. The software, called the National Carbon Registry, allows countries to effectively manage national data and processes for trading carbon credits. It uses open-source code, which allows countries to replicate and adapt the information to fit their own needs and contexts. The registry's modules, software and technical documentation can be reused and tailored by countries, which could potentially reduce production costs and implementation timelines.
Former policymakers and scientists call for biodiversity investment
The Campaign for Nature's Global Steering Committee, a group of former heads of state, ministers, diplomats, and scientists, has written an open letter calling on global environment ministers to deliver on the commitment made at COP15 to increase international financing from developed countries to developing countries to at least $20 billion by 2025.
"As you and other world leaders move to implement this historic agreement, we urge you to prioritize efforts to increase biodiversity financing and to ensure that an increased percentage of biodiversity financing goes to Indigenous Peoples and local communities, who help conserve 80 percent of the world's biodiversity but receive less than one percent of the funding," the letter read.
Sustainable bonds issuance on the rise
A market update from the Climate Bonds Initiative has revealed that aligned Green, Social, Sustainability, Sustainability-Linked and Transition (collectively GSS+) finance volumes passed the $4 trillion mark in the first half of 2023, reaching a combined $4.2 trillion. Despite a difficult macroeconomic and geopolitical terrain slowing issuance in the last two years, the market is on track to hit $5 trillion combined issuance at the end of the year.
Reinsurance solutions attract investments…
The Demex Group raised $5 million from a syndicate of existing and new investors, led by Blue Bear Capital. The company has developed reinsurance solutions that address the accumulating losses caused by secondary perils, which include winter storms, heat waves, cold snaps, droughts, and floods. Secondary perils are driving global insured losses that now accumulate to exceed losses generated by 'primary' catastrophe perils such as hurricanes and earthquakes. "This additional investment empowers us to deliver new weather risk transfer capabilities to insurance companies that are facing escalating losses due to the increased frequency of non-catastrophic weather events," said chief executive Bill Clark.
…but Australian actuaries voice concern over home insurance affordability stress
Home insurance premiums have jumped by 28% in the past year – the biggest rise in two decades, raising concerns that many Australian households may abandon their insurance altogether, according to research by the Actuaries Institute. It is estimated that 1.24 million Australian households – or nearly one in eight – are facing home insurance affordability stress, up from one million households a year ago. The professional body outlined a package of urgent policy measures for governments, insurers and other stakeholders to consider in order to ease the affordability pressures and bolster existing initiatives to improve the preparedness and resilience of communities facing threats from floods, cyclones and bushfires.
DFC provides $500 million for ocean conservation in Gabon
The US International Development Finance Corporation (DFC) announced $500 million in political risk insurance supporting a bond for marine conservation in Gabon. Working with The Nature Conservancy, the Government of Gabon, and Bank of America, DFC provided political risk insurance that enabled a $500 million debt conversion for Gabon, which is expected to generate $163 million in dedicated marine conservation funding over the next 15 years. The refinancing will unlock $5 million each year over the next 15 years for conservation action and create an endowment expected to grow to approximately $88 million by 2038 to fund conservation in Gabon in the future.
Industry appointments
Investment giant KKR (NYSE:KKR) poached Charlie Gailliot from Goldman Sachs (NYSE:GS) to appoint him as a co-head for the firm's global climate strategy, rounding out a leadership team focused on climate-related investments as part of KKR's infrastructure platform. Gailliot, who is based in New York, joins global climate co-head Emmanuel Lagarrigue, also based in New York, and Neil Arora, who leads the strategy in Asia and is based in Singapore.