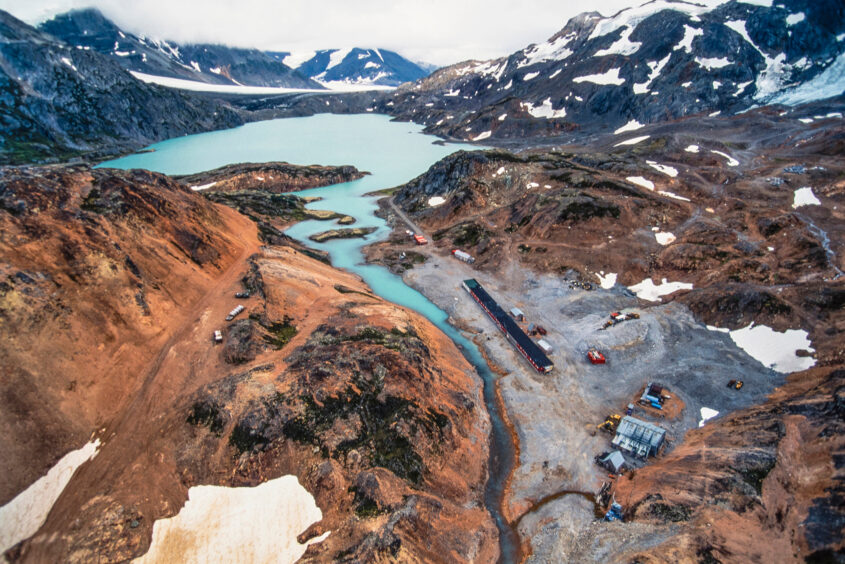 Ceibo has raised over $30 million to accelerate the scale-up of its proprietary technology, drive on-site trials and prove the technology at scale.
Ceibo has raised $30 million to expand its deployment of sustainable mining technologies.
They can be implemented within existing mine infrastructure in order to clean up operations.
As copper demand continues to increase, there is growing ESG risk within the copper supply chain and the industry is keen to address its poor reputation.
Over the last few years, the company has scaled up a set of clean technologies that are being operated by Ceibo's team at some of the largest mines in the world, bringing more efficient operations and a positive environmental impact. Mining requires investment, is water and energy-intensive and often results in toxic tailings – ore residues that can leak into water systems.
The use of leaching and cathode solvent production following extraction and ore crushing, rather than the traditional process of extraction, crushing, grinding, flotation and concentration, smelting and electrolysis improves overall water consumption and the wider environmental impact of production – while also helping to increase the amount of copper recovered.
Ceibo concentrates on the optimisation of leaching, which is understood to be one of the most sustainable copper recovery technologies, used mainly with ores close to the earth's surface (primary). It is inefficient, however, with those found deeper (secondary), such as chalcopyrite, which is present in 70% of available reserves.
The technology developed by Ceibo allows mining companies to access reserves that are out of reach with the traditional extraction process, taking advantage of existing infrastructure.
Industry investors lead the charge
While the round included the venture arm of global mining giant BHP (NYSE: BHP), the current Series B was led by Energy Impact Partners. Other investors included a syndicate of mining-focused investors, including CoTec Holding, Audley Capital, Orion Industrial Ventures, Unearth Capital and Opalton (Pincus Green), in addition to the existing investors Khosla Ventures and Aurus Ventures.
The Chilean company said it is focused on continued onsite testing and engineering during the last quarter of 2023. "This capital increase, together with the strategic support of investors like BHP Ventures, will help us accelerate plans to deploy our technology globally and meet society's needs, " said Cristóbal Undurraga, Ceibo chief executive and co-founder.
The challenge of sustainable mining
While the transition to a nature-positive net zero is critical to managing the converging climate, nature and resource crisis, as things stand today the production of raw materials lies at the heart of most economic activity.
While most focus on the importance of rare earth metals for clean technologies, copper is an efficient conductor of both electricity and heat and, without the creation of new alternatives, is likely to remain in high demand in many renewable energy systems, electric vehicles and more. Miners of critical metals face a dilemma between increasing production to meet the needs of the global energy transition and doing so in a sustainable way.
Improving mine sustainability, and reducing its climate impact is a huge imperative in the International Energy Agency's Net Zero by 2050 scenario. This is especially true in the case of copper, which is seen as a cornerstone for all electricity-related technologies. According to the World Bank, copper is the only element present in all global strategies to reduce CO2 and address climate change.
Pressure is mounting on the mining industry to become more sustainable, with increasingly strict regulation and rising costs of carbon posing a substantial risk to their business. This has been recognised by the sector as a whole, and its investors, and the Global Investor Commission on Mining 2030 is an investor-led initiative that has been set up to address the systemic risks involved.
The initiative is intended to address the risks facing the mining sector, which challenge its social licence to operate and provide critical minerals for the low carbon transition. It targets a sector-wide reform by 2030 to be supported by investors, banks, insurers and companies on the demand side.
Addressing supply chain risk
Copper can be recycled again and again, but the combination of the growth in clean technologies and the failure of existing recycling processes (many of the products containing it are not effectively recycled) means that demand for virgin copper continues to grow. Most analysts are projecting growth in demand and price but there is little consistency in projections; in July 2023, Goldman Sachs projected an increase in demand from one million tonnes in 2023 to 1.5 million tonnes by 2025.
The problem for the mining sector is that there are significant ESG risks associated with the industry, which has a poor track record environmentally, politically and especially in terms of human rights. If copper is to be part of a sustainable net zero transition, then it cannot afford a supply chain with massive negative impacts.
According to the Global Investor Commission on Mining, good practice and leadership exist in mining, but it is currently limited to individual companies. Recent controversies, such as the Brumadinho tailings dam collapse disaster (which killed 270 people) or the destruction of Juukan Gorge, a 46,000-year-old heritage site in Australia, have come as a consequence of a lack of standardisation of best practice approaches.
Other major issues include the impacts of automation, artisanal mining and child labour, climate change, biodiversity loss and the role of mineral demand in sustaining and driving conflict – which all require a comprehensive approach across the sector.
The Global Investor Commission on Mining intends to identify best practices as well as existing global standards or whether they need to be created; test whether existing ESG data disclosure is fit for purpose; identify additional disclosure requirements or where consolidation of disclosures may be required.
Finally, it will outline necessary steps for the industry as well as investor interventions, aimed at supporting existing standards, creating new global standards, introducing requirements for independent verification of site-level application of standards, and identifying and supporting any necessary public policy responses.
SGV Take
There is growing pressure for regulatory intervention in the mining sector, as an essential component of ensuring the protection of communities both environmentally and socially, as well as the fair distribution of equitable growth through the just transition. If the mining industry doesn't want to see that happen they're going to have to clear up the mining-related mess, and soon. That makes technologies that enable them to address the environmental (and potentially social) footprint of their operations, very appealing.