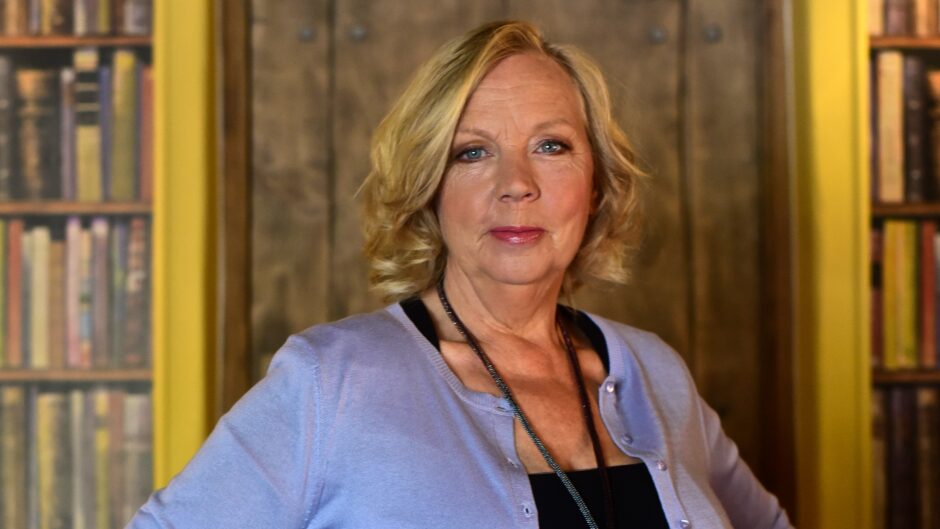 In advance of her keynote speech at October's Blue Earth Summit, SG Voice speaks with Deborah Meaden to learn how conscious investors are supporting sustainable business.
Deborah Meaden is a renowned British businesswoman and a prolific investor famed for her ongoing stint as a Dragon.
As an environmentally conscious investor, Meaden prioritises openness and commitment.
Meaden will be giving a keynote speech at the Blue Earth Summit in Bristol, sharing her hope for a truly sustainable future.
SG Voice met with Deborah Meaden, renowned businesswoman and prolific investor famed for her running stint on the BBC's Dragon's Den, to learn more about what conscious investors are searching for and how they can influence the impacts of their portfolio. 
Transparency and commitment triumph over specific criteria
Diving into the true meaning of sustainable business, Meaden explains her perspective that each different company has its own unique grasp of the issue. Rather than expecting the same concrete formula from all investees, she primarily searches for transparency and commitment. 
"My first question to any business is what is your version of sustainable?" she says. "I know there's been some attempts at trying to describe what that actually means," she continues. "But it's still a very loose turn of phrase. I'm keen on understanding their version because it's also true to say that one size doesn't fit all." 
When asked if she follows any specific set of criteria, Meaden identifies her priorities as being honesty and depth. Those who can paint a clear picture of what they are doing, as well as the areas that are proving more challenging, are more likely to receive her support. 
"I want to know that they really properly understand not just what they're doing, but why they're doing it," she expands. "If you don't understand why you're doing something, then you're probably just ticking a box." 
"Everything we do has an impact, every breath we take has an impact. So I'm looking for businesses that are trying to improve their position all of the time. If they don't understand why they're doing something, then they can't possibly improve their position." 
Investors can provide meaningful support, but only for those willing to engage
Meaden is far from a backbench investor, preferring instead to dig in and help out as she can.  
"If I've seen examples of something before, or if they're struggling in a particular area, then I will probably have contacts in areas that can help them with that," she explains, adding that she does not consider herself to be an expert on everything. "For me, the most important thing is finding out the questions that need to be answered and helping them in getting those answers."  
With every business that she invests in, Meaden discovers new considerations that had never previously entered her mind. As an investor, she respects that companies must be left to their own decisions, leaving her in the role of an advocate for sustainable values. 
"My job is to bring it onto the agenda in a way that they can embrace it themselves," she enthuses. "The best moments are when my business is pushing me, when they are saying 'we want to do this and we want to do that'." 
She goes on to add that there is a fine balance between enthusiastic ambitions and practical action. 
"There's no point in being really upbeat about something if you haven't got the time or intention to actually move towards your end goal," she points out, arguing that the most important thing is combining targeted outcomes with a realistic plan of how they can best be achieved. 
"I should be able to ask any business at any point of time, where are you going and where are you on that journey? I have to feel and believe that they're really on it, because otherwise it's very, very easy just to say all of the things that we want to do." 
Rather than holding investees to a strict set of standards, Meaden relies largely on instinct. 
"As human beings, we're very good at getting a nose for when something is actually going to happen, versus something that's just being discussed," she explains. "We have to feel good about stuff and we have to look at the stuff we're doing well. But we also have to use that power, use that enthusiasm and apply it to the bits of the business that aren't working so well." 
Sharing hope for a sustainable future
In October 2023, Meaden will be attending and speaking at the Blue Earth Summit in Bristol. The three-day event will feature more than 200 talks, panels and workshops as well as live pitches from startup companies that are led by their focus on solving ecological challenges. 
"I think we all have to constantly update our framework," she says. "It can sometimes feel like climate change and biodiversity are quite big and slow, but I actually don't think they are." 
"I think we have to constantly reframe our understanding, both of what's happening in the world and of what is being done. Listening to those people who are doing amazing things, who have a vision or plan, that's where the hope comes from." 
Meaden places further value on the opportunity to network with like-minded people and being reminded that she is not alone. In return, she hopes to leverage her platform as a respected businesswoman within her own right to inspire as wide an audience as she can. 
"I am those people and I am the audience," she proclaims. "I can speak in a language that businesses understand. I'd love to be purist about it and say 'just stop oil, just stop doing this', but of course, you have to be pragmatic and practical. I hope that my voice can speak to what business can actually do." 
Driving the transition with sustainable business
Generally speaking, Meaden adopts a positive outlook. "I am a natural optimist," she declares. "All entrepreneurs are natural optimists. We always think it's going well, we always think we can solve things." 
Still, she acknowledges that there is much to be done. 
"I love challenges. Give it to me and we'll sort it out. I'm not worried that we can't meet this challenge. What I am worried about is that we won't do it in time." 
Meaden believes that the path will not be plain sailing, but that we cannot simply give up. 
"Things will go wrong in the transition," she says. "But if the intention is to move forward, then while it might not be perfect, you're better than before and you've started your journey. That's what we have to do. We have to keep up the momentum. Otherwise, you get frozen where you are because you haven't found the perfect solution." 
"I always say that in business, all you've got to do is get more right than you get wrong. I make mistakes all day every day. I get stuff wrong all day every day. But I get more right than I get wrong. And if you get more right, then you win the game." 
Meaden is known for her engagement with early-stage companies, which tend to be more agile than their incumbent counterparts. For those that have established long-term relationships and sprawling global supply chains, the adoption of sustainable practices may present a far greater challenge. 
Overcoming the challenges of a shifting economic environment
"There's still a lot of businesses that are just in inertia," Meaden explains. "They just hear the words and might even say the words, but they're really not sure what to do. And there are businesses who unfortunately are so embedded in the practices that we need to change that they're struggling to get themselves out of it." 
"I am still hopeful, because business people are smart. There's a lot of opportunity in this shifting landscape. And it's shifted really, really fast. Five years ago, you I wouldn't be having the conversations that I'm having with businesses now."  
Meaden believes that companies will take note of this shift and engage with the transition, either because they truly care about the issues at hand or because they recognise the commercial advantages of engaging in sustainable practices. 
"The wonderful thing about business is that it can move quite fast," she points out, acknowledging that smaller firms are likely to be more agile than larger organisations. Although she worries that government intervention can dampen the entrepreneurial spirit, she accepts that policy must play a role in stabilising the business environment. 
"I don't like legislation that absolutely boxes you in," she maintains. "But I do believe that governments' consistency of voice is really important. We haven't got that at the moment." 
"The indecision and inconsistency of government stops people fully committing, because they're worried that they're going to go down one route, spending millions of pounds, and then the government's going to say 'actually, we're not going to do that'."  
A recent example of this indecision can be seen in the messy evolution of Scotland's deposit return scheme. Having suffered several delays as the Scottish Government negotiated with officials at Westminster, the company responsible for delivering the scheme was forced to enter administration with more than £86 million worth of debt. 
Of course, more decisive policy decisions can often strike fear into businesses due to the risk of penalisation and the costs of remaining compliant.  
"My bit of advice would be that if you are doing the right thing for the right reasons, then you're almost certainly going to be complying with regulation. So do the right thing for the right reasons, and then just do a double check to make sure that that fits with any regulation that's coming in." 
"If you're just being driven by regulation, then you're probably doing the bare minimum, and if you're a good organization and you really want a good tale to tell, then you definitely want to do more." 
SGV TAKE
The resounding takeaway from chatting with Meaden is that companies do not have to be perfect in order to secure the support of conscious investors. As long as they are willing to engage with the sustainable transition while remaining transparent on how they are doing so, they are unlikely to receive any criticism. Ultimately, stakeholder relationships are about human connections built on foundations of honesty, trust and goodwill. 
SG Voice will be attending the Blue Earth Summit from 11-13 October. Be sure to follow up on our coverage!