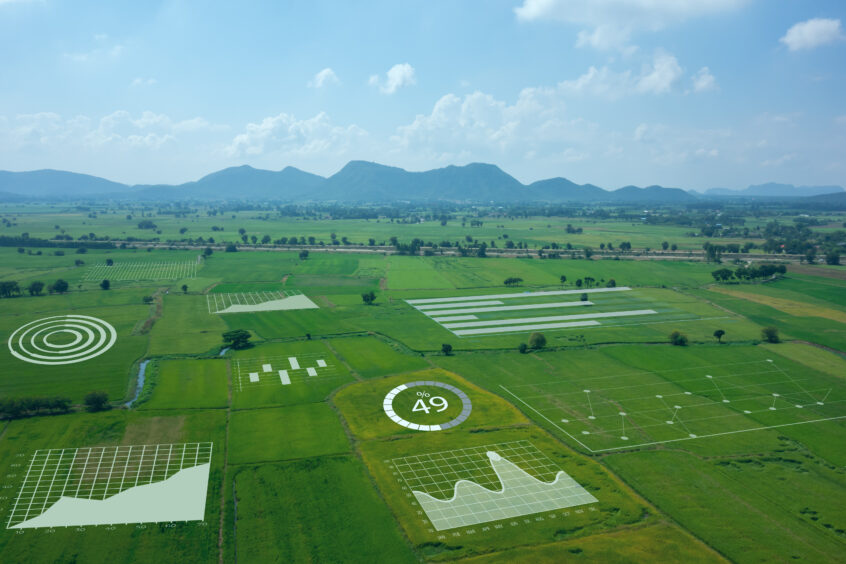 The co-founder of second-hand clothes marketplace Vinted, Mantas Mikuckas, has invested €1 million to support the green transformation of agriculture. This will take the form of debt capital deployed to small and medium-sized farms through the climate tech, HeavyFinance.
Agriculture is one of the principal sources of global greenhouse gases, accounting for anything from 22-30 % of total CO2 emissions depending on the methodological assessment.
To remain on a 1.5˚C pathway, agriculture will have to cut its overall emissions by almost 80%.
As recognition of the need for healthy soil and the protection of nature gains salience, expect to see new financing mechanisms deployed.
Conventional food and agricultural systems are responsible for over 30% of the world's greenhouse gas emissions, while also contributing to biodiversity loss, resource scarcities and pollution.  As these crises continue to evolve, the agricultural industry is in turn becoming less able to manage their impacts.
The increasing frequency and severity of extreme weather conditions, combined with the rapid decline in soil fertility, fresh water and available space, threatens both its economic value and its capacity to feed the growing population. According to a study by Standford University, anthropogenic climate change hit global agricultural productivity by 21% between 1961 and 2020, equivalent to losing seven years of productivity growth.
One of the most effective ways to address this is to change farming practices, but this has proved to be a significant challenge. This is in large part due to a lack of standardisation in definitions of regenerative agriculture, and the difficulty of accessing the 30% of farmland held by smaller farmers.
According to research from sustainability analysts Systemiq, regenerative farming must triple its rate of growth, making up at least 40% of global cropland by 2030 (up from 15% today).
Green loans offer a no-interest option for farmers
While the loans themselves carry no interest for the farmers, HeavyFinance describes its green loans as "a debt instrument that enables both retail and institutional investors to tap into a rapidly growing carbon credit market". Returns for investors are generated from the sale of CO2 certificates generated on the farm, as farmers taking a green loan do not pay an interest rate.
Vilnius-based HeavyFinance is focused on the transformation of the agricultural sector by providing green loans for the shift to regenerative farming practices. Its goal is to remove 1 gigaton of CO2 emissions by 2050 by helping farmers store CO2 in the soil through the adoption of regenerative soil management practices such as no-till farming, crop rotation, cover crops, and reduced fuel consumption. The company is set to generate 250,000 carbon credits by the end of 2024, which would make it one of the largest carbon credit producers in Europe.
Laimonas Noreika, chief and co-founder of HeavyFinance, said: "We're thrilled about this investment because both HeavyFinance and Mantas share a similar mantra, focusing on creating a win-win scenario for our customers and the planet. As we aim to meet the Paris Agreement targets and boost the UN SDGs initiative, it's vital for businesses to support one another and set a global example."
Half of agricultural emissions could be cut in a cost-neutral way
Mckinsey's report Sustainability in Agriculture has warned that, while many opportunities for agricultural decarbonisation are viable today, incentives, likely in the form of carbon prices or other financing, may need to reach $150/ton to unlock many more.
To date, only 1% of all carbon credits are issued through agriculture, and private investment in sustainable agricultural technology fell significantly last year – and 50% of US farmers cite low return on investment (ROI) as a top reason for not participating in carbon programmes.
By providing access to green loans without an interest rate, HeavyFinance is providing a new route to effective changes in farming behaviour through the provision of no-cost capital to enable farmers to implement new technologies and practices.
Regulation will drive further action in regenerative agriculture
Earlier in September 2023, some of the biodiversity risks that regenerative agriculture is designed to mitigate – including nutrient pollution, loss of pollinators and poor soil health – were named as key risks food companies should report against in the new, finalised Taskforce on Nature-related Finance Disclosures (TNFD) framework. Companies must be able to substantiate how they manage nature-related risks and opportunities, as well as their impacts on nature.
One of the challenges is the lack of agreed definitions and standards defining what constitutes regenerative agriculture. To tackle this challenge, the Sustainable Agriculture Initiative (SAI) Platform has launched a global framework for regenerative agriculture. The initiative provides the industry with a globally aligned approach for the transition to regenerative practices, led by the SAI Platform, a non-profit focused on sustainable agriculture.
The framework has been designed for practical use at the farm level to drive farmers' transition to regenerative practices. It will allow crops, dairy and beef farmers anywhere in the world to work with supply chain partners to achieve measurable regenerative agriculture outcomes and enable the industry to translate the often-ambiguous concepts of regenerative agriculture into action at the farm level.
The use of carbon credits from regenerative agriculture is on the increase. In the UK, the carbon finance company Respira International has signed an agreement with Philipson Estates (owner of Blaston Farm) for the offtake of soil carbon certificates. This shows the importance of policy initiatives, as the agreement follows DEFRA's recent decision to pay £40 per hectare under the Sustainable Farming Incentive scheme to improve soil health.
SGV TAKE
It will be interesting to see how far the price of soil-based carbon credits creates sufficient returns to support no-interest debt provision but if the model works, it creates an entirely new approach to improving agricultural practice. The cost of capital plays a critical role in the adoption of new technologies and approaches and the opportunity provided by no-cost green capital could prove a game changer.