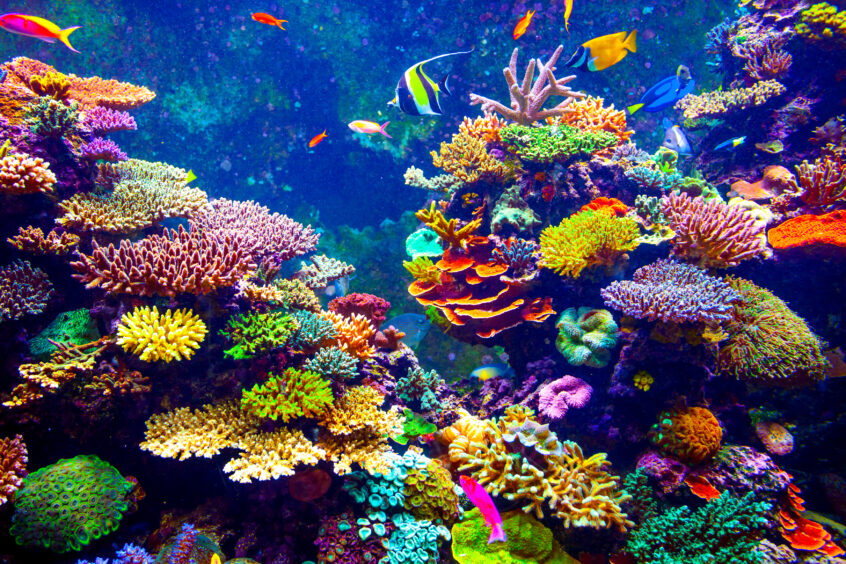 The Global Fund for Coral Reefs (GFCR) has secured financial backing from the United States Agency for International Development (USAID) and has announced a series of new projects for the protection of coral reefs. 
USAID has committed up to $15 million for the protection of coral reefs in the Egyptian Red Sea. The GFCR has also announced new conservation projects across five countries.

Around one billion people depend on coral reefs for their food or livelihood, but such ecosystems could all be destroyed as soon as 2070.

 

The GFCR's blended finance model will help it to leverage private capital for reef conservation projects.
On the second day of COP27, the GFCR convened with UN agencies, state governments and impact investors to announce a series of resilience-focused projects for the protection of coral reefs and coastal communities.  
What new projects have been announced? 
The GFCR's main announcement confirmed that the USAID has committed up to $15 million towards coral reef conservation in the Egyptian Red Sea. The overall scheme intends to mobilise a minimum of $50 million to scale the resilience of regional coral reefs and coastal communities while reducing local drivers of coral loss.  
United Nations Development Programme administrator Achim Steiner said: "In the face of an intensifying climate crisis, USAID's investment in the Red Sea Initiative will help to drive a nature-positive economic transition while boosting the climate resilience of coastal communities in Egypt — demonstrating that change is possible when leadership, political will, and investment comes together." 
A similar regional programmatic development will be launched in the Gulf of Aqaba, while country-wide projects will be established in Micronesia, Sri Lanka and Mozambique. Indonesia, which is already home to one of the GFCR's national-scale projects, will see a second scheme introduced.  
Finally, the GFCR has announced the launch of its Colombia Seaflower Biosphere initiative. This project will be led by local non-profit organisation Fondo Acción, and will focus on building the resilience of coral reefs surrounding the Colombian Archipelago while providing resilient livelihoods for native communities. 
What is the Global Fund for Coral Reefs?
The GFCR, now officially endorsed as a campaign partner of the Race to Resilience initiative, is a global blended finance vehicle that provides grant funding and private capital for sustainable interventions that protect coral reefs and the communities that rely on them. 
It supports business models that can sustainably finance the conservation and development of coral reefs, such as ecotourism, waste management, regenerative aqua- and agriculture, and blue carbon credit schemes. In doing so, it supports the livelihoods of local communities while incentivising them to preserve their surrounding ecosystems. 
Finance is mobilised via two different funds, a grant capital scheme and a direct investment programme. The grant fund is used to incubate a pipeline of investible projects, primarily financing technical assistance, capacity development, monitoring and evaluation. The investment fund, meanwhile, provides the capital needed to bring incubated projects to scale. 
By providing guarantees and concessional loans from the Green Climate Fund, multilateral development banks, and other sources, the GFCR is able to lower the risk profiles of its funded projects and attract private investor capital. This blended approach reduces its dependence on limited or short-term funding and supports its efforts to establish local entities and increase the representation and participation of local stakeholders. 
Coral reefs are declining at an alarming rate
Coral reefs are among the world's most vulnerable ecosystems. Climate change is contributing to marine heatwaves, causing corals to lose the nourishing algae that live within their tissues. As these heatwaves become more frequent, coral reefs have less time to recover and will eventually die off. 
Coral reefs are also vulnerable to ocean acidification, land-based pollution, marine pollution and destructive fishing practices. Estimates on how much coral has already been destroyed are varied, with some studies showing that over 50% of the world's coral reefs have died since 1990. 
Future projections are no more optimistic. Research suggests that even if the 1.5°C target established by the Paris Agreement is met, marine heatwaves will have become too frequent for 99% of reefs to recover. Ultimately, coral reefs could be wiped out as soon as 2070. 
These projections go from sad to alarming when we consider the wider impacts. Although such ecosystems take up only 0.01% of the ocean floor, they are a crucial habitat for around 25% of all marine life. 
An estimated one billion people are either directly or indirectly dependent on these biodiverse ecosystems, with the figure increasing as coastal populations continue to grow. Coastal communities, particularly in small island developing states and low-income countries, rely on coral reefs both as a vital source of protein and as the main contributor to their livelihoods.  
Reefs also provide natural infrastructure that protects coastlines from storms and flooding, which are becoming increasingly common with climate change. They protect an estimated 150,000 km of shoreline in more than 100 countries and territories, reducing global storm damage costs by approximately $4 billion.  
As such, the conservation of coral reefs is crucial to ensuring the climate resilience of coastal communities while also delivering significant cost savings in the long term. 
Blended finance to mobilise capital for reef protection
According to the United Nations Environment Programme, current investment in nature-based solutions such as coral reef conservation stands at just $133 billion per year. Most of this comes from public sources, with just $18 billion each year coming from private finance. 
To avoid the social, economic and environmental costs of ecological destruction, creative financial mechanisms will be crucial in mobilising private capital. Blended finance models, such as has been adopted by the GFCR, could provide a potential solution. 
Through blended finance, private and public sources of funding are combined. The process typically involves securing public or philanthropic investment that is not primarily focused on financial returns, and using it to attract private investment with higher expectations. It is an approach often used to back projects that are not generally considered commercially viable, and is championed for its use in sustainable development efforts that require large amounts of capital investment.  
As the financial community awakens to the financial risks associated with nature loss, the demand for investment opportunities that align with biodiversity goals is on the rise. The GFCR's latest announcements suggest that this trend can be taken advantage of by providing optimised financial mechanisms for private investment in conservation efforts.