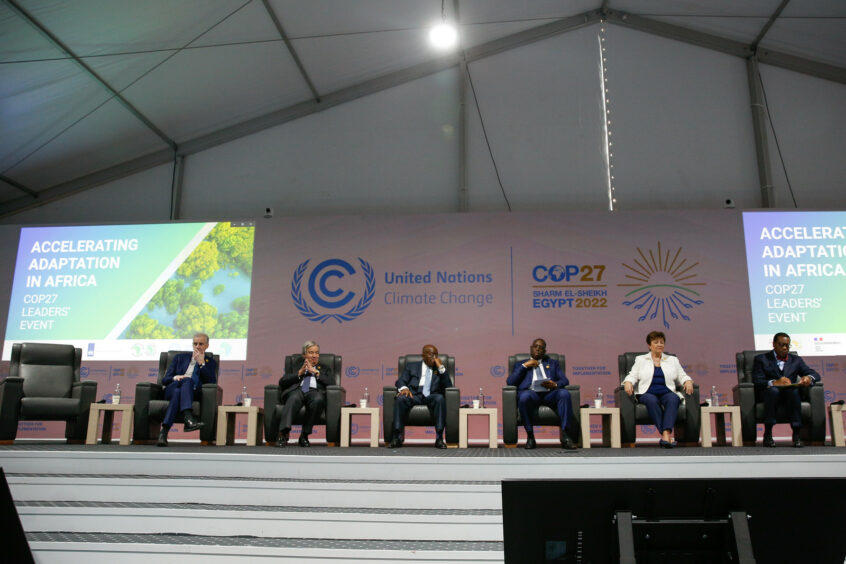 At COP27 things are beginning to kick into high gear. The World Leaders Summit continued on Day 2 much as expected, with African leaders doubling down on the fact that they can't afford to pay the cost of adaptation, but there were some other interesting announcements on the day.
Day 2 of the COP discussions remained focused on the current damage being done by climate extremes and the need for financial support.
The Adaptation Agenda was launched, identifying up to $300 billion in funds needed to build resilience in emerging markets.
Finance Day kicks off with a growing focus on the need to address climate and nature holistically in order to manage the growing implications of climate damage.
The Sharm el Sheikh Adaptation Agenda was launched, with a plan to raise $140-300 billion to build resilience. It is really the first comprehensive plan outlining 30 outcomes needed to support the 4 billion people living in the most climate-vulnerable communities by 2030.
Each outcome presents global solutions that are to be adopted at a local level to respond to local climate contexts, needs and risks and deliver the systems transformation required to protect vulnerable communities from rising climate hazards, such as extreme heat, drought, flooding, or extreme weather.
The launch came as research warns that nearly half the world's population will be at severe risk of climate change impacts by 2030, even in a 1.5-degree world, according to an analysis published by IPCC  AR6 WG II Report and the UN Climate Change High-Level Climate Champions.
The Agenda outlines actions to be taken across five impact systems: food and agriculture; water and nature; coastal and oceans; human settlements, and infrastructure. It includes enabling solutions for planning and finance across these sectors, as well as plans to encourage 2,000 of the world's largest companies to integrate physical climate risk and develop actionable adaptation plans.
Funds begin to kick for a loss and damage facility
Loss and damage had another moment in the sun. Nicola Sturgeon pledged a further £5 million in support from Scotland's Climate Justice Fund, following her announcement of £2 million at COP26. Critically she made the point that these are in addition to any other form of climate finance, and in form of grants, not loans. Many vulnerable countries are already spending up to 10% of GDP simply on servicing international debt – that leaves little money to build resilience.
Scotland was the first country to commit to a loss and damage fund and other countries are now following suit: Ireland has pledged $10 million, Austria has pledged EUR 50 million and the EU's Ursula van Leyden gave her support to the idea of a loss and damage fund.
Expert group outlines what's necessary for credibility on net zero
Of most interest to corporates was the report released by the High-Level Expert Group on Net Zero Commitments by Non-State Entities. It was essentially a 'put up or shut up' call to the private sector and other groups – no more greenwash. The recommendations clarified the need for transparency, integrity, near term action – and no more use of low-quality carbon credits to offset internal and value chain emissions. It laid out what corporate must and can't do to be credibly considered net zero.
Finance is the focus on 9 November
Wednesday is finance day at COP and it is clearly going to be focused on catalysing investment for urgent, near term action. Its putting emerging markets at the heart of the discussion, and focusing strongly on weaknesses in food security and nature.
There are a plethora of announcements on research investments, pledges and progress to date. These include the Assets to Flows report, which is about transforming capital flows, while Africa's insurance industry is set to cover $14 billion of climate risk by 2030.
Long awaited is the report by the Independent High-Level Expert Group on Climate finance, which is set to outline recommendations for scaling up long term finance. Given the focus on nature and food systems that are coming out of the discussions in Egypt, it will highlight the importance of integrating climate and development in the approach.
The Net Zero Asset Owners Initiative (NZAM) is announcing initial targets for its investors, while the Net Zero Asset Owners Alliance (NZAOA) will be reporting on its progress.  So too will the Net Zero Banking Alliance (NZBA) which will report on the decarbonisation targets of its over 60 members.
Another progress report is due from the Paris Aligned Asset Owners (PAAO) Initiative, while GFANZ is releasing its transition plans report – given yesterday's announcements on what constitutes credibility for non-state entities, it should all prove interesting reading.
The WEF is publishing a framework for responsible action on climate impacts and the Principles for Sustainable Insurance are set to launch a Sustainable Insurance Facility to develop project concepts and proposal development.
The UN's High-Level Champions are to call for new Outcomes for Finance: for public finance to increase in volume and share; for private finance to help mobilise the funds needed for the Adaptation Agenda; and for insurers to institutionalise a long term approach to adaptation and resilience finance. Their report is out today as well.
The US joins the fray with a proposal for financing Africa's transition with credits
John Kerry is speaking on energy transition, and is expected to launch a controversial plan to fund Africa's energy transition with the carbon markets. Given the HLEG's statements on the use of carbon credits (admittedly in the voluntary markets) this could well put the cat amongst the pigeons.