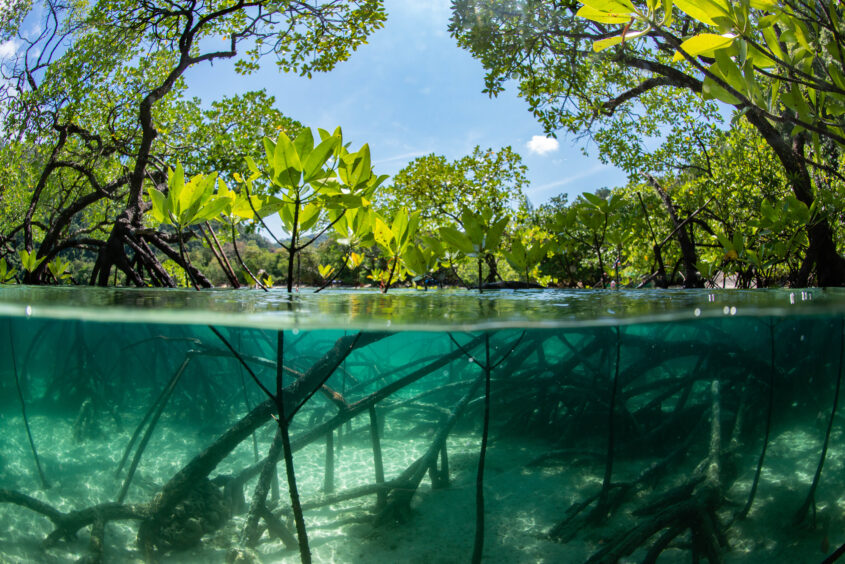 The Global Mangrove Alliance (GMA), in collaboration with the UN Climate Change High-level Champions, has launched a new initiative to provide a unified global approach to mangrove conservation. 
The Mangrove Breakthrough is designed to channel public and private investment into mangrove conservation and restoration projects.

 

Mangrove forests provide social, economic and environmental benefits, but human activity and extreme weather events are driving their destruction.

 

COP27's focus on climate finance for adaptation could help to incentivise further investment in mangrove conservation.

 
The GMA has announced the launch of its Mangrove Breakthrough initiative, and is calling for global signatories to support its collaborative approach to the protection of mangrove forests. So far, the Breakthrough has been signed by GMA members, the Ocean Risk and Resilience Action Alliance, software company Salesforce (NYSE:CRM) and other organisations yet to be named. 
Dr. Mahmoud Mohieldin, UN High-Level Climate Champion for COP27, said: "Mangroves have tremendous potential for not only coastal conservation but also present a unique sequestration system. We are very pleased to launch the Mangrove Breakthrough as it will raise much needed global ambition on mangrove conservation by unlocking public, private and philanthropic finance, at scale." 
"The Mangrove Breakthrough is creating the framework for the necessary ambition loop for governments and non-state actors to scale actions for the protection of mangrove ecosystems. The Mangrove Breakthrough will allow for even further global alignment and provides a pathway to measurable, shared accomplishment", added Nigel Topping, UN High-Level Climate Champion for COP26. 
The Mangrove Breakthrough
The GMA is coordinated by five leading environmental organisations and currently has around 35 members worldwide. Its Breakthrough initiative is expected to channel both public and private capital towards the conservation and restoration of mangrove forests.  
Specifically, the Mangrove Breakthrough outlines four science-based goals that will protect 15 million hectares of mangrove forest by 2030. These include halting current mangrove losses that are directly associated with human activity, restoring 50% of the 818,300 hectares of recoverable mangrove forests that have been lost since 1996, and increasing the share of mangrove forests that are currently under long-term protection from 41% to 80%. The fourth goal is to provide sustainable long-term finance for all existing mangroves by unlocking $4 billion in investment by 2030. 
If these goals are successfully achieved, the GMA estimates that more than 43.5 million tons of carbon could be captured by mangroves themselves, with an additional 189 million tons stored within their surrounding soils. The coastal resilience provided by mangroves, meanwhile, could reduce the flood risks of over 15 million people and protect an annual $65 billion worth of property. 
Mangrove forests offer multiple benefits
Mangrove forests are formed by trees that have adapted to living in warm, intertidal waters where there is enough sediment for them to develop their roots. They are typically located in tropical and subtropical regions, where they grow in deltas, estuaries, lagoons and sheltered shores. 
These forests have been identified as critical coastal ecosystems due to the multiple natural services they provide. They are thought to sequester up to four times the amount of carbon as other forested ecosystems, while also supporting water purification through the removal of excess nutrients and prevention of sediment build-up. 
Mangrove forests are extremely biodiverse, creating highly productive fishing areas. Other resources they provide include termite-resistant timber that can be burned for fuel or used to build traditional homes, and a sugary sap that is used to produce sugar and alcohol. Together, these resources provide a vital source of food, work and income to tens of millions of people around the world. 
Local communities can also benefit from the protection that mangrove forests create against waves, storms, coastal erosion and rising sea levels. As such, scaled-up conservation efforts would be immeasurably valuable in helping vulnerable communities to enhance their resilience against the increasing impacts of climate change. 
Currently, however, mangroves are being destroyed both by human activity such as unsustainable commodities development and by natural stressors including extreme weather events. Between 1996 and 2020, the total area of mangrove forest coverage declined by around 3.4%, with 62% of global losses between 2000 and 2016 resulting from land-use changes such as the conversion to aqua- or agriculture.  
This destruction causes several problems. When mangrove forests are destroyed, the vast amount of carbon they store is released back into the atmosphere. The interdependent relationships between mangroves and other ecosystems are disrupted, contributing to mass biodiversity loss. Those who depend on mangroves will suffer significant social and economic losses, and their communities will be less resilient to the changing climate. 
The drivers for scaled-up investment towards mangrove conservation
Given the multiple benefits they provide, as well as the many risks associated with their destruction, mangrove conservation could be described as the ultimate investment opportunity. Investment in mangrove forests is already supporting social and economic development along the African coastline, and could be expanded to provide climate protection and emissions reductions on a global scale. 
Although such investments can provide financial returns on private capital through participation in the market for blue carbon offsets, the likelihood is that public investment will also be needed to ensure that mangrove conservation projects have access to sustainable finance in the long term. 
The discussions held during COP27 could be critical in encouraging government involvement. While climate finance frameworks have historically focused on mitigation rather than adaptation and resilience, COP27 has seen the launch of the Sharm El-Sheikh Adaptation Agenda – a comprehensive plan to support the 4 billion people that are most vulnerable to the hazards of climate change. 
Given the resilience-building capacity of mangrove forests, the Mangrove Breakthrough has been accepted as part of the Sharm El-Sheikh Adaptation Agenda. As such, it provides a key opportunity for governments, businesses and other organisations and individuals to align their investments with this renewed focus on adaptation. 
As stated by Jane Madgwick, chief executive of GMA coordinator Wetlands International: "The Breakthrough could not be more timely. The opportunity to create momentum for mangrove action at scale and unlock the required finance is now. Mangroves are now widely valued, the potential for conservation and restoration is clear, and the knowledge base is there to drive successful implementation with inclusive and science-driven approaches, amongst stakeholders and across geographies."