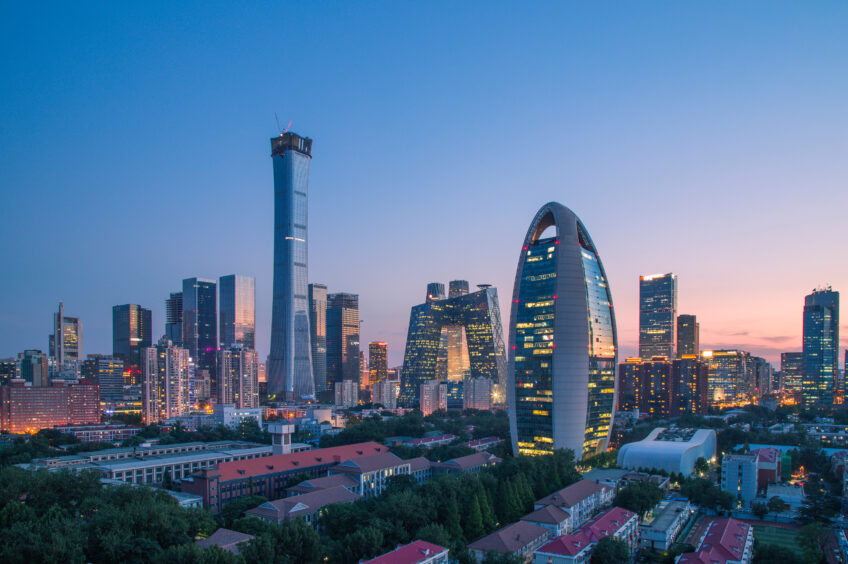 The International Sustainability Standards Board's (ISSB) decision to set up an office in Beijing can serve to facilitate its efforts in adding Scope 3, biodiversity and just transition aspects to its climate-disclosure standards, given China's role as the world's second-largest economy and its contributions to global supply chains.
The ISSB will establish a Beijing office in mid-2023.
The move also supports China's ambition to develop sustainability reporting standards capable of attracting international investors.
Establishing a hub in China is important for the ISSB as it builds on its recently announced intentions to add Scope 3, biodiversity and just transition aspects to its climate-disclosure standards.


ISSB establishes Asia hub to engage with developing economies and SMEs
The setting up of an office in China by the ISSB establishes its presence in a key global financial market, and is in line with its strategy to have a global presence and to engage with small and medium-sized companies (SMEs) in emerging and developing economies.
It also supports one of the fundamental reasons it was formed: to develop a global baseline of sustainability disclosures that can be applied globally by both large and small companies, with a special focus on developing, and emerging economies.
Expected to open in mid-2023 for a period of three years, the office will serve as a hub for engagement with local and regional market participants. Working in collaboration with International Financial Reporting Standards (IFRS) Foundation offices around the world will also help build the capacity and capabilities of the China office.
Emmanuel Faber, ISSB chair, said: "China is the world's second largest economy and plays a vital role in supply chains for companies around the world—making it an important jurisdiction as the ISSB develops its global baseline of sustainability disclosures for the capital markets. The Beijing office will play a vital role in this endeavour."
Internationally-aligned standards could help China attract global ESG investors
According to a report by PwC, ESG-focused investments will grow faster than any other asset and wealth management strategy, accounting for 21.5% of assets under management by 2026, up from 14.5% in 2021.
Although ESG investment is projected to grow the fastest in the Asia-Pacific region by PwC, they are forecast to only $3.3 trillion by 2026. This is dwarfed by projections of $10.5 trillion for the US, and $19.6 trillion in Europe. 
Aligning with international standards on sustainability disclosures can help make Chinese investments more attractive to global investors. This has been seen in the green bond market, where China has led the Asia-Pacific region in issuance, making it the  world's second-largest market for green bonds. 
The increase in green bond issuance volumes has been attributed to an updated green taxonomy in 2021, as well as government policies in support of reaching carbon neutrality by 2060. China's joint taxonomy project with the EU is intended to map similarities between the respective taxonomies to facilitate cross-border issuances. 
This resulted in a large influx of both onshore and cross-border issuance in China. The country announced measures to facilitate foreign institutional investments in its bond market in May 2022, by opening the interbank and exchange bond markets. 
China's economic importance will be reflected in ISSB standards
The inclusion of Chinese stakeholders in setting globally applicable standards by the ISSB is easy to understand. Not only is it the second-largest economy in the world, but it also accounts for a large proportion of global supply chains.
A large portion of a company's Scope 3 emissions, and exposure to risks related to biodiversity and a just transition lie within their supply chains. The ISSB has recently announced its intention to include disclosures relating to these risks as part of its ongoing standards development efforts.
The makeup of the ISSB's board would also seem to reflect the importance of China to the IFRS, which is the founder of the ISSB. The Memorandum of Understanding (MoU) between the IFRS and the Chinese Ministry of Finance, which helped establish the ISSB's Beijng office, will likely facilitate its standard-setting efforts. 
The importance of China to the ISSB is also reflected in the composition of its board. Two of the fourteen board members are of Chinese origin: Jingdong Hua, who serves as Vice-Chair of the organisation, and Bing Leng, a former director in the Accounting Regulatory Department of the Chinese Ministry of Finance. 
According to the IFRS, the Beijing office is expected to initially serve as a base for Bing Leng, while also providing a site for Jingdong Hua to build ISSB's engagement with stakeholders across all developing and emerging economies in the region.
Zhongming Zhu, Vice Minister of Finance China, said: "The signing of the MOU for the Beijing office marks a milestone in the deepening of cooperation between MoF China and the Foundation. We hope that it will serve as the beginning of a new journey that will witness closer cooperation between the two sides towards development and promotion of ISSB's high-quality international sustainability disclosure standards."