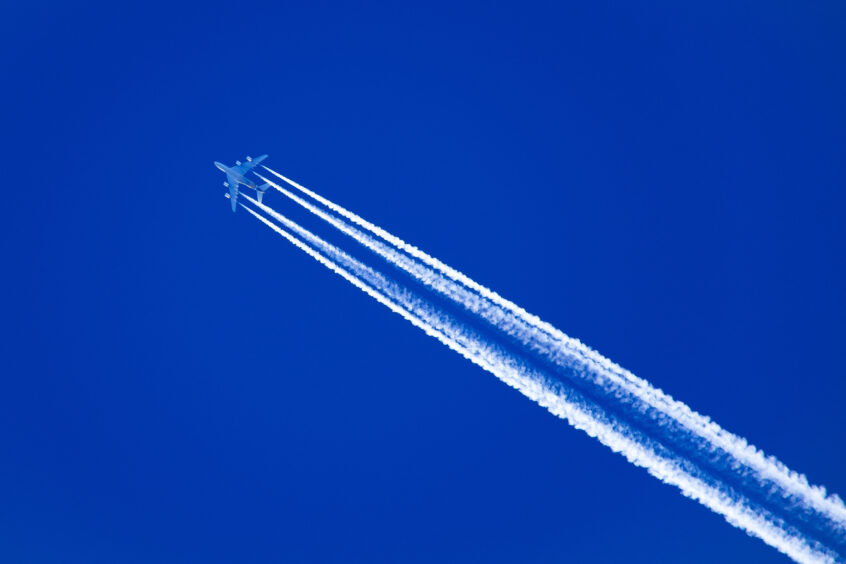 Air France-KLM's inaugural €1 billion SLB issuance is tied to a 10% reduction in its Scope 1 and Scope 3 emissions by 2025, which seems achievable, given its SBTi-approved 2030 goal of a 30% reduction. Proceeds will go towards repaying part of its €4 billion debt to the French state, which the airline has cited as a priority.
Air France-KLM (AF-KLM) has issued a €1 billion sustainability-linked bond (SLB), with key performance indicators (KPI) which include a 10% reduction in its Scope 1 and 3 jet fuel greenhouse gas (GHG) emissions by 2025, on 2019 levels.
Recent announcements by the EU to increase the aviation sector's responsibility for its own emissions may accelerate sustainability measures by airlines. 
The airline will use the proceeds to repay its debt, which appears to be a priority, although linking to a KPI which does not appear very challenging may invite scrutiny by critics of SLBs over issuance criteria.
The SLB issued by AF-KLM to raise €1 billion, will be used to partially repay the French state for an outstanding bank loan issued in May 2020, and also update its fleet to meet sustainability transition plans.
Inaugural GSSS issuance needed to repay debts as much as to advance sustainability
The company is looking to repay the €4 billion loan provided by the French government, the Pret Garantie d'Etat or "PGE", that was intended to help it recover from the negative economic impacts of the COVID-crisis.
The airline was also able to negotiate a revised debt redemption schedule with the banks that formed the syndicate guaranteeing the PGE. After paying off €500 million of the loan in December 2021, AF-KLM has agreed to partial payment of €800 million by May 2023, and two further payments of €1.35 billion each by May of 2024 and 2025.
An oversubscription of the issue by 2.6x suggested, according to the airline, improved investor's confidence in its credit worthiness. Prior fundraising efforts, however, suggested equity investors were not so bullish on the company.
A €300 million convertible bond issue in November 2022, which would have resulted in shareholder dilution according to market reports, resulted in the shares losing 12% of their value.
Airlines are also facing increasing pressure from the EU to decarbonise, with a deal reached between the European Commission and Parliament to make the aviation sector "Fit for 55".
Aviation sector to assume greater responsibility for its emissions
In a bid to make the aviation sector pay its fair share for its emissions, the EU parliament and the European Council have proposed new rules to make airlines "Fit for 55", which is the EU's plan to reduce its GHG emissions by at least 55% by 2030.
Aviation contributes to 2-3% of global CO2 emissions, but the share rises to 3.7% of the total across the EU. Recognising the EU Emissions Trading System's effectiveness as a key tool for addressing CO2 emissions, the EU decided to amend its rules relating to the aviation sector. 
As a result, a new carbon pricing will apply to flights within the European Economic Area until the beginning of 2027, as well as to flights departing from Switzerland and the UK and landing in the bloc. The Commission will also assess whether the Carbon Offsetting and Reduction Scheme for International Aviation (CORSIA) is sufficiently delivering on the goals of the Paris Agreement, by 2026. 
The proposals of the EU parliament and the EC also contain provisions to support the aviation industry to help with its transition. For example, an estimated €1.6 billion from EU ETS revenues will be used to fund the development of SAF. 
Sustainability strategy tied to fleet modernisation, SAF and operational improvements
The AF-KLM Group's decarbonisation efforts are based on three main levers, which are broadly in line with the initiatives suggested by the EU to help the sector with its green transition. These include updating and modernising fleets and equipment, increasing the use of sustainable aviation fuels (SAF), and improving operational efficiencies.
AF-KLM plans to have 64% new generation aircraft in its fleet by 2028, which it believes will have 20-25% lower emissions than their predecessors. It plans on spending €2 billion to acquire several models of planes from Airbus, Boeing, and Embraer, which it believes are the most energy efficient aircraft in their respective categories.
Both Air France and KLM have signed SAF off-take agreements in November 2022, ensuring 30% of the supply to fulfil its 2030 objective. AF-KLM targets its supply of SAF from industrial or domestic, and has pledged not to source its supply from feedstocks that compete with the human food chain or with animal feed. By 2030, the airline plans for SAF to account for 10% of its fuel use.
Operational improvements that can help achieve sustainability goals include those that limit fuel consumption, like single-engine taxiing and continuous descent.
As part of its "Fit for 55" initiative, the EU is scrutinising regulations relating to the airline sector, which require operators to accelerate their sustainability plans.
SLB KPI appears less challenging than 2030 ambition
AF-KLM has tied the reduction in its Scope 1 and Scope 3 GHG emissions by 10% by 2025 as the KPI in issuing its inaugural SLB. In December 2022, AF-KLM updated its sustainability targets, committing to a 30% reduction in its Scope 1 and 3 emissions by 2030, on 2019 levels. 
This reduction refers to a "well-to-wake" reduction in emissions, and is intensity based, using revenue ton kilometres as a measure. According to the airline, 83% of its emissions come from fuel combustion (Scope 1), while 17% come from indirect combustion (Scope 3), relating to the production and transportation of fuel.
The airline's 2030 targets have been approved by the Science Based Targets Initiative (SBTi) as being "in line with a well-below 2°C objective, as determined by the Paris Agreement signed in 2015."
If it can be assumed that the airline's SBTi approved targets are achievable, then its SLB KPI of a 10% reduction in Scope 1 and Scope 3 emissions by 2025 may appear less challenging than its 2030 sustainability target.
Proceeds from SLBs can be used for general corporate purposes, without any criteria mandating the quality of the KPIs associated with them. While this provides a method of financing the energy transition for hard-to-abate sectors like transportation, it has also raised concerns from critics over their misuse.
For debt-laden airlines, however, they may appear to provide much needed relief in refinancing debt at lower interest rates, while also raising funds from investors eager to invest in sustainability.