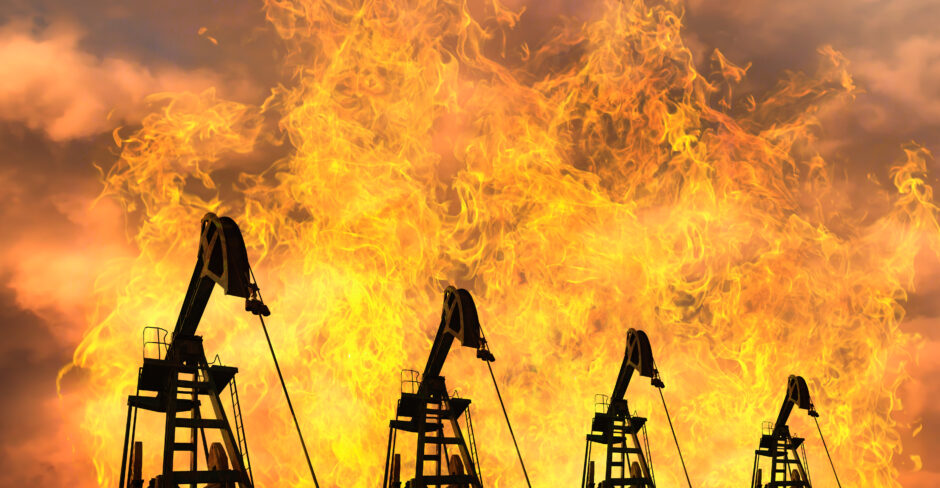 While in the US cities have often been seen as an effective level for action on climate change, the City of Vancouver is going one step further. It has voted to add financial backing to the 'Sue Big Oil' campaign launched in June 2022.
In June of 2019, Vancouver City Council voted to direct Mayor Stewart to write to large fossil fuel companies and request they contribute to climate change-related costs.
In July 2022, it has directed staff to include in the draft 2023 Operating Budget an amount up to $1 per Vancouver resident to support West Coast Environmental Law's class action lawsuit against fossil fuel companies. Given the climate-related costs that many municipalities face and the outsized profits of the fossil fuel industry, it's unlikely to be the last.
Plan for municipalities to sue big oil for adaptation funds
The 'Sue Big Oil' campaign is one started by West Coast Environmental Law, aiming to encourage cities across British Columbia to encourage municipalities to offer up to $1 per resident for a class action lawsuit against fossil fuel companies.
The intention is to find a new way of supporting local governments in paying for adaptation to climatic changes – such as building new sea walls or repairing existing walls, or protecting critical infrastructure from extreme heat – but doing it in such a way as to protect local taxpayers from paying the full economic costs of such requirements.
During a summer which has seen extreme heat across the US and Europe, and when London caught fire from the heat, it is clear that action is necessary.
Class action lawsuits, such as with the tobacco industry, have helped mitigate the root problem and costs of particular issues which are proving hard to address – usually through a combination of path dependency, market structure and lobbying.
Founder Avi Lewis said:" Fossil Fuel giants have captured governments and banks, extracting mega-profits while the world burns. It's time to Sue Big Oil."
Big Oil has spread climate misinformation and generated massive profits
The argument is that multinational fossil fuel companies spent millions to deceive, deny and distract the markets on their way to billions in profit by preventing action on climate change.
This is hard to argue against at a time when details are emerging of a concerted effort to spread misinformation on climate change. At the same time, analysis has been released showing just how much money fossil fuel companies have made from the sector over time – without ever having to pay for the consequences and impacts of their operations.
According to The Guardian, analysis from Professor Aviel Verbruggen, based on World Bank data, shows that the oil and gas industry (both companies and oil states) have seen average daily profits of $2.8 billion for the last fifty years.
Estimates of income are based on the 'rent' or economic income based on unearned profit after the total cost of production has been deducted. And under the current financial system, that means the profit extracted because the cost of impact (in terms of emissions or pollutants) was not included in the calculation.
Fossil fuels generated $52 trillion profit since 1970
While full publication is forthcoming, the research equates the vast total captured by petrostates and fossil fuel companies since 1970 to a staggering $52 trillion. These profits were further inflated by cartels of countries that have artificially restricted local supplies.
This analysis, which appears to be the first long-term assessment of the oil and gas sector's total profits, discloses that oil rents make up 86% of the total. It shows an annual profit between 1970 and 2022 at $1 trillion with an expectation that this number will double in 2022.
In 2020, The Insurance Bureau of Canada estimated that Canadian local governments should collectively spend $5.3 billion each year to prepare for climate impacts, and Vancouver is expected to spend $1 billion in the coming years to address rising sea levels fuelled by climate change. While these figures will be multiplied dramatically when scaled up to all the cities and communities affected, it is a drop in the bucket in terms of the fossil fuel sector's income.
It's a systemic problem not one of individual change
Mark Campanale, director of Carbon Tracker said: "To keep to 1.5 °C, this means [international oil companies alone] forgoing around $100 trillion of potential revenues. You can see why oil oligarchs and nations controlled by political elites want to keep their fossil fuel rents, the source of their power."
The sheer volume of profit involved also explains a great deal about why the industry has worked so hard to convince individuals that this is not a systemic problem, but one that can be addressed by changes in personal choice and behaviour. There is no doubt that every little helps but wide-spread structural failures clearly underpin the current growing crisis.