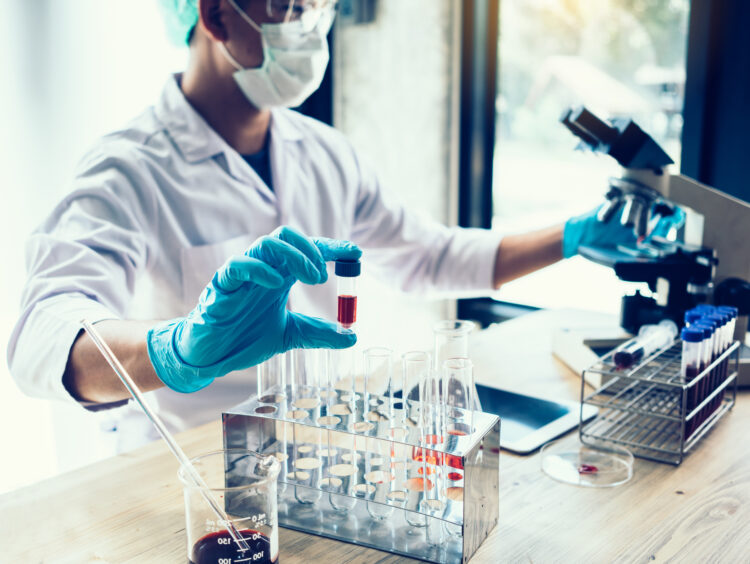 ÄIO, a biotechnology start-up that develops food products from by-products of the wood and the agricultural industry, has raised €1 million. Investors include Nordic Foodtech VC, EAS and other partners.
Estonian startup ÄIO has raised €1m to develop alternative meats and fats which can replace palm oil.
The company's process uses a patented microbe that enables the creation of these alternatives from wood waste and agricultural by-products.
While appetite for meat alternatives, non-palm oil solutions must also be found. Globally the EU estimates that palm oil has been linked to around 2.3% of global deforestation.
äio tech OÜ is a company that grew out of Estonia's technical university TalTech – it was founded in 2022 by TalTech bioengineers Petri-Jaan Lahtvee and Nemailla Bonturi. The funds raised will be used to replace the environmentally depleting oils currently used in the food industry with sustainable full-value alternatives.
With the help of a unique microbe, the company produces sustainable and edible oils and fats from by-products of the wood and the agricultural industry. ÄIO's international team includes 6 experts – two Brazilians and four Estonians, all possessing experience in bioprocessing, synthetic biology, and food technology.
According to co-founder of ÄIO Petri-Jaan Lahtvee, the current food system is responsible for more than a third of greenhouse gas emissions. He said: "Compared to livestock farming, plant-based meat also requires 47-99% less arable land, emits 30-90% less greenhouse gases and uses 72-99% less water."
Nemailla Bonturi, also a co-founder added: "Palm and coconut oils used to make plant-based meat alternatives, do not deliver the same taste and mouthfeel as animal fat. Also, the production of these oils is not sustainable, they are unhealthy and can cause allergic reactions."  These alternatives also come with their own host of environmental issues.
The trouble with palm oil
Palm oil is in 50% of consumer products, a prevalent ingredient in a range of everyday goods from shampoo to foods, plays a role in many industrial applications and is even used as a source of non-fossil fuel. Farmers produced 77 million tonnes of palm oil for the global market in 2018, and that is expected to grow to 107.6 million tonnes by 2024. Yet it has an outsized impact on illegal deforestation and biodiversity loss.
Despite its association with deforestation, biodiversity loss, water abstraction, land conflicts and various other environmental and social issues, palm oil has become  and global demand for palm oil continues to rise. Yet concern about its use continues to rise.
Palm oil regulations are growing stricter, with the EU having recently introduced mandatory due diligence requirements while the US has placed a firm ban on the use of palm oil ingredients that are sourced through illegal deforestation.  
At the same time, investors have come to recognise the risks of commodity-driven deforestation and are beginning to demand the disclosures they need in order to eliminate such risks from their portfolios. With the development of standardised frameworks such as that of the Taskforce on Nature-related Financial Disclosures, these demands are likely to translate into common practice. 
Finally, consumers are increasingly searching for products that align with their personal values. They no longer wish to buy products that they believe to be environmentally harmful, and are often willing to pay a premium price for more sustainable options.  
As such, companies that wish to maintain or expand their share of the market would do well to incorporate greener ingredients. Though they may have been able to get away with vague or misleading claims in the past, regulatory efforts to crack down on greenwashing suggests that such practices will no longer be tolerated. 
On a broader level, the finalisation of the Global Biodiversity Framework on 19 December 2022 will support the implementation of additional policy measures to regulate the impacts of business on nature. At the same time, investors are beginning to expect greater transparency through the emergence of frameworks such as CDP's forest questionnaire or that being developed by the Taskforce on Nature-related Financial Disclosure. 
Under increased scrutiny, businesses that wish to remain competitive and compliant will have to invest in sustainable solutions.
Next steps for ÄIO
As the next step, ÄIO plans to increase its production capacity, test products in co-operation with food industry, and apply for novel food permits to enter the European market. By 2026, it is planning to start the production on an industrial scale. ÄIO's RedOil can also be used in cosmetic products and household chemicals, replacing lubricants and surfactants derived from petroleum or palm oil.
The entire production process is based on research carried out in Estonia, through which industrial side-streams are transformed into food products through a fermentation process, similar to brewing beer or raising bread with yeast. The fermentation process produces fats rich in healthy fatty acids and antioxidants.
Fermentation uses the "red bug" microbe created and patented by Bonturi, which turns by-products of agriculture and other industries into tasty and appetizing fats and oils. "In the same way that we make kombucha, yogurt, bread, and beer, we can turn sawdust or other low-value biomass into valuable and healthy ingredients. Our "red bug" cannot turn water into wine, but it can turn sawdust into food," explained Bonturi.
"As scientists, we were excited that years of research resulted in a real product that could revolutionize the entire food industry and consumer experience. We highly appreciate everyone who has contributed to our success story, and we will continue to develop the company and its products together with our partners, the leading investor, and the food industry. We will also continue to work with TalTech to train the next generation of bioengineers," added Lahtvee.