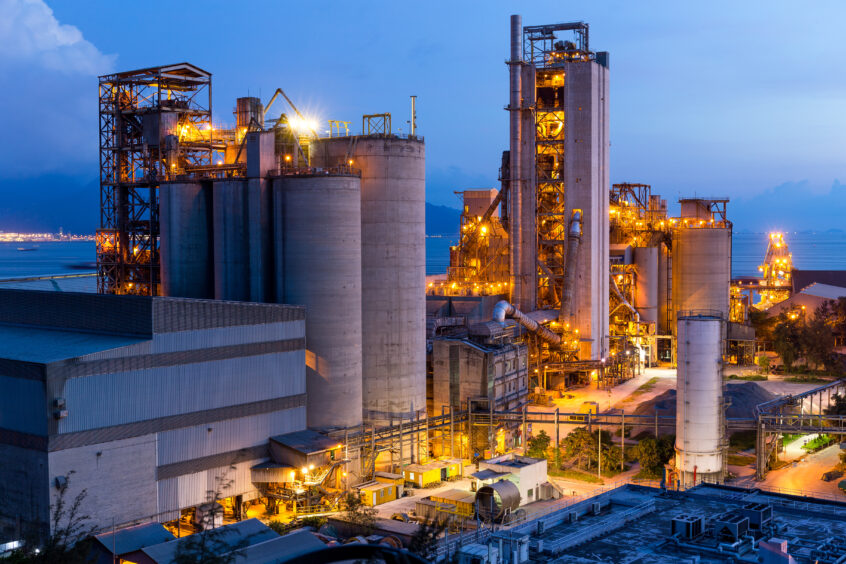 London-based Cool Planet Technologies (CPT) has announced that Holcim Germany has received funding for the construction of a carbon capture plant using CPT's technology as it sets out to raise its second Series A.
Holcim has receive government funding towards the installation of CPT's technology to capture 10,000 tons worth of carbon emissions per year from its Höver cement plant in Germany.
Cement accounts for 7-8% of global emissions, with demand set to rise by 50% before 2050. Its emissions are hard to abate, but net zero cannot be reached without its decarbonisation. 
The success of the first test phase drove approval of the funding and enabled the project's early start. Once complete, it could make an enormous difference to Holcim's emissions while delivering liquid CO2 that can be sold into secondary markets.
Holcim Germany has received funding approval from the German Federal Ministry for Economic Affairs and Climate Action (BMWK) for the construction of a new carbon capture facility at its Höver cement plant.
News of the funding followed the completion of a first phase of testing for a decarbonisation project being developed between Holcim (Deutschland) GmbH and its partners CPT and Helmholtz Zentrum Hereon.
If successful, the final project will involve the construction of a 10,000 tons per annum CO2 capture plant, built around CPT's membrane carbon capture process. As the process is based on an innovative membrane technology, it is designed as an end-of-pipe solution. This means that carbon will be captured downstream of the actual cement-making process, so it should not result in any technical hitches.
Early success saw funding agreed
BMWK's grant, which is part of Germany's Decarbonisation of Industry funding programme, was made possible by what Holcim called: "the extraordinarily positive results of the preliminary test phase conducted in 2022" – which have also enabled an early start to the project.
Thorsten Hahn, chief executive of Holcim Germany said: "The support of politicians shows that we have successfully ushered in the cement transition. The funding commitment supports our consistent path to climate neutrality and strengthens us as a driver of the transformation of our industry."
The funding for the project – "Industrial research on membrane-based CO2 capture for the decarbonisation of cement plants" – will support the construction of a demonstration facility in early 2024, followed by a year-long testing phase during which the technology's long-term commercial potential will be carefully monitored.
Second phase of system testing will determine commercialisation potential
If the long-term test is successful, the plant would gradually be expanded until it can separate around 90% of the CO2 emissions from the Höver cement plant while supplying liquid CO2 of high enough purity that it can be used in value-added applications further downstream. If it cannot be sold, it could also be easily sequestered.
According to Holcim: "The objective of the demonstration plant is to confirm performance, the economics and operational behaviour on a larger scale in order to check whether the membrane technology can be used technically and economically not only in Höver, but also in other cement works and in other industries."
"The end-of-pipe solution is downstream of the cement production process and therefore has no direct impact on it, which significantly simplifies the decarbonisation of the existing cement plants."
CPT is raising its second series A on the back of its success
CPT has previously signed a series of licensing agreements with Germany's Helmholtz-Zentrum Hereon, through which the startup will gain exclusive worldwide commercialisation rights for Hereon's latest generation PolyActive membrane alongside its carbon capture technology. The  companies have filed a patent application for the jointly developed intellectual property (IP).
Following a successful funding round in 2022, with investment from ENI next, Audacy Ventures and NEVA SGR, CPT is currently raising a second Series A funding round to support the demonstration and commercialisation of its membrane technology.
Andrew Corner CPT's Managing Director said: "We are delighted that Federal Ministry of Economic Affairs and Climate Action has approved the grant funding to Holcim for the Demonstration plant at Höver. Construction of the demonstration plant is about to start, and we look forward to continuing our work with Holcim and the team at Höver and helping them to meet their decarbonisation objectives and further proving up the commerciality of our membrane capture technology."
SGV TAKE
There is clearly some promise in CPT's technology if the German government has accelerated funding of the next stage of testing. Decarbonisation of cement is critical to the transition, as global demand continues to grow. Given that cement production is already estimated to be well over 4 billion tonnes per year, current projections that demand will grow by around 50% before 2050 raise significant questions about the speed and scalability of carbon capture and storage techniques.