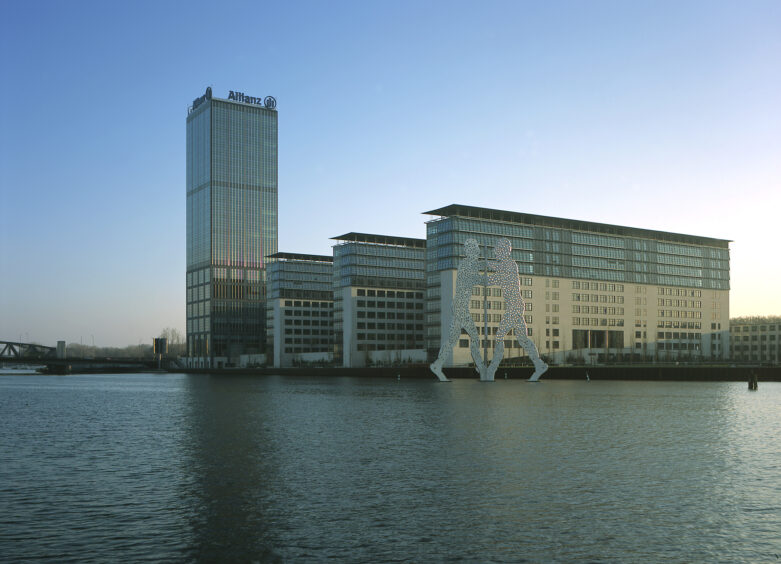 German insurer Allianz set intermediate targets months after leaving the embattled Net-Zero Insurance Alliance (NZIA), but campaigners say it needs to step up efforts to phase out fossil fuels.
Allianz illustrated how it plans to achieve its 2030 targets and net zero emissions by 2050.
New commitments are encouraging after the industry's sustainability progress was set back by several firms leaving the NZIA.
Insurers seem to be making small, incremental changes rather than taking decisive action to spur the transition.
Allianz has published its first comprehensive net zero transition plan, which substantiates its commitment to achieve net zero emissions by 2050 in its proprietary investment and property and casualty (P&C) underwriting portfolios and by 2030 within its own operations. 
"At Allianz, we are committed to delivering on our own net-zero targets, as well as partnering with our clients and investee companies in their transition. We believe our intermediate targets will help us realize our growth potential and contribute to a healthier, more secure future for everyone," said chief executive Oliver Bäte.
What is Allianz planning to do?
The insurer outlined targets to reduce greenhouse gas emissions and is looking to strengthen its existing engagement activities with customers and investee companies, as well as expanding its portfolio of renewable energy, low-carbon and further transition technology, and sustainable mobility in both the investment and insurance business. 
For example, it set out to achieve 150% profitable growth in revenues from renewable energy and low-carbon technology solutions in the commercial insurance segment by 2030 versus 2022, as well as invest an additional €20 billion in climate and cleantech solutions in line with the EU sustainability regulation. In the retail motor insurance portfolio, the plan is to cut emissions by 30% in nine key European markets by 2030 – Austria, Belgium, France, Germany, Italy, Netherlands, Spain, Switzerland, UK – also from a 2022 baseline.
For its own operations, Allianz pledge to cut climate gases per employee by 70% percent from a 2019 baseline, for example by purchasing 100% green electricity as of 2023 and shifting to a fully electric corporate car fleet over time.
Proprietary investments
For the investments of policyholder funds, the target is to halve emissions by 2030 compared with the 2019 baseline for listed equity and corporate bonds. All directly held real estate assets and joint ventures will have to be aligned with 1.5°C pathways in terms of total emissions. The intensity of greenhouse gas emissions of investments in corporates, both listed and non-listed, will also be cut by 50%.
The insurer said it will prioritise targets for four emissions-intensive sectors – electricity utilities, oil and gas, steel, and automobiles – through active dialogue between the companies and its asset managers, working in partnership with sector-wide initiatives. 
P&C commercial insurance portfolio
The targets for this segment are intended for the emissions of businesses insured by Allianz. For example, the sub-portfolio of large companies that already report their GHG emissions and are insured by Allianz Global Corporate & Specialty is expected to cut emission intensity – in this case indicating the amount of client-generated emissions associated with every €1 million of premium – by 45% by 2030. 
Other activities include the gradual phase-out of coal-based business models by 2040, the expansion of renewable energy and low-carbon technology insurance as part of the overall Allianz Commercial portfolio, as well as committing to engagement with corporate customers to encourage action on the transition. 
The insurance sector's choppy journey to net zero
The news comes two months after French insurer Axa announced new targets for its insurance and investment portfolios based on methodology developed by the NZIA. Both insurers had left the alliance earlier in 2023 amid an exodus of members, influenced by anti-trust concerns and the ongoing politicisation of ESG in the US.
This was considered a setback in making progress across the industry, as it asked signatories to unilaterally and independently transition their own insurance and reinsurance underwriting portfolios to net zero by 2050, providing a framework to do so – the same one used by Axa for its most recent targets. 
It seems that the industry is focusing on relatively small, incremental changes instead of taking decisive action to realign capital towards low-carbon solutions. Indeed, while the world is already ravaged by extreme weather events, forcing insurers to rethink their strategies, the sector as a whole still holds $500 billion in fossil fuel-related assets. Insurance, however, has the unique power of spurring the energy transition by simply refusing to insure projects that do not align with global climate goals.
According to Nick Oldridge, head of marketing and sustainability at broker Naturesave, insurers have been lacking ambition and "underestimate how severe the impacts of the climate crisis will be, and just how soon these impacts will be thrust upon us". 
As for Allianz's announcement, Oldridge notes that the investment policy appears robust on the surface, but adds that "it will be interesting to learn how Allianz will prioritise emissions reduction targets for the oil and gas sector, when none of those companies have plans to phase out fossil fuels".
Similarly, for the underwriting policy, he comments: "If we continue to expand the fossil fuel sector, we know we will have zero chance of keeping global temperatures to anything less than 2 degrees. So, we need to ask ourselves, why is our industry still agreeing to insure any new oil or gas projects? The Allianz policy clearly deserves praise for taking things further forward, but can we just please, all agree to stop underwriting all new fossil fuels with immediate effect – no exclusions, no loopholes."
This sentiment was echoed by Ariel Le Bourdonnec, insurance campaigner at Reclaim Finance: "Unlike [Axa], Allianz demonstrate transparency by defining targets affecting its entire property-casualty portfolio. These new intermediate targets remain insufficient. Allianz must urgently refuse to cover any new gas infrastructure projects, such as new LNG terminals, if it hopes to meet its net zero pledge by 2050." 
SGV TAKE
Allianz's plan suggests that, even though anti-ESG sentiment managed to disrupt the NZIA, the industry presents willingness to act and sees the value in achieving the net zero transition. There is, however, much reliance on fossil fuels and even Allianz's commitment, which is ambitious compared to its peers, leaves too much room for the oil and gas sector.