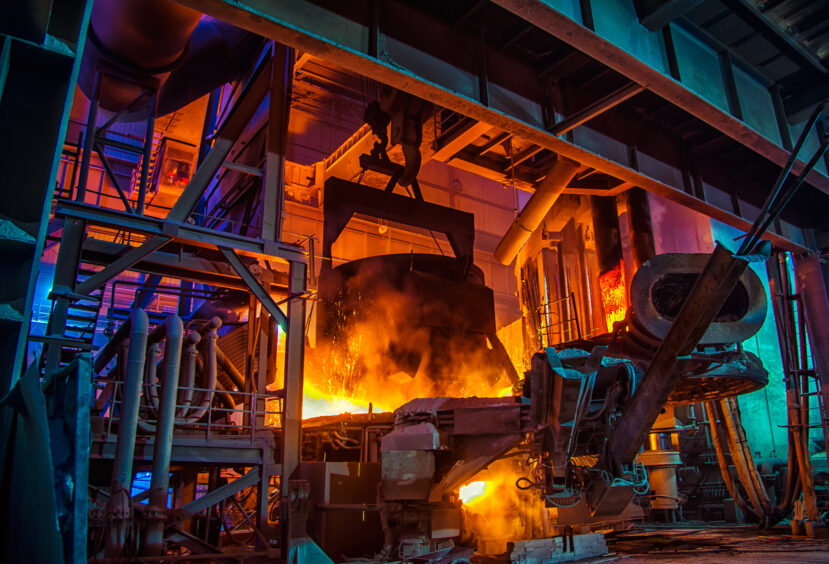 Multinational engineering consultancy, inspection, and certification company, RINA, has started its six-year research Hydra project to build a 100% hydrogen-fuelled pilot plant capable of producing up to seven tonnes of different grades of steel per hour.
RINA has started work on its six-year hydrogen-fuelled steel plant project, which is expected to find technological breakthroughs open to the market.
Funded by the EU and Italy it will address the critical need to decarbonise sectors where renewable electricity cannot solve the challenge.
With the steel industry responsible for at least 7% of global CO2 emissions and being the largest industrial consumer of coal, decarbonising the sector will play a critical role in achieving net zero goals.
This open research project is expected to provide ground-breaking near-zero carbon technology and capabilities to the international steel industry. This is critically important because, while steel can be recycled, there are many regulations around its reuse in areas such as construction, and any use of virgin resources is highly carbon intensive.
With over 3,500 different types of steel with unique physical, chemical, mechanical and magnetic properties, the steel industry accounts for around 8% of global emissions, with every tonne of steel produced currently emitting 1.63 tonnes of CO2 on average. The open research Hydra project aims to reduce emissions to mere kilograms of CO2 per tonne of steel and will make the technology available to the industry on the way to net zero.
The challenge is that net zero steel can initially cost more than steel made with conventionally polluting technologies. For example, replacing coal with green hydrogen would increase steel prices by a third, according to the European Parliamentary Research Service's Scientific Foresight Unit. By 2050, the increase is expected to be less than 15% of the average steelmaking cost.
Sharing the findings will help transform the sector as a whole
Ugo Salerno, chairman and chief executive of RINA, said: "Beyond the technological advancements, the truly unique nature of this project is its position as an open research facility. It is not intended or designed to provide a commercial advantage to any one steel producer but rather move the industry and the world forward in the use of 100% hydrogen production with near zero emissions. This is why the Hydra project has been supported since its inception by leading European steel producers, plant suppliers, utilities, and major stakeholders in the sector."
Funded by the European Commission's NextGenerationEU plan and backed by the Italian Ministry of Enterprises and Made in Italy through RINA's Centro Sviluppo Materiali in Castel Romano, Italy, the €88 million Hydra project is part of the IPCEI (Important Projects of Common European Interest) and will involve a dedicated team of 120 people.
What does the Hydra project entail?
Hydra will involve the design and construction of an operational pilot plant that will utilise hydrogen in every stage of the steel production cycle. The structure, scheduled for completion by 2025, will consist of a 30-metre high direct iron ore reduction tower using hydrogen as a reducing agent, an electric furnace and a reheating furnace.
Through a testing and qualification hub, the project will also characterise the materials, equipment and internal infrastructure required, including transportation and storage, by steel producers to transition to 100% hydrogen fuelled steel production, ensuring a comprehensive and validated shift to hydrogen-based processes.
As part of Hydra, RINA, thanks to its extensive experience in hydrogen-based decarbonisation technologies, among which the world's first test of a 30% gas-hydrogen blend in steel forging, will also establish a training centre to gather and disseminate know-how related to the design, implementation, and deployment of hydrogen-based decarbonisation technologies. The centre will then become a permanent international research and development platform open to all stakeholders in the steel and energy industries.
One of the challenges facing the project is, of course, access to sufficient quantities of green hydrogen. Salerno said: "Ultimately, the technology will rely on the availability of hydrogen to power the steelmaking processes. By backing Hydra as an IPCEI project, the European Commission has underscored its commitment to the broader adoption of hydrogen as a sustainable energy source. With many industry projects underway for the use of hydrogen, we hope that this project will help move these forward by establishing the hydrogen infrastructure and supply chain needs of the steel industry."
The World Economic Forum has launched its steel challenge
The Hydra project is part of a wider industry approach, that recognises that the steel industry can no longer continue with business as usual. According to the Mission Possible Partnership, more than 160 million tonnes per year or over 10% of crude steel demand must be met by near-zero emissions primary steel plants for steel to be on a credible 1.5°C pathway.
That means that action must go far beyond just the makers of steel and involve the buyers as well – because no manufacturer will invest in unproven costly technologies without knowing there is a market for the resulting product. To that end, the World Economic Forum (WEF) recently launched an innovation challenge, the Net Zero Steel 2030 Challenge, to call for global businesses to commit to producing and purchasing near-zero emissions steel by 2030.
The WEF's flagship decarbonisation initiative involves an alliance of global companies using their purchasing power to boost innovative clean technologies and reduce emissions across seven hard-to-abate industrial sectors accounting for 30% of the world's carbon footprint, including steel.
Under the challenge, the Coalition will integrate the demand and supply sides of the steel industry by connecting businesses interested in purchasing near-zero steel with companies that have the interest or capability to produce it. It will also connect steel suppliers to climate tech companies specialising in enabling technologies such as hydrogen, renewable energy and carbon capture.
Members of the First Movers Coalition that have signed up to purchase near-zero steel for at least 10% of their steel purchases include General Motors (NYSE:GM), Ford (NYSE:F), Volvo (NASDAQ:VOLV B), Mahindra (NSE:M&M) and Ørsted (CPH:ORSTED). The UK, US and Australian governments are also signed as partners of the Coalition, which was first launched in Glasgow at COP26.
SGV TAKE
While it is exciting to see further funding going into potentially green steel, the challenge is that current technologies suggest hydrogen processes could increase the cost of green steel to over a third higher than traditional approaches. Given that coal supplies roughly 75% of steel-making's energy demand, that's clearly unacceptable.
Hopefully, the output of this shared research project will accelerate the collaboration between market leaders in a range of sectors. There is no question that many of the solutions that we are relying on for decarbonisation are interdependent – such as the need for green hydrogen as a solution for steel decarbonisation. In the same way, suppliers and buyers are going to have to find ways of moving forward together, rather than at odds, if net zero targets are to be achieved. And that remains a challenge.