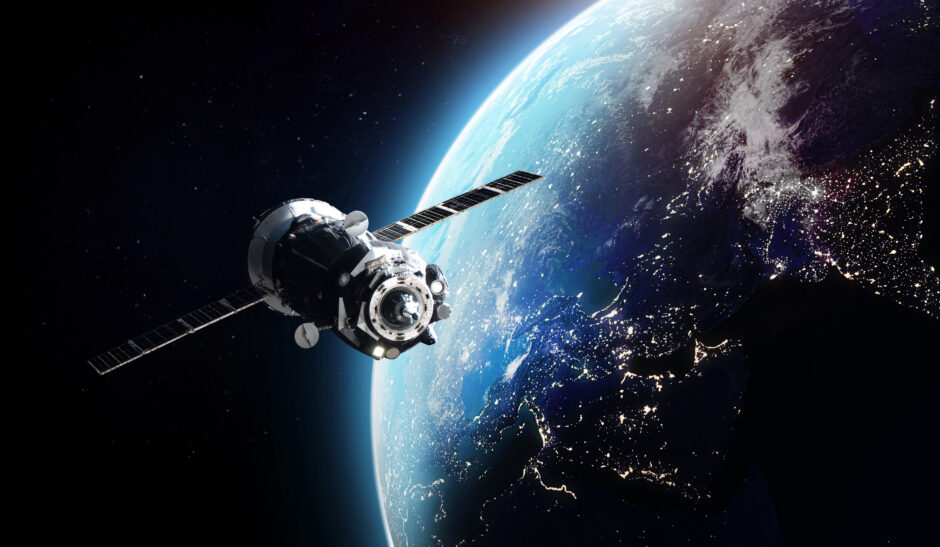 The UK branch of Europe's largest business incubation programme for space tech startups has passed a milestone of £200 million in funding, powered by investment in satellite tech for climate action.
The achievement follows a substantial funding success by OpenCosmos, raising more than £40 million to expand its satellite solutions for monitoring climate change.
Highly accurate and granular satellite data is central to large-scale monitoring of climate parameters and related events. 
This indicates rising investor interest in the potential of innovative space-based systems for tackling climate and environmental risks for the future. 
The growth in investment in space overall, and satellite development in particular, are critical for addressing climate change. Tracking temperature, methane emissions, forest coverage and even biodiversity data is necessary to understand what's going on. Granular data detecting slight shifts in ice sheet coverage, glacier retreat, ocean and atmosphere heat patterns and greenhouse gas emissions spanning the globe is the foundation of climate action.
Scaling space tech for climate in the UK
Investment in space tech for climate is definitely on the rise in the UK.  Earlier in 2023, Satellite Vu, a UK space and climate tech startup able to monitor the temperature of any building on Earth secured £81 million worth of purchase options from thirty companies for their Early Access Programme for sustainable solutions. It is also being used to monitor and optimise use of the UK's energy grids. 
Moreover, over the last 10 years, just under half of the space-tech startups supported by the ESA BIC UK have had a sustainability focus. 
OpenCosmos, a satellite solutions company focussed on energy and climate monitoring is the startup that helped ESA BIC UK pass this milestone. It raised £40 million in its Series B funding round in September 2023 from leading impact investors Trill Impact, ETF Partners and A&G. 
The company specialises in designing, constructing, launching and operating advanced satellites for custom Earth observation for companies, from deforestation to biodiversity monitoring. It also has a technology platform that streamlines access to this data, lowering mission costs. 
OpenCosmos also handles satellite telecommunications, navigation and scientific missions to support addressing climate change, the energy transition and sustainable resource management. After joining the ESA BIC UK in 2015, it launched its first satellite from the International Space Station and secured significant contracts such as an agreement with Open Constellations, a global shared satellite infrastructure. 
Geraldine Naja, director for commercialisation, industry and competitiveness at ESA, said: "Under the commercialisation endeavours of ESA we are looking to support the scaling up and impact of such companies by listening and adapting to their New Space needs to position Europe as a global space commercialisation hub."
Satavia, another success story from ESA BIC UK, is a green aerospace start-up that signed a pioneering multi-year commercial production contract with Etihad Airways to integrate its contrail management technology into routine flights.
Using Earth observation satellite technology to develop an analytics platform for monitoring environmental factors in the atmosphere, including volcanic ash and ice, the system examined Etihad's schedule and suggested altitude and routing adjustments for more eco-friendly operation of certain flights. 
Currently, aviation contributes over 2.5% to global CO2 emissions, a figure that Satavia aims to reduce substantially by eliminating the formation of warming aircraft contrails. 
Paul Vernon, executive director of business and innovation at STFC, said: "Open Cosmos and Satavia are a clear demonstration of the success that pioneering businesses in the UK space sector can achieve with access to the right technologies skills and business support."
UK space tech also provides new methods of addressing climate change. The UK government announced a new multimillion funding package to develop technologies for the space-based solar power sector. This is intended to explore how commercial space-based solar power could provide a reliable source of electricity for the UK, following claims of a world-first successful transmission of solar power to Earth from space.
Space tech fills climate 'data gap'
In the third phase of the G20 Data Gaps Initiative in 2022, climate change data was identified as a primary area of concern. There is growing recognition of space tech in addressing this gap in granular information on climate. 
Satellite data is not only the primary source of climate and weather data worldwide, but also offers a range of cutting-edge solutions for corporations and governments. These range from highly accurate emissions detection, identifying air quality data, wildlife tracking to providing early alerts for wildfires and even deploying renewable energy projects remotely.
With the ability to monitor a wide range of variables spanning the Earth and identify areas of concern, the data provided can support accurate disclosure and decision-making across the board. 
It is already part of various strategies: for example, in May 2023, ERM, a global consultancy firm announced a new partnership with Planet Labs, a satellite data specialist to help their clients achieve their sustainability goals. The US Environmental Defense Fund has invested in creating MethaneSAT, a satellite technology that will track excess methane from oil and gas to enable the sector to slash methane emissions by 70% by 2030. 
Companies and organisations are increasingly using satellite data to aid ESG reporting as well. Unilever (LSE: ULVR)  has partnered with Orbital Insight, a geospatial analytics company, to monitor its palm oil supply chain.  It also enables countries, and civil society, to ensure that there is robust data on climate change – at COP27 for example, Climate TRACE used satellite data to reveal that fossil fuel emissions were three times the amount previously reported.

AI has also emerged as a synergic companion to satellite technology, capable of analysing the vast amounts of data generated to create actionable insights. Early in 2023, NASA partnered with IBM to use its AI technologies to analyse NASA satellite date for climate change.  These include thermal-infrared cameras in space to detect wildfires and verify the effectiveness of carbon removal projects. 
SGV Take
Many decision organisations and countries make rely on satellite data – from disaster prevention, and weather forecasting to tracking emissions. That means that advancing innovation in the sector is absolutely central to not only powering climate action, but also ensuring accurate climate disclosure.
In its provision of foundational data for climate action, space tech is a keystone for future progress to reach net zero. The rise of space tech investment in the UK is a positive trend, however, to prevent inaccurate disclosure hindering climate efforts, companies also need to invest more in accessing satellite data to track climate and environmental parameters for their business.