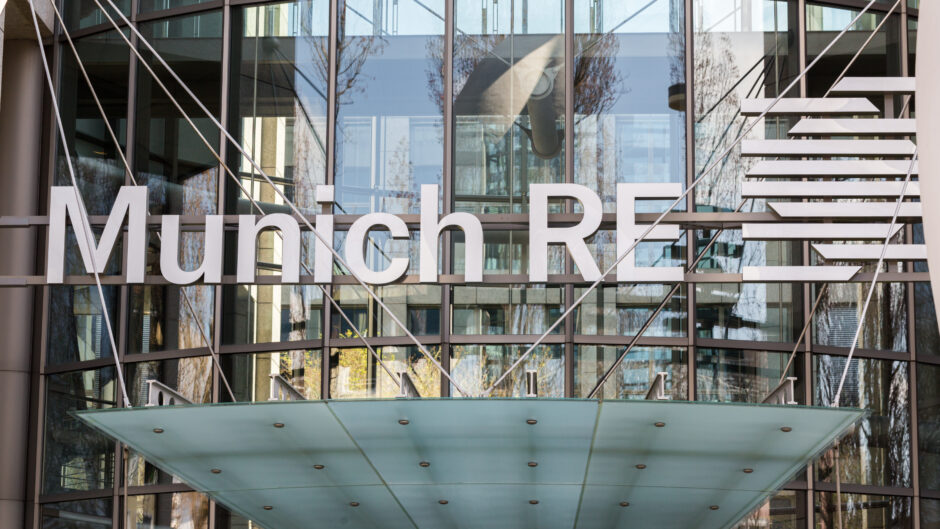 Munch Re has reset its relationship with the oil and gas sector, with news that it will no longer invest in or, perhaps more importantly insure, new oil and gas.
Munich Re to halt insurance of, and investment in, new oil and gas fields or new oil fired plants and plans to halt equity investment in pure play oil and gas companies from 2023.
No project can ever get off the ground without insurance, as that is a fundamental requirement of project finance.
While it is the first step by the insurance industry, it signals that the risks involved in insuring such projects are considered uninsurable.
Munich Re has tightened its policies around insurance of and investment in new oil and gas projects. From April 2023 the reinsurer has said it will no longer invest in or insure contracts/projects exclusively covering the planning, financing, construction or operation of new oil and gas fields, or new oil and gas plants – that were not under construction or operation by the end of 2022.
This applies to direct illiquid investments, as well as its primary, facultative and direct (re)insurance business. The same applies where such risks are contained or bundled in one cover together with other risks (e.g., existing oil or gas fields), when the cover is mainly designed to protect one or more of such new risks.
It has also stated that it will direct new investments in pure-play oil and gas from April 2023 and, from January 2025, it will require a credible commitment to net-zero greenhouse gas emissions by 2050 including corresponding short- and mid-term milestones from listed integrated O&G companies with the highest relative and absolute emissions.
Does oil and gas now come with an unacceptable risk of loss?
Perhaps one of the most powerful parts of its statement are that it will not provide cover to those risks bundled with others. As a global reinsurer, the company issues reinsurance contracts that underpin the entire insurance industry – such contracts are how other insurers spread risk.
Munich Re also plays a role as a major institutional investor because it invests the insurance premium's it is paid into the wider markets.  This is a strong statement from the reinsurers, especially given that much emissions related investment action to date has been focused on a move away from thermal coal, while oil and gas have been considered too important to economic growth and energy security.
The difference here is that reinsurers need to invest in the long term and it looks as if Munich Re has recognised that the risks, whether physical, policy-based, reputational or related to liability, surrounding oil and gas are at some point going to become insurmountable.
Insurers provide insurance in the belief that the premiums that they receive will, over the long term, be significantly higher than they pay out in cover.  If project financiers cannot get insurers for a large scale project, it means the project is not viable.  What this means is a closer alignment between the position Munich Re has taken on climate change, and the changes in response to that threat that must be made.
NGO flags up insurers continuing to back oil and gas
It's also worth noting that NGO Reclaim Finance recently flagged up the vital role that insurers play in the continuation of fossil fuel plants. It called out US insurers AIG and Chubb for providing coverage for the expansion of Australia's Ichthys LNG facility to 2060 by developers Inpex and TotalEnergies. 
Initial coverage for the first construction phase of the project was insured between 2012 and 2017 by several insurers including AAI (Suncorp Group) AIG, Allianz, XL (now AXA Group), Chubb, HDI Global, Helvetia, Munich Re (through its subsidiary Great Lakes Insurance), SCOR, Sompo, Swiss Re, Tokio Marine, Zurich and five Lloyd's of London syndicates AM Trust, Beazley, Canopius, Navigators Underwriting Agency and Talbot.
Of course, as an existing project Munich Re might still be within its framework to extend coverage on such an expansion. In fact Reclaim Finance found that ten of the backers of the project are members of the Net Zero Insurers Alliance and only one, Suncorp, declined to renew.
The International Energy Agency (IEA) has stated that new gas production projects are not necessary in a 1.5°C pathway. Twelve of the insurers involved in the construction phase have since joined the Net Zero Insurance Alliance (NZIA) (7) and/or committed to achieving net-zero emissions in their (re)insurance portfolios by 2050. In order to have credibility, they must take real action in line with the IEA latest conclusions.
Background to Munich Re's new position
The insurer says that it has been assessing climate change and related risks for the insurance industry for over 40 years.  In the 1970s, as part of geo-risk research activities within the company, Munich Re began investigating the causes behind increasingly costly losses from weather  related natural catastrophes.
Given its research it has set a Group-wide objective is to contribute to achieving the goals of the Paris Agreement based on three core elements: ambitious decarbonisation targets, comprehensive climate risk management,; and the provision of innovative risk transfer solutions aimed at adapting to and mitigating climate change. These elements span across its asset portfolio, liabilities and internal operations. The insurer provided a statement setting out details of how it plans to address each of the three.
In addition, Munich Re is leveraging its knowledge in the climate sphere through global initiatives and partnerships. In a statement it said: "Voluntary commitments, such as those we make to the UN Global Compact (UNGC), the Principles for Responsible Investment (PRI), the UNEP FI Principles for Sustainable Insurance (PSI) and – since 2020 – our membership of the Net-Zero Asset Owner Alliance (AOA), represent a key element of our sustainability strategy. Furthermore, Munich Re is a founding member of the Net-Zero Insurance Alliance (NZIA) in 2021, convened by the UN PSI."
Signing up to voluntary initiatives without action is meaningless
Unlike some of the signatories of a range of such initiatives, Munich Re is taking action on the need to cut emissions by using its position to change the flow of capital. One of the current issues being debated in the market are the banks threatening to pull out of the Glasgow Financial Alliance on Net Zero (GFANZ) because of concerns about anti-trust law in avoiding investment in particular sectors.
Potential liability is a concern and the issue is one of credibility –  of both the signatories and the countries within which they operate. If those banks are serious about net zero, then action must be taken. But governments need to support such action and that can be more of a challenge.