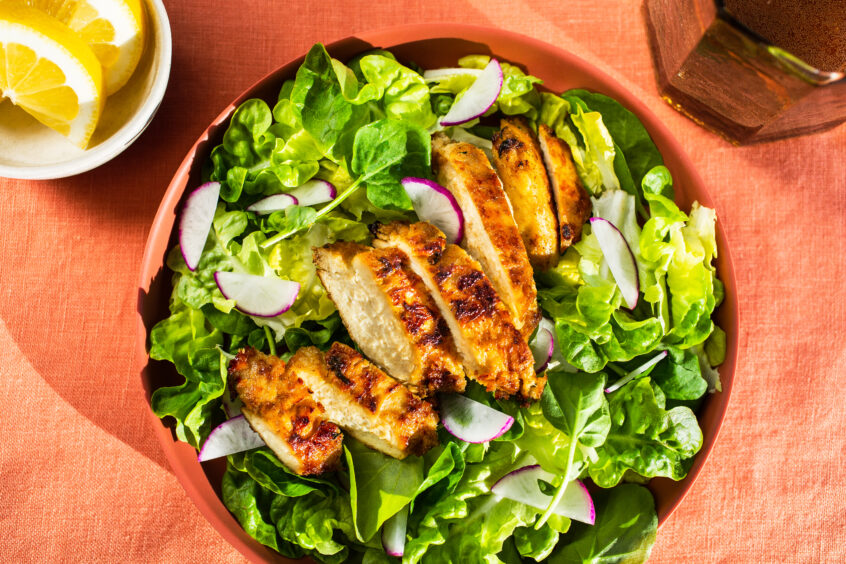 The US Food and Drug Administration (FDA) has completed its first pre-market consultation on a human food made from cultured animal cells, analysing the lab-made chicken developed by UPSIDE Foods.
UPSIDE Foods has received a 'No Questions' letter from the FDA, accepting the company's own assessment that its food is safe.

While this does not yet constitute as approval, it is a significant step for lab-grown chicken, which is currently only commercially available in Singapore.

Wider adoption of cultured animal meat will be a key driver in behavioural change towards more sustainable diets.
Paving the way towards commercialisation
The FDA has evaluated the information submitted by UPSIDE Foods and has no further questions at this time about the company's safety conclusion. This does not constitute as full FDA approval, but is part of a voluntary pre-market consultation with the authorities.
The consultation included an evaluation of the firm's production process and the cultured cell material it produces, including the establishment of cell lines and cell banks, manufacturing controls, and all components and inputs. 
In addition to meeting the FDA's requirements, including facility registration for the cell culture portion of the process, the firm still needs a grant of inspection from the United States Department of Agriculture Food Safety and Inspection Service (USDA-FSIS) for its manufacturing plants. 
The food itself will also require a mark of inspection from USDA-FSIS before it can enter the US market. As the lab-made chicken progresses towards commercialisation, the FDA has said that it is closely coordinating with USDA-FSIS to ensure it is properly regulated and labeled.
What is lab-made chicken?
UPSIDE Foods was established in the US in 2015. It is backed by Bill Gates, Richard Branson and Tyson Foods, the world's largest poultry producer, among others.
The product presented to the FDA is cultivated in a lab, made with healthy chicken cells. Scientists take the cells from a chicken or fertilised egg to develop a commercial cell line, in a process called immortalisation. Once established, the cell line can be used for years, reducing the need to take the cells from animals.
The cells from the line are then nourished in the lab. UPSIDE's feed consists mostly of common compounds found in animal feed and human food, including amino acids, fatty acids, sugars, trace elements, salts, and vitamins. While a real chicken takes these components from corn, the cells are given microscopic carbohydrates and proteins directly.
The cells and their feed are placed into a vessel called a cultivator, which maintains the right temperature and oxygen levels for the cells to grow and multiply. They start in small cultivators and are gradually scaled up to larger ones as the volume of tissues increases. After three weeks, the tissue is harvested, looking very similar to raw chicken.
How close is it to commercialisation? 
Currently, lab-grown chicken is only commercially available in Singapore, which was the first country in the world to approve cultured chicken nuggets developed by US company Eat Just. There is a plethora of other companies working on proprietary products, but they are yet to make it to market.
The cultivated meat industry has struggled to take off due to high costs associated with production, challenges in scaling up technology and regulatory hurdles. The elevated costs mean it would also struggle to compete with traditional meat products, which benefit from subsidies to the agricultural industry. 
This does not mean that authorities worldwide are not willing to support progress. The FDA itself said it is "ready to work with additional firms developing cultured animal cell food and production processes to ensure their food is safe and lawful".
It added: "We encourage firms to have these conversations with us often and early in their product and process development phase, well ahead of making any submission to us. We are already engaged in discussions with multiple firms about various types of food made from cultured animal cells, including food made from seafood cells that will be overseen solely by the FDA."
Taste and price will drive behavioural change
Animal agriculture has enormous impacts on the environment, as it generates 14% of greenhouse gas emissions, while affecting water, soil and biodiversity. It is also a highly inefficient way to feed the world's growing population, as it requires huge amounts of food and water that could otherwise be consumed by humans.
An increasing number of consumers are aware of the environmental impact of meat production, but are not willing to completely eliminate it from their diets. The plant-based market is on the rise, but meat alternatives are too different in taste or more expensive compared to the real thing.
Some companies are opting for 'hybrid' options. For example, London-based startup Hoxton Farms is developing cultivated fat to be used as an ingredient in plant-based formulations, in hope to improve their flavour.
According to UBS, taste is the main hurdle in wider adoption of plant-based products, followed by price. As such, even though plant-based recipes continue to improve, lab-grown meat seems the main solution to convince carnivores.
Jim Mellon, co-founder and executive director of Agronomics (LON:ANIC), an investor in UPSIDE Foods, commented: "We are extremely pleased to see the first approval of a cultivated meat product in the US.  Not only is this a massive market, but the FDA is considered one of the most stringent regulatory bodies globally for food safety."
He added: "This approval is a landmark event for the field of cellular agriculture and should give investors comfort that the path to commercialisation is now clear."