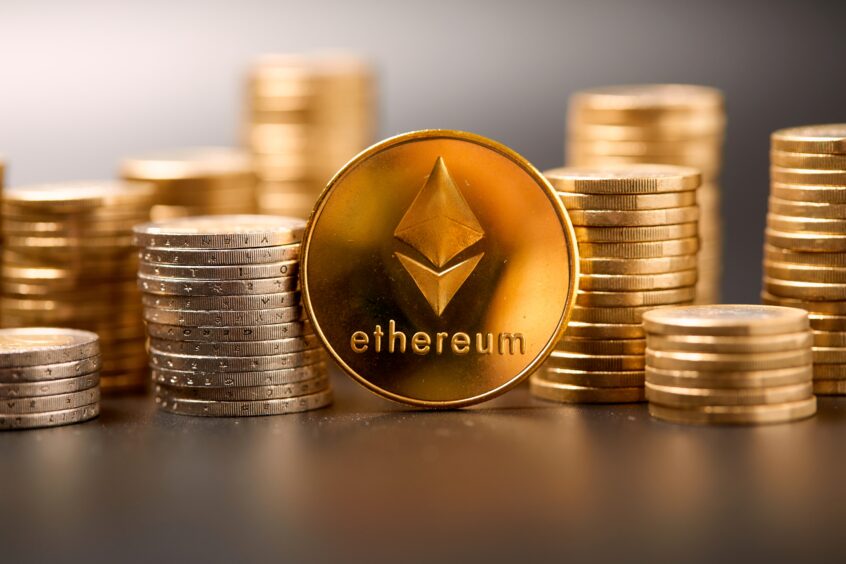 A collective of leading tech companies announced a large-scale initiative to reduce carbon emissions through an Ethereum climate platform. The goal is to counteract the Ethereum-based carbon footprint dating back to the network's launch in 2015.
COP27 saw the launch of an initiative to address the Ethereum platform's historical emissions.
Shifting the emissions profile off blockchain through a move from proof of work to proof of stake could enable rapid low carbon digitalisation of carbon markets, supply chain transfers and many other  markets.
Intended as a model for addressing historical emissions, this could drive rapid action to drive down emissions.
Blockchain holds a great deal of promise in terms of smart contracts and traceability, important elements of sustainable supply chains. Yet with its association with crypto, it has been dogged by the enormous emissions impact of generating different types of coin.
A group of Web3 companies convened by ConsenSys and Allinfra, joined civil society leaders and the UNFCCC Climate Innovation Hub, to announce the creation of the Ethereum Climate Platform (ECP).
It will invest in ongoing science-based climate projects which promise to mitigate in excess of Ethereum's past emissions by leveraging Web3 native technologies, infrastructure, funding mechanisms and governance protocols.
Founding members of the Platform launch team include: AAVE, Art Blocks, Celo, CodeGreen.Org, Enterprise Ethereum Alliance (EEA), ERM, Filecoin Green, Gitcoin, Global Blockchain Business Council (GBBC), Huobi Global, Laser Digital (Nomura), Microsoft, Polygon, The Climate Collective, UPC Capital Ventures, and W3bcloud, in collaboration with Gold Standard.
It is particularly interesting to see the Gold Standard within the collective, given that both Gold Standard and Verra have put a hold on the tokenisation of carbon credits because of, amongst other reasons, the lack of clarity around the emissions associated with blockchain.
President of Gold Standard, and ex-UNFCCC executive secretary Yvo de Boer said: "The private sector needs to recognise more strongly that addressing climate change is a collective responsibility. To quote an old friend "business cannot succeed in a society that fails". By working with Gold Standard this new initiative will ask the right questions, respect the right values and invest in the right projects to take responsibility for historic emissions – and by doing so will set an example to the wider private sector."
Blockchain backing for technology innovation could open up the markets
In addition to financing and otherwise supporting projects which deliver decarbonisation at scale, the ECP also expects to support new and innovative solutions in need of market validation, ensuring they will achieve tangible impact.
These projects could range from nature-based carbon opportunities to green hydrogen, zero carbon power, heating, cooling and other utilities, to carbon removal projects, technologies and ecosystem services.
Alan Ransil, founder of the Filecoin Green initiative: "The ECP is a groundbreaking way of pursuing decarbonisation transparently and at scale. By financing new projects rather than simply buying existing carbon credits, the ECP will raise the bar for additionality while providing public data to prove the impact of these projects."
Ensuring environmental integrity for the ECP will be central to credibility
It is intended that the Platform's climate mitigation strategy will be guided by a formal advisory process with leading players in the global environment space. Designees of aligned Non-Governmental Organisations (NGOs) and Intergovernmental Organizations (IGOs), plus representatives of regional and international climate organizations such as the Climate Collective, and other expert entities like sustainability consultancy ERM, are some of the stakeholders being engaged.
The emissions footprint challenge of blockchain
Blockchain technology, the distributed ledger system through which crypto assets are managed, is used to enable secure transactions on a transparent, decentralised basis.
The most commonly used consensus mechanism, proof of work (PoW), requires computers within the network – referred to as 'nodes' – to compete against one another to solve extremely complex computational puzzles. 
Transactions are recorded on the ledger as 'blocks' of data that must be independently verified by a peer-to-peer computer network.  To guarantee the validity of transactions, blockchains rely on algorithmic systems known as consensus mechanisms. These sets of rules are what provide the chain's security, protecting it from malicious behaviour such as fraud or hacking
Users of the computer that solves the equation first earn the right to create and confirm a new block of transactions, and are rewarded with cryptocurrency as a reward.  
This mechanism brings a high degree of trust, as it shows dedication to the blockchain through the amount of work, and the high costs of computational resources, that have been put in. Furthermore, transactions cannot be maliciously altered without repeating the intensive process for the entire chain. 
The downside of this mechanism, however, is its carbon footprint. As it requires such high levels of computational power, it uses substantial amounts of energy.  
The White House's 2022 report, Climate and Energy Implications of Crypto-Assets in the United States, estimated that crypto operations in the US now consume as much energy as all home computers or all residential lighting, representing between 0.2% and 0.3% of global greenhouse gas emissions and up to 0.8% of domestic emissions. 
In 2022 alone, is has been estimated that crypto mining will emit up to 170 million metric tonnes of CO2, with the US responsible for between 25 and 50 million metric tonnes. This volume of emissions is larger than that generated by several individual countries. 
Alternative consensus mechanisms, such as Proof of Stake (PoS) are being used to address the problem. This ensures participants' commitment to the chain by requiring them to set a share of their crypto assets aside, creating a staked pool that would be lost if the chain became compromised. 
Rather than award the responsibility of transaction verification to users with the greatest computational capacity, individuals are selected randomly on a lottery-like process that favours those with the greatest volume of assets set aside. 
This process demands far less energy, and has been used to replace the conventional PoW approach. Ethereum, the second largest cryptocurrency platform after Bitcoin, has transitioned its network to the PoS and the launch of the ECP is intended to address climate concerns about Ethereum's historical footprint.
Counteracting Ethereum's past carbon footprint
The launch of the ECP comes only two months after the Merge, an ambitious re-architecture of the world's largest open programmable blockchain that, according to Consensys, also represents the largest known decarbonisation event of any industry in history.
After seven years of development, the transition to Proof of Stake made Ethereum become the first global collective climate action to shed, through innovation, more than 99.992% of its carbon footprint, according to the Crypto Carbon Ratings Institute (CCRI).
While this shift represents a significant environmental step forward, the technology leaves behind an estimated carbon debt in the tens of millions of metric tons. One of the first projects to be undertaken by the Platform's launch partners will be to underwrite a study to attain the most accurate estimate with respect to these past emissions.
Joseph Lubin, Founder and CEO of ConsenSys, CoFounder of Ethereum said: "The Merge set a new and extremely high bar for climate mitigation across the entire business and financial sector. It demonstrated that through sheer force of collective will, we can successfully drive technological decisions that massively reduce carbon output. But the climate crisis requires more radical change.
"This is why we are excited to come together with collaborators from among the most prominent actors from Web2 and Web3, as well as civil society leaders to accelerate climate innovations through the Ethereum Climate Platform."
"Funding high-quality green projects is critical in the fight to mitigate human-driven climate change," added Bill Kentrup, co-founder at Allinfra. "Yet, historically, the process of deploying capital to the right projects and assessing their real impact has lacked transparency, efficiency and timeliness. We are pleased to have the opportunity to design and launch a better Web3 enabled climate finance platform."
The platform is being built for and by the Ethereum ecosystem but the intention is to serve as a model to the global tech and business community to offset their own historic carbon footprint. It should proved interesting to see who picks up the gauntlet.
Edward Chen, Head of Asset and Commercial Center at Huobi Global: "The blockchain industry has come under intense criticism for being the antithesis to climate change, but the Merge has proved the complete opposite.
"Web3 and sustainability can definitely work hand-in- hand, and we are proud to take part in COP27 as we discuss how superior green projects can be evaluated for investment. With the cooperation between Web3, Fintech and civil society thought leaders, great strides can be achieved in this space."
The ECP has invited stakeholders from the Web3 space, climate technology and carbon market companies entering Web3, committed to decarbonisation and global organizations seeking to eradicate their own historic carbon debt, to join the initiative by completing this form.