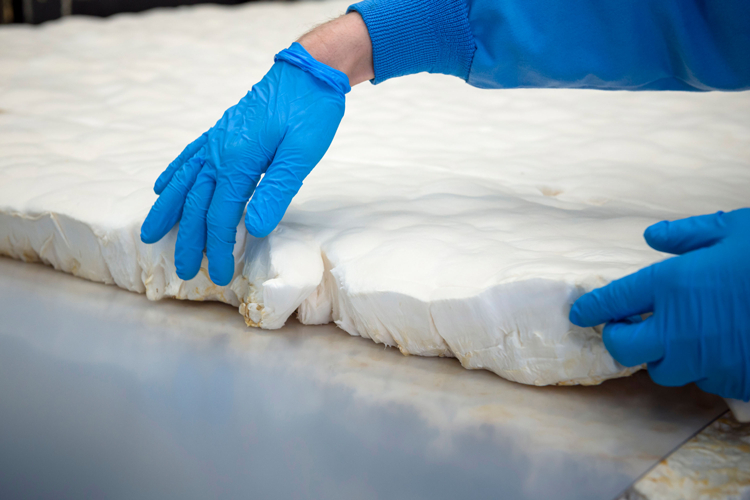 Materials science company Ecovative has acquired a mushroom spawn production facility in the Netherlands to expand its supply of bio-based products and materials. 
The facility produces 20 million pounds of mushroom spawn and substrates each year, which can be used to cultivate mycelium as an ingredient for sustainable biomaterials.

 

Ecovative's acquisition will allow it to expand its range of bio-based products and provide new clients with customised biomaterials.

 

As businesses begin to seek out more sustainable production processes, the biomaterials market is set for rapid growth.

 
The Lambert Spawn Europa B.V. facility was previously owned by US-based firm Lambert Spawn Company. Its acquisition will significantly increase Ecovative's supply of mushroom substrate, allowing it to expand its development and production of mycelium-based materials. 
Mycelium-based biomaterials
The fibrous root structure of mushrooms, known as mycelium, offers several characteristics that make it a valuable ingredient in bio-based products and materials. Its cells are grouped into strong networks that are able to resist water, fire, decay and pressure, while its high strength and light weight make it extremely versatile. 
Mycelium cells are coated in chitin, a natural substance that is commonly found in insect or crab shells, which gives their structure its enhanced tensile strength. Furthermore, materials made using mycelium are both biodegradable and recyclable, making them ideal for manufacturers that wish to improve the sustainability credentials of their products. 
These materials have already been used in a number of applications, ranging from food packaging to textiles. Mycelium is also being trialled for its use in industrial processes, such as the cleaning of toxic waste. 
In each of these applications, mycelium is gaining traction for its environmental benefits. Its use replaces the fossil fuels that would otherwise be used to produce materials such as plastics, without contributing to the land-use conversion and displacement of food supplies that are typically associated with bio-based feedstocks.  
Expanding the supply of mycelium materials
The Lambert Spawn Europa B.V. facility produces mushroom spawn that is used to cultivate mycelium. Its process involves combining substrates such as grains or sawdust with additional nutrients before subjecting the mixture to steam sterilisation. The substrate is then inoculated with naturally harvested mushroom spawn and placed in an incubator that stimulates the spawn's growth and increases its yield. 
Currently, the facility produces around 20 million pounds of spawn and substrate per year and serves clients across Europe, Africa, the Middle East and South America. Under Ecovative's ownership, it will continue to serve these customers while also producing proprietary blends to be used in the company's own materials as it expands its range of textiles, packaging solutions and meat alternatives. 
The acquisition will also allow Ecovative to add to the growing list of licensee partnerships supported by its Mycelium Foundry, which helps companies in researching, piloting and commercialising mycelium materials that have been customised to their needs. For example, the firm has recently partnered with ECCO Leathers to develop a bio-based leather alternative that is compatible with conventional tanning processes and commercial applications. 
"Ecovative is committed to providing the world's best mycelium technologies," says Eben Bayer, Ecovative's CEO and co-founder. "We're working closely with Lambert and the facility's incredible team of industry professionals to continue providing existing clients with the same quality products they know and love. This acquisition also positions our company to ensure the highest quality of feedstock for a wide range of new mycelium materials, enabling the best possible products and the capacity to supply our quickly growing global network of customers and licensees as they continue to expand over the coming years."   
Are we on the cusp of a bio revolution?
In recent years, businesses have come under increasing pressure to take action against climate change, biodiversity loss, pollution and other environmental issues. This pressure is now coming from regulators, consumers and investors alike, meaning that many companies will struggle to remain competitive if they fail to adapt in response. 
Recognising this push, businesses are beginning to increase the ambitions of their sustainability strategies in order to hold value and relevance in a changing market. Many of these strategies include a shift in the use of materials, driving the demand for sustainable alternatives. 
At COP27, for example, a group of global corporations including H&M (STO:HM B), Inditex (BME:ITX) and Ben & Jerry's made a collective commitment to purchase over half a million tonnes of sustainable fibres to be used in textiles and paper packaging. Slowing progress on the WWF's ReSource: Plastic initiative to address the plastic waste crisis, meanwhile, suggests that its multinational members may be on the lookout for new solutions. 
As global corporations acknowledge the need to improve their sustainability credentials, the market for bio-based materials is set for rapid growth. Indeed, McKinsey's projections suggest that advances in the use of biology in the production of materials, chemicals, and energy could amount to $200 billion to $300 billion in global market growth within the next 10 to 20 years.  
The opportunities for such growth are near endless, with McKinsey's analysis concluding that as much as 60% of the physical inputs to the global economy could one day be made biologically. Ecovative's expansion is indicative of this potential, and could be a sign that the world is on the verge of a bio-revolution.