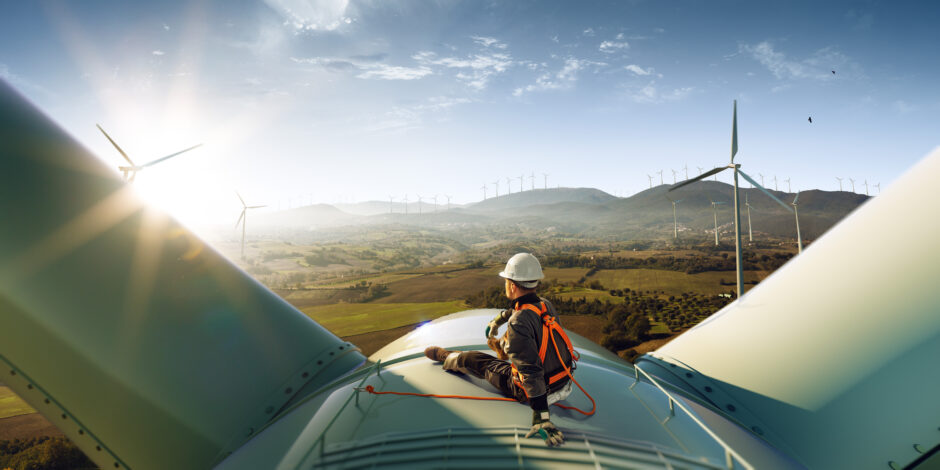 Green jobs are becoming more popular as workers seek purpose-driven careers – and the good news is that their market will keep growing as the world strives to meet global climate and biodiversity goals.
Businesses are increasingly seeking workers with skills that enable the environmental sustainability of economic activities.
This coincides with more people looking to switch to purpose-driven careers.
The net zero economy is presenting significant opportunities for both companies and individuals, with the green job market becoming more competitive.
As countries worldwide boost efforts to protect the planet, new markets are opening up and existing ones are evolving, creating new business opportunities. According to the International Labor Organization, meeting the goals set by the Paris Agreement will create 24 million jobs by 2030, while a study launched at COP15, where world leaders agreed on a Global Biodiversity Framework setting new standards for nature, estimates that investment in nature-based solutions will result in 20 million jobs.
Meanwhile, LinkedIn's Global Green Skills Report 2022 found that the share of green talent in the workforce jumped from 9.6% in 2015 to 13.3% in 2022, while workers are increasingly skilling in green and switching to green and greening jobs, driving positive net transitions into these jobs.
There is some confusion, however, over the definition of a green job. According to the LinkedIn report, green skills enable the environmental sustainability of economic activities, and green jobs "cannot be performed without extensive knowledge of green skills". Greening jobs, instead, can be performed without green skills, but usually require some. Such skills need to be increased, the report said, to meet the demand required to achieve climate goals.
In fact, local government leaders network UK100 has been calling on the UK government to create a 'Skills for Net Zero framework' in partnership with local authorities, to address the disjointed, short-term skills funding pots. 
While there is a booming demand for workers, careers based on purpose, rather than profit, are becoming increasingly popular. Driven by the desire to make a positive impact in the world, people are switching jobs, while the younger, early-stage cohort is more likely to seek companies setting out to make a positive impact. There are many factors at play: purpose, pressure from loved ones, and the increased competitiveness of green jobs.
Molly Polk, director of ESG Strategy USA at Longevity Partners, worked in commercial real estate for six years, but she found it unsatisfying even though it was lucrative. She then switched to academia, gaining a PhD and a position as a director and assistant professor in the Department of Geography and the Environment at the University of Texas. She joined Longevity Partners in 2022.
"I realised that purpose, for me, anyway, is a very important part of work," she says. 
Polk now helps students at the University of Texas find their career path, which has shown her how much the younger generations are driven by their values.
"The students would often come in, they would say, well, my parents are really disappointed. They wanted me to be an engineer… but I hated it," she says. "Through this course that I developed, which was a professional development course, where the students also had to take internships, one of the realisations was… this world of green jobs is vast. It was really incredible, you know, so they could go back to their parents and say, actually look at all these amazing jobs that are out there."
According to Polk, Gen Z and millennials are more likely to join and stay at a company if the purpose and mission are well defined and if they address some societal challenges. This is pushing organisations to be more transparent, which in turn is driving stronger sustainability efforts, as ESG becomes less of a box-ticking exercise amid increased internal scrutiny.
This sentiment was echoed by Chris Black, founding partner at JAB Recruitment, which focuses on the energy industry. Now that oil and gas is becoming less dominant in the industry, companies are incentivised to diversify and branch into renewables to ensure they have a sustainable future.
Jobs in the renewables sector have also become more attractive for candidates than they used to be. The oil and gas sector has a cyclical nature, with the job market getting more or less lively based on the oil price, which historically did not deter candidates because of high pay. "You wouldn't see renewables companies that interested in oil and gas professionals because they knew as soon as the oil price recovered, they would jump back to the oil and gas sector for more pay," Black says.
Remuneration packages in the renewables sector would have been 30-40% lower than in oil and gas, while now the figure is around 10%. This has become a tolerable difference for individuals seeking purpose and wanting to contribute to the net zero drive.
"There's a lot of political pressure to work outside of the oil and gas industry and look at transferable skills into the renewable sector. There's also a lot of family and friends pressure… we see a lot of workers who have younger families, mum and dad are being asked by daughters and sons: why are you working in the oil and gas industry when you could be working in for offshore wind industry?" Black adds.
Thinking about kids was also a driver for Alex Bazhinov, who left a decade-long career in Russia to establish Lumin, a platform dedicated to residential, solar-powered microgrids. Like Polk, he took a step back to study before launching his company.
While he was driven by his values, he finds that now many workers are being attracted by the financial opportunities provided by the green transition.
"I have never met in my professional career, so many people that come to work because they are obsessed with making the world a better place," he says. "People are really getting into this industry because they care. I must say that, now that the industry is growing larger, it does attract people who come in to make money…I think that's the natural trajectory… it just marks a certain level of maturity of the industry."
Many skills can be transferred, he says: "If you're really good at something, you can, in many cases, bring that knowledge with you, and it will have a lot of value in the broader kind of green market."
That's exactly what Julie Roddy, geosphere characterisation data steward at Nuclear Waste Services, did when she left the oil and gas industry.
She says: "There's been a lot recently about the environment, global warming, sustainability, and I thought that, with my skill set, that would be a sort of natural sidestep… I could theoretically still use a lot of the same skills and maybe use them for slightly different purposes."
The fact that workers are choosing to change jobs to make a positive impact on the planet shows that individuals have great power to shift the markets. By working on innovative technologies or processes as well as pushing for change within their companies, purpose-driven people can dedicate their whole working week to making a difference. With demand growing from both companies and candidates, the timing to embark on a green career seems just right.