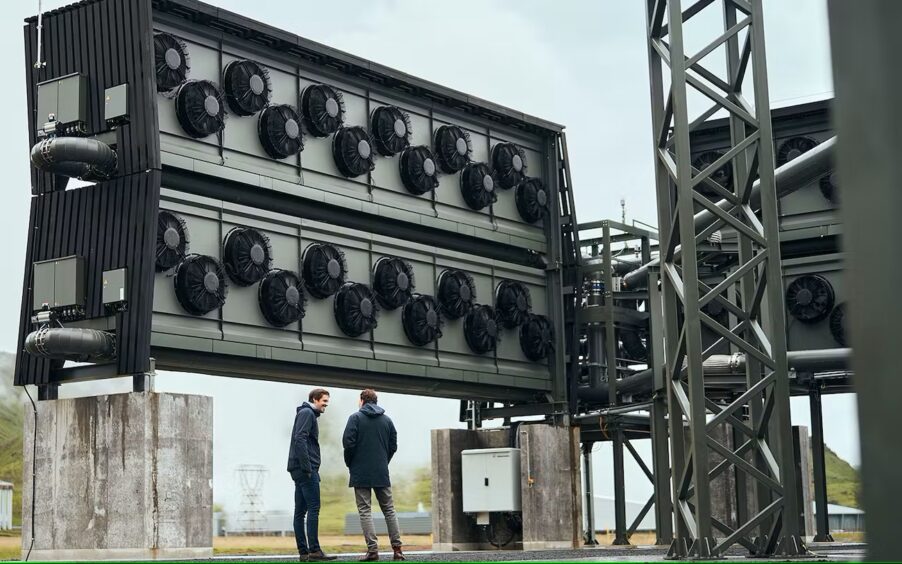 Carbon removal specialist Climeworks has announced the delivery of carbon removal credits from its Orca plant to its first corporate customers – Microsoft (NMS:MSFT), Shopify (NYSE:SHOP) and Stripe. It is the culmination of the pre-purchase programme intended to provide early-stage funding for the development of carbon removal technologies.
DNV has verified that Climeworks' carbon removals were properly measured and reported, and cannot be double-counted.
Carbon dioxide removal (CDR) is projected to make up 46% of the voluntary carbon markets by 2030.
There is a long way to go but the delivery of actual removal credits brings credibility to the market.
Orca is the world's only commercial direct air capture and storage (DAC+S) plant, but Climeworks has put more than 15 projects into operation across Europe. The resulting field experience enabled the creation and implementation of the certification methodology, leading to the world's first certification of CDR services via DAC+S. The Orca plant removes carbon directly from the air and stores it underground to mineralise into rock.
Advance market commitment plays a key role in engineered carbon removals
The last year has also seen $1 billion raised for an advanced market commitment (AMC) known as Frontier. The engineered carbon removals market is still very nascent, and it needs stable and predictable financial support in order to grow. The joint funds committed to Frontier will be spent between now and 2030 to purchase permanent carbon removal from suppliers building promising and innovative solutions.
Frontier is funded by Stripe, Alphabet (NMS:GOOG), Shopify, Meta (NASDAQ:META), McKinsey, and tens of thousands of businesses using Stripe Climate. Over $10 billion has been pledged by the US Government in the Inflation Reduction Act in 2022, and investors and buyers are seeing carbon removal as having high potential returns.
According to Frontier, the concept of an AMC was borrowed from vaccine research and was piloted a decade ago when the first AMC accelerated the development of pneumococcal vaccines for low-income countries, saving an estimated 700,000 lives.
While the two markets are somewhat different, Frontier says that they share uncertainty about long-term demand and unproven technologies, and that AMCs have the power to send a strong and immediate demand signal without picking winning technologies at the start.
The First Movers Coalition, which was set up by the US State Department and the World Economic Forum, has also set up its own advanced market programme, although no credits have yet been delivered.
Voluntary carbon markets set to soar
Voluntary carbon markets ratings agency BeZero argues that engineered CDR can be highly scalable, which addresses the trade-offs of land use versus emission action. By 2050, 70-225 GtCO₂ of cumulative removal will be needed, but if this was to be solely fulfilled by afforestation, for example, it would require 500-1500 million hectares of land, almost the entire land area on Earth. If this was to be fulfilled by direct air capture, it would require just 100-300 thousand hectares of land.
BeZero's analysis of IPCC, BloombergNEF and the Taskforce for Scaling Voluntary Carbon Markets models found that, by 2030, with a market size of 1.5-2 billion tonnes per annum, 44% of the VCM are expected to be avoidance credits. Of these, 56% would be removal credits. So far, an estimated $53 million has been spent on CDR credits by corporate purchasers, all of which have taken place in the last two years.
This is the first delivery of verified carbon removal credits
Delivering third-party certified CDR services is also an important achievement for the DAC industry more broadly: DAC needs to scale drastically over the coming decades, and industry-wide standards are needed to build the trust that is required for this to happen. Climeworks hopes to lead as an example for peers, customers and policymakers alike that are committed to climate action
Christoph Gebald, co-chief executive and co-founder of Climeworks, said: "On Climeworks' journey to gigaton scale, providing our first corporate customers with CDR services is an exciting milestone we're proud to reach with the rigorous validation of a certifying 3rd party. It demonstrates we want to do the right things but also do them the right way. Scaling our operations fast is only one part of the Climeworks mission. The other part is that this scale-up follows high standards, guaranteeing our customers they can trust our CDR to be of highest quality, meaning additional, highly durable, and safe."
High integrity standards are a prerequisite for trust
Robust and verifiable standards are expected to be catalytic to the growth and operation of the carbon markets on a gigaton scale, and there is a lack of what are considered 'high integrity' carbon credits available in the voluntary markets.
Christoph Beuttler, chief climate policy officer at Climeworks, said: "To stay within the limits of the Paris Agreement, the scale-up of global DAC capacities must happen fast. To do so we need to continue to ensure trust in carbon removal, the DAC industry and the carbon market. Clear definitions and industry standards of what CDR is as well as clear rules on key criteria such as durability, additionality, and measurability are needed."
"At Climeworks, we strive for the highest integrity by setting and following stringent standards to earn this trust, and the performance of our first certified CDR services are another proof point of this. We want to lead by example and to be a reliable partner to customers and policymakers," he added.
Certification and standards
Interest in the voluntary carbon markets is growing rapidly, and demand for high-integrity carbon credits is outstripping supply. Traditional carbon offsets often face questions about additionality, integrity and permanence. Technical carbon removal can reportedly store carbon for decades, centuries or even, with some approaches, millennia.
DNV confirms that the CDR allocated to a customer cannot be double-counted and matches with performed and available quantities of certified Climeworks CDR Services. This accuracy is confirmed to the customer in two ways: via Climeworks CDR Services Delivery Note as well as DNV's delivery certificate
The certification of Climework's CDR Services is based on a rigorous DAC+S methodology co-developed by Climeworks and Carbfix, its CO2 mineralisation partner in Iceland. The methodology was validated by DNV, an independent quality & assurance leader. It is the world's first full-chain DAC+S methodology and they are now making the third-party DAC+S methodology publicly available and free to use.