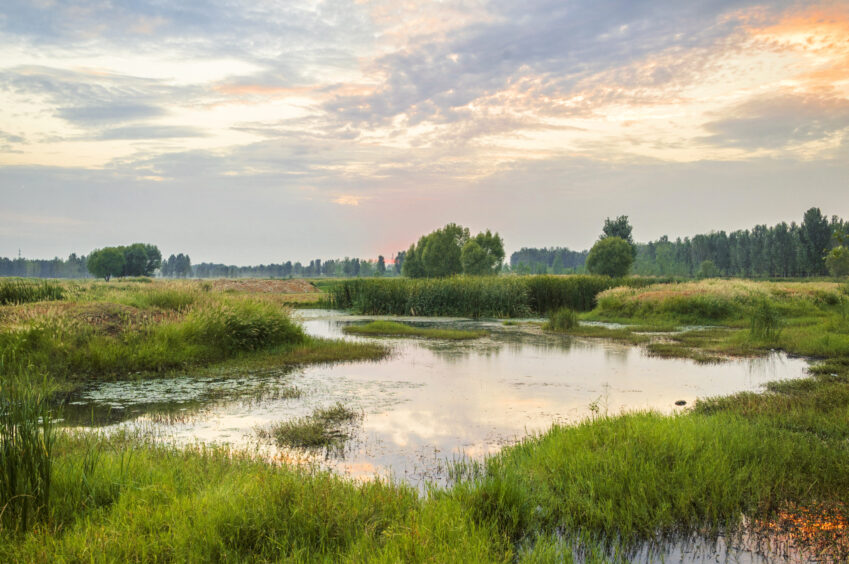 World Wetlands Day is a time to remember the outsized importance of wetlands in addressing climate and biodiversity challenges.  And while national measures are the ones that will ultimately frame action, the private sector should get ahead of the rapidly changing risk environment.
Wetlands have an outsized role in safeguarding biodiversity, as they cover 6% of the Earth but contain 40% of all species.
Governments have agreed on the Global Biodiversity Framework (GBF) at COP15, which requires companies to identify and disclose their dependencies and impacts on nature, including wetlands.
Emissions reduction actions are only the tip of the iceberg as corporates are encouraged to incorporate action on operational externalities and contribute to a nature positive world .
Wetlands are disproportionately important for biodiversity, making their inclusion in the COP15 Kunming-Montreal Global Biodiversity Framework (GBF) a key step towards effective action.
They are instrumental in curbing the progression of climate change and preserving critical biodiversity, storing up to 700 billion tons of carbon and sequestering 96 million tons of carbon per year – sequestering carbon at a rate ten times greater than mature tropical forests.
It's important to recognise that the measures required in order to meet the 2030 targets of the agreement will lead to significant impacts across a range of sectors, especially agriculture. Especially because the GBF outlines actions that should be undertaken immediately and implemented by 2030.
Jane Madgwick, chief executive of Wetlands International, says: "The inclusion of inland waters in the Kunming-Montreal Biodiversity Framework targets on restoration and conservation represents a big win for wetlands, providing the global mandate for urgent action to better manage and restore wetland landscapes in every country and involving the whole of society.  Considering the ongoing trends, it's urgent to address the drivers of biodiversity loss as well as to safeguard and restore wetland landscapes at scale."
Why do wetlands matter so much?
Wetlands are ecosystems periodically or permanently saturated with water, and cover a varied range of habitats from lakes, rivers, fens, peatlands and deltas to mangroves, coral reefs and seagrass meadows. While they cover just 6% of the Earth's surface, they are home to a staggering 40% of the world's plant and animal species. In fact, every year 200 new species are discovered in freshwater wetlands and these precious habitats store almost a third of global soil carbon.
Nevertheless, wetlands are disappearing three times faster than forests, with 35% of wetland ecosystems having been lost since 1970. Nor is their protection a concern particular to any one geography. Wetlands exist all over the world and, in addition to their significance for biodiversity and climate mitigation and adaptation, wetlands directly support the livelihoods of over one billion people globally.
What's remarkable is that, in order to meet the targets for inland waters under the GBF, Wetlands International has calculated that this means globally restoring a minimum of 350 million hectares of inland waters, as well as 300,000 kilometres of rivers. Such activity is going to take significant effort and potentially vast sums of money.
Economics and nature are inextricably entwined
Once you accept that the functioning of the economy is inextricably connected to the environment, the protection and restoration of nature and the environment becomes the duty of every actor within the economy. Food, fibre, minerals and building materials are directly dependent on nature, while much of our food system relies on ecosystem services from water supplies and pollination to nutrient recycling. Even human cultural experiences are also dependent on nature.
Acknowledgement of this relationship was one of the key drivers behind the adoption of the GBF at COP15 in December 2022. As the International Finance Corporation has said: "Businesses rely on genes, species, and ecosystem services as critical inputs into their production processes and depend on healthy ecosystems to treat and dissipate waste, maintain soil and water quality and help control the air composition."
While there are four main goals and 23 targets under the GBF, some of the most important are ensuring that 30% of degraded areas are under restoration by 2030, and that "by 2030 at least 30% of terrestrial, inland water, and of coastal and marine areas, especially areas of particular importance for biodiversity and ecosystem functions and services, are effectively conserved and managed through ecologically representative, well-connected and equitably governed systems".
The Framework sets out targets for land protection and addresses the need to sustainably manage areas under productive use – in a way that contributes to resilience and conserving and restoring biodiversity and maintaining ecosystem services. That means that, as well as the targets on conservation and restoration, action must be taken against the drivers of wetland destruction.
While the focus may be on the transformation of agriculture, it also includes ending harmful subsidies, and reorienting economic and financial systems towards a future that is nature positive.
GBF takes aim at harmful subsidies and identifies benefits of wetlands
The GBF includes the reduction of harmful subsidies by at least $500 billion per year by 2030. Earlier in 2022 it was estimated that the world is spending at least $1.8 trillion per year, equivalent to 2% of global GDP, on subsidies that are driving the destruction of ecosystems and species extinction.
There are so many benefits to bringing wetlands back into better condition  which many countries, and industries, seem to forget. They are a way to replenish, filter and boost local water supplies, while some types of wetlands (such as mangroves, peatlands and intertidal marshes) are enormous carbon stores and are incredibly efficient in acting as  carbon sinks for the excess CO2 created by industry and human activity.
Protecting wetlands is good business for countries
The conservation and restoration of wetlands is not simply action required to maintain and rejuvenate  land and species – there are direct implications for national costs as well. The sustainable management of inland waters (wetlands), ecosystems that manage the ebb and flow of waters, are going to become an increasingly important tool for countries to manage extreme weather. Healthy wetlands act as sponges against excess rainfall and flooding, buffer coastal storm surges, and can even shield communities during storms.
Research from the International Institute for Sustainable Development (IISD) projects that the use of natural infrastructure to protect against climate impacts could save at least $248 billion a year globally, at half the cost of equivalent built infrastructure. Overall, the cost of the biodiversity crisis has been estimated by global consultants BCG as around $5 trillion per year in lost nature services from biodiversity decline.
It's not just the global implications of losing wetlands – there are negative consequences to losing wetlands on a domestic scale as well. In the UK, for example, there were wetlands around Glastonbury that were only finally drained in the 1970s. The loss of the local wetlands, however, has resulted in significantly increased flood risk, and as the land shrinks there is a knock-on effect on local infrastructure.
In terms of other benefits, restored wetlands can boost eco-tourism. They can be a sustainable magnet for visitors; a natural attraction that draws tourists along with opportunities to serve them. They can also play an important role in improving local and sustainable livelihoods – wetlands create livelihoods in fishing and aquaculture, and provide goods such as reeds and grasses (often benefiting indigenous populations).
Companies need to recognise the growing risks they face
One key element of the GBF covers business impacts on biodiversity, whereby governments must now require all large companies and financial institutions to assess and disclose their risks, impacts and dependencies on nature along their operations, supply and value chains by 2030, according to Business for Nature, which ran a campaign on this with over 300 companies.
That means that corporations must start looking beyond initial concerns about increased carbon pricing or the energy crisis, and their impact on the longer-term implications for food system stability and commodity supply.
While today this may be issue around licence to operate, with consumers increasingly concerned about the climate and nature impact of companies and their products, failure to engage with questions about biodiversity and their stance on the matter is going to be a material issue, and sooner rather than later. Investors like to get ahead of the curve so companies must be prepared to meet new and growing demands.
The challenge lies in implementation
Jane Madgwick makes clear that the main challenges now are around implementation. What, where and how. Countries need to establish National Biodiversity Strategies and Action Plans (NBSAPs), while businesses will need to report on dependencies on inland waters/ wetlands as well as impacts. Madgwick says this should help bring about more nature positive measures too, over time.
There will need to be a step up in collaboration across sectors dependent on and impacting wetlands and in particular their water resources. That will mean redesigning food systems to incorporate wetlands and sustain their values. In particular that will mean ensuring an end to policies with perverse incentives, that end up damaging nature – such as those that benefit drainage-based agriculture.
One of the ways in which this can be done is through incentivising a transition from industrial-style farming and aquaculture to more regenerative approaches. At the same time, large- or landscape-scale collaboration and planning will be required, with effective and inclusive governance approaches.
One example of a way to upscale wetlands action is the Mangrove Breakthrough call to action launched at COP27. Based on the science-based information from Global Mangrove Watch and the State of the Worlds Mangrove report of the Global Mangrove Alliance, it is intended to protect and preserve 15 million hectares of mangroves by halting mangrove loss, doubling protection, increasing restoration and ensuring a flow of $4 billion by 2030 to finance such action.
In the end, to achieve the global wetland restoration targets, we need significant shifts in governance, policies and investments. This can only be achieved through collaboration, locally and globally, between communities, companies, civil society and countries to take action to ensure the protection of some of the most important ecosystems that exist.