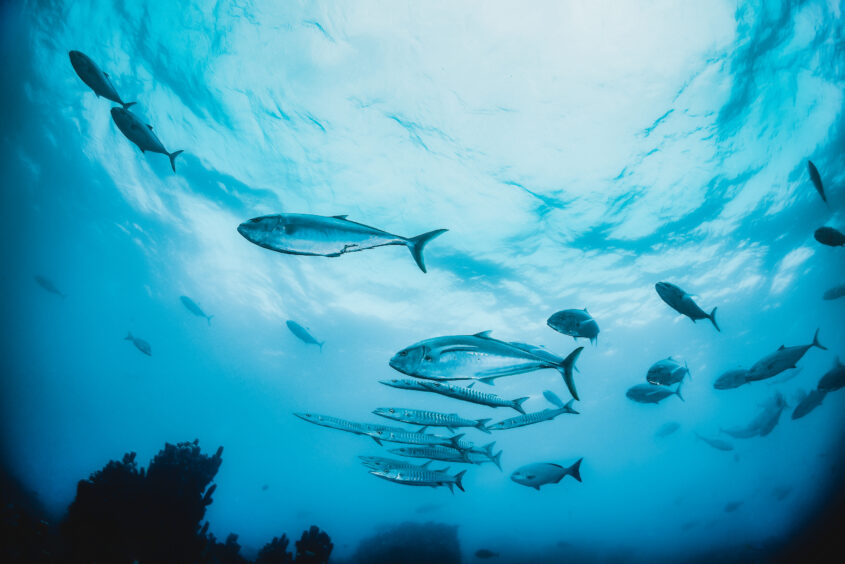 Seafood Positive has launched its OneFishTwoFish programme to support marine biodiversity by enabling companies and individuals to replace the fish they consume. 
Seafood Positive's customers pay an annual subscription fee, to offset their fish consumption. That fee is invested into habitat restoration and assisted breeding programmes .

 

Almost 90% of the world's fish populations are considered fully exploited, overexploited or depleted.

 

If successful, the OneFishTwoFish programme could provide a useful example of how market-based solutions can help to address biodiversity loss.

 
Seafood Positive, an Australian biodiversity startup founded in 2022, has launched a new subscription service that allows its customers to offset their fish consumption. By returning more fish to the ocean than are taken out, the OneFishTwoFish programme creates a market-led solution for marine biodiversity loss. 
"OneFishTwoFish helps seafood restaurants, businesses, retailers and consumers balance their seafood consumption by replacing each fish they serve, sell or eat with two more in the ocean," explained Dr. Chris Gillies, founder of Seafood Positive. "This solves an ethical dilemma for sustainability-conscious seafood consumers and provides a way to positively connect seafood consumption with ocean health." 
The exploitation of global fish stocks
Fish and their fellow sea creatures play a vital role in human nutrition, with estimates suggesting that seafood provides over 3.3 billion people with at least 20% of their average protein intake. In order to continue accommodating the growing population, production will have to increase by around 15% before 2030.  
Given that the global production of seafood has quadrupled within the past 50 years, the conclusion that further expansion is needed raises significant concerns. Already, the Young People's Trust for the Environment has warned that almost 90% of the world's fish populations are fully exploited, overexploited or depleted. The loss of the marine food ecosystem could also have devastating effects on marine health and biodiversity.
The problem of overfishing extends beyond the populations that are targeted for seafood products. Endangered species may be ensnared by commercial fishing equipment, while the disturbance of marine environments can cause imbalances in ecosystem functionality.  
Such imbalance can compromise the oceans' ability to deliver vital services, such as carbon sequestration or nutrient cycling. It can also have a profound impact on local communities, through the disruption of crucial food supplies or industries such as tourism. 
One fish taken for two in return
Seafood Positive intends to address these issues, with its launch of the OneFishTwoFish programme. The subscription-based service is now available for individual consumers or businesses such as retailers, restaurants and fisheries. Each customer will pay an annual fee, which will then be invested into marine biodiversity projects. 
Currently, the company's fees are based on the average seafood consumption per person in Australia. According to Gillies, this amounts to around 14 kg.
"We did originally have a variable subscription in the business model but at this stage its seems to complicated and most people are unlikely to be able to accurately calculate their annual consumption. So we have gone for the most robust model," he explains. Business customers, on the other hand, are required to declare their previous year's consumption for which they will pay a proportionate sum.
Individuals, couples or families that purchase a subscription will receive a digital certificate as well as regular newsletters, special offers and recipe suggestions. Business customers, meanwhile, will be rewarded with access to photos and videos of each project as well as marketing materials, invitations to various networking events and the permission to use Seafood Positive's logo. 
Currently, Seafood Positive is working with four different programmes across Australia. These include a mixture of habitat restoration projects and assisted breeding initiatives, which have been carefully assessed against 10 scientific principles and 17 project criteria. These rigorous standards were developed in collaboration with the Nature Conservancy, the Commonwealth Scientific and Industrial Research Organisation and New South Wales Government Department of Fisheries to ensure their alignment with global biodiversity and environmental offsetting protocols. 
To calculate the number of fish being returned to the sea, Seafood Positive uses a common scientific method to determine the number and species of additional fish created at one year of age in a newly restored habitat compared to unrestored habitat. For its assisted breeding programmes, it simply adds up the number of fish that are returned at the time of release. 
"One of the best ways of re-creating healthy fish populations is to make sure young fish survive beyond their first few weeks of life, and we can do that by restoring the habitats that nurture fish and through targeted breeding programs," said Gillies. "We're committed to transparency and will post project reports and other documentation on our website so people can review outcomes for themselves." 
Market solutions to biodiversity loss
"We've already seen that programs like this work," Gillies continued. "The global carbon market is worth $851 billion and delivers finance to many conservation and restoration projects around the world. More than 130 countries use biodiversity offsets." 
This comparison raises an interesting debate, highlighting Gillies' ambition of establishing a market-led solution for the preservation and restoration of marine biodiversity. As governments and investors seek to align the global economy with the natural environment, such solutions could help to ensure that validated conservation projects receive the funding they need. 
With markets that explicitly value and trade in units of nature thought to be worth almost $10 trillion per year, this opportunity is not to be sniffed at. Indeed, both the UN Development Programme and the International Institute for Environment and Defense have voiced their support for the development of biodiversity credits that would essentially replicate the approach of the existing carbon market. 
The carbon markets remains controversial, however, with existing schemes having failed to achieve their targets. Critics have pointed out the ongoing struggle to monitor, verify and regulate the use of carbon credits, warning that similar concerns could impede the development of a credible biodiversity market. 
Ultimately, there can be little doubt that the preservation of nature will rely on a significant increase in financial support. Without reframing existing markets so that the true value of biodiversity is fully appreciated, it is unclear how this funding will be delivered. 
If successful, the OneFishTwoFish programme could provide a useful example of how market-based solutions to biodiversity loss can be effectively deployed. As an early player in what could become a major global development, it is well worth keeping an eye on.