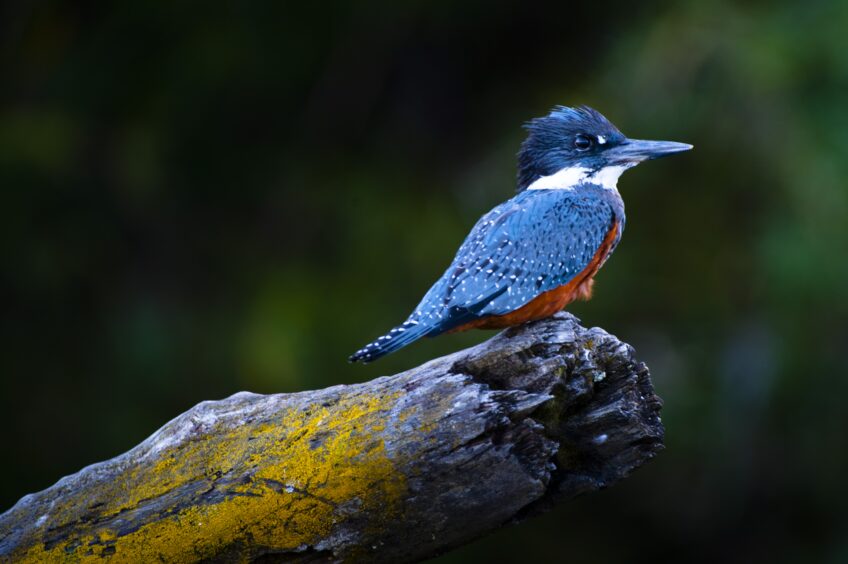 Sinclair Vincent and Robin Rix of Verra explore the role of the private sector in protecting biodiversity and why it matters.
Combating biodiversity loss is going to cost $700bn a year but the funds must be raised as biodiversity is under serious threat.
Halting biodiversity loss will play a critical role in addressing climate change, lowering emissions and stabilising global ecosystems, including the food system.
The use of the carbon markets for biodiversity credits could accelerate the scale of finance necessary.
Fully functioning natural ecosystems, the biodiversity they house, and the services they provide – such as water filtration, flood regulation, pollination, and carbon sequestration – are immensely valuable. It comes as no surprise that half of global gross domestic product, or about $44 trillion, relies on nature, according to the World Economic Forum. 
And yet, these assets are under severe threat: wildlife populations have decreased by almost 70% since 1970, and one million species of plants and animals are at risk of extinction in the next few decades. 
Stemming this trend will be a win-win. It will benefit not only nature itself, but also the businesses that depend on it. Recognising this, businesses are stepping up to the plate and increasingly taking action to protect ecosystems and valuable biodiversity.
First and foremost, companies need to recognize the impact their operations have on nature and take necessary steps to reduce harmful activities. For example, many businesses can invest in clean technologies or implement recycling procedures, as a starting point.  
Increasingly, and fortunately, businesses are looking to go beyond reducing their impact – they are also making positive investments that benefit nature through the purchase of carbon credits that have biodiversity benefits – and, in the future, the purchase of nature credits.
Taking climate action and benefiting biodiversity
A large number of companies use carbon credits as an integral part of their climate strategy, which typically involves cutting carbon emissions across operations and then compensating for residual emissions that they cannot avoid through the purchase of carbon credits. 
The credits are generated by projects around the world that implement activities that reduce emissions, for example by changing agricultural practices, planting trees, or restoring coastal landscapes. The projects with the highest quality are certified by one of the main carbon standards, which set rigorous rules and requirements for these projects and administer robust carbon accounting methodologies.
Independent auditors review and validate the projects' activities, and verify the carbon credits a project is issued based on the amount of emission reductions or removals it achieves. One carbon credit represents one tonne of carbon dioxide reduced or removed from the atmosphere. 
Carbon credits that are generated from nature-based projects have important impacts on the local biodiversity. 
Many carbon projects conserve and restore natural landscapes that are important habitats for local species. A few examples illustrate this: the Sumatra Merang Peatland Project in Indonesia restores rainforest in a biodiversity corridor, while the REDD+ Project for Caribbean Guatemala: The Conservation Coast protects over 55,000 hectares of tropical forest and conserves habitats for 30 threatened species, including the Baird's tapir. The Kasigau Corridor REDD Project spans nearly 200,000 hectares of dryland forest in southeast Kenya, and provides a safe environment for elephants, lions, wild dogs, zebras, and other iconic animals. 
Companies buying carbon credits will often opt to purchase credits from projects that correlate to their sector. For instance, a hotelier with coastal lodgings could buy credits from a blue carbon project that restores mangroves, which may make the affected region more attractive to tourists and also reduce storm surge risk.
Making nature-positive investments
Some companies are looking to invest in high-quality impacts on nature specifically. For example, a company that trades and sources coffee from various landscapes will likely want to protect the pollinators required to produce that coffee. This company may choose to invest in areas around their source coffee plantations to make sure the pollinator habitats remain intact. 
These businesses can leverage nature credits, which are structured, auditable instruments that allow companies to invest in high-integrity nature conservation and restoration activities. 
Verra, in collaboration with leading conservation organizations, is developing a nature crediting framework under its Sustainable Development Verified Impact Standard (SD VISta) Program. Using a specific biodiversity methodology under this program, projects will be able to issue standalone, transactable, and standardized units that represent verified biodiversity benefits of their conservation and restoration activities.
Companies and investors can buy nature credits to invest in high-quality biodiversity outcomes to secure their supply chain dependencies and support their nature-positive commitments.
The key parameters that projects will need to account for – and that will be expressed in the units they issue – are under consideration. To be clear, Verra supports the tradability of such credits but opposes any use of such credits to offset nature-negative impacts.
Verra expects to release the first version of the nature crediting framework at the end of 2023. 
The bottom line: private sector capital is needed to protect biodiversity
Biodiversity loss is happening on a grand scale, and combatting this very real crisis will require an estimated $700 billion annually. Wealthy nations currently plan to provide only $30 billion annually to economically developing countries by 2030 for this purpose. The pathways exist for the private sector to help close this finance gap, while de-risking their own supply chains and benefiting nature. 
Sinclair Vincent is Director of Sustainable Development Innovation at Verra and oversees the strategy, direction, and evolution of Verra's suite of programs focused on sustainable development, including the Sustainable Development Verified Impact Standard; the Climate, Community & Biodiversity Standards; and the Plastic Waste Reduction Standard.
Robin Rix is Chief Legal, Policy, and Markets Officer at Verra and leads its work to ensure the responsible use of Verra's programs and standards. 
The opinions of guest authors are their own and do not necessarily represent those of SG Voice.