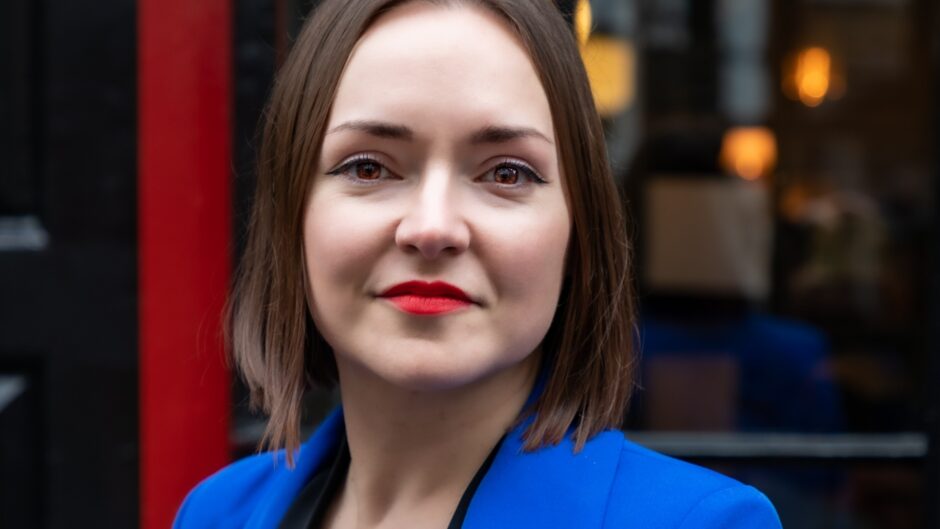 The spending power of the disabled community has been largely excluded from the sustainable fashion movement. Victoria Jenkins, founder of fashion brand Unhidden, explains how she intends to empower this untapped market. 
The disabled community has been systemically excluded by the fashion industry, thereby wasting millions of pounds in potential spending power.

 

With few options available, disabled individuals struggle to find items that align with their moral values.

 

With more brands serving the disabled community, consumers will be empowered to channel their untapped spending power into sustainable products.

 
The fashion industry is responsible for huge volumes of textile waste, with up to 25% of what enters the manufacturing process being destroyed before it is even sold while around 80% of used clothing items are downcycled, exported or landfilled.  
As the sector continues to grow, this inefficiency of its value chain is driving the consumption of non-renewable resources including arable land, fresh water and fossil fuels. At the same time, the mismanagement of textile waste is contributing to various forms of pollution while costing the global economy over $500 billion each year. 
Although major fashion brands are starting to introduce more sustainable models, driven by emerging legislation and changes in consumer demand, these options are rarely available on an inclusive basis. Victoria Jenkins, founder of Unhidden, hopes to address this issue by creating adaptive clothing from deadstock fabrics. 
Meeting the needs of the disabled community
Having experienced disability in her own life and spoken with fellow hospital patients, Jenkins identified the lack of available clothing that could be adapted to suit the physical needs of disabled individuals. Unable to source attractive occasion wear or appropriate business attire, many of the people she encountered were confined to a uniform of baggy t-shirts, jogging bottoms or unappealing contraptions designed by nurses. 
Building on her experience as a garment technologist, Jenkins decided to launch her own clothing brand in order to fill this gap. Unhidden's products feature concealed zips, side openings and adjustable wrap mechanisms that can accommodate bloating, colostomy bags or tubes, as well as variations in the placement of fabric to provide a comfortable option for wheelchair users. 
"The ethos behind it is normalising universal design, not just for retail purposes but in terms of inclusion in the industry as well. So it's not just about making adaptive clothing, it's also about going that level of inclusion to the disabled community across the board," she explains, adding that she intends to increase the number of disabled employees across Unhidden's supply chain. 
Providing a sustainable option through the use of deadstock fabrics
Jenkins' clothing line is made entirely from deadstock fabrics, repurposing the waste of other textile and fashion operations. "It was always my decision. I see the problems that huge brands have, it's the conversion of their entire supply chain. They just can't really, unless they want to put the farmers who grow the fibres out of jobs it's such a beast to tackle," she says. "So I thought 'well I can make my own rules and I can start it this way'. If it's built this way then I haven't got to convert it to be sustainable further down the road." 
Indeed, it was previous experience that motivated her prioritisation of a sustainable supply chain. "Just seeing the overconsumption made me care. Looking at the volume, the quantity and the output. I just thought, 'don't want to be that'," she says. 
"There were some places I worked a long time ago, where they would ask me as a garment technologist just 'how can we make this cheaper?' A lot of me died inside. I knew exactly how to do it and what to tell them, but I just felt dirty. Everyone thinks we need cheaper clothes, but we really don't – you just end up buying them 50 times anyway." 
Leveraging the purple pound
With the World Health Organization estimating that 16% of the global population is currently experiencing significant disability, the adaptive clothing market is projected to be worth around $426.7 million by 2030.
This opportunity remains largely neglected, with estimates suggesting that UK businesses are losing £2 billion each month through their failure to consider the needs of disabled consumers. Around £267 million in monthly revenue is missed by high street shops, including the stores of major fashion brands. 
Jenkins believes that the disabled community has been systemically excluded from the clothing industry, with poor representation both in the presentation of new products and in behind-the-scenes processes of design and manufacturing. 
"My goal is to actually mandate that brands in fashion, at least one in five of their models has to have a disability – visible or otherwise. I think that if we don't mandate it, it's not going to happen," she says. "I also think they should start working with disabled designers who know what they're doing. At the moment, none of the universities are accessible, the industry needs to be a lot more welcoming." 
"To do it meaningfully, they need to engage with the community. They need to get the language right, they need to start looking at how they advertise. Accessible hashtags are another huge barrier. Using accessible hashtags reduces my reach on social media, any use of imagery featuring disabled people is an instant tank. None of the brands and designers I know, none of us spend money on social media ads anymore because they've made the disabled community a protected group that can't be targeted."   
This consistent discrimination reduces the spending power of disabled individuals to a matter of need, rather than want. Consumers with such little choice do not have the option of purchasing in line with their ethical values, as they are forced to accept the meagre selection on offer. 
"The wider issue is that, because of the lack of this kind of clothing, the consumer isn't that bothered about whether or not it's sustainable," Jenkins explains. "It's just so far down the list of things that they need and want. You know, it's a great bonus but it isn't a driving force – if anything I think they find it a hindrance to it being cheaper as a product." 
She goes on to describe her educational approach to overcoming this market barrier. Each item is labelled with a full breakdown of its costs, highlighting the true value of textiles and the labour that goes into garment manufacturing. 
"Most people think about mass production as though it's done by machine, I think they forget how many human hands actually touch what they're wearing. It's important that we bring that element back into it, rather than separating ourselves. We need to show the people that make things. They're the lifeforce, without them we don't have anything to wear at all," she continues. 
"Garment professionals are absolutely incredible, and it's all about telling those stories. I think that if you consistently see someone who's working really hard and sewing all the time, it's difficult to look into their eyes and say you don't want to pay that much for their work. Because we don't show that, people just have this complete separation – they just don't see it. There's a reason I called my brand 'Unhidden'." 
By providing the disabled community with a sustainable option, Unhidden is empowering consumers to make decisions that align with their principles while accommodating their physical needs and leveraging their spending power. Such competitive advantage could help drive the shift towards more sustainable fashion, highlighting the need for greater inclusion within rapidly evolving industries.