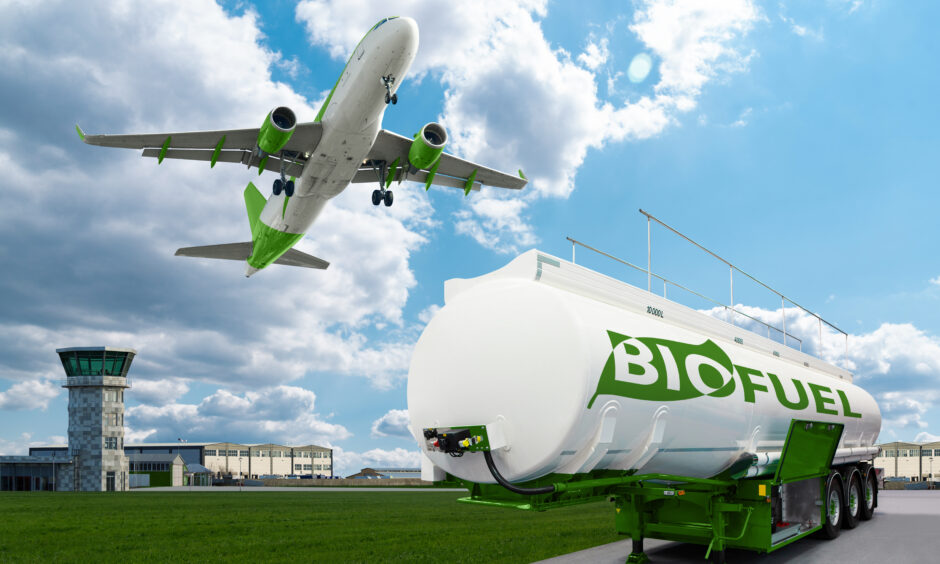 Many airlines are banking on sustainable aviation fuel (SAF) as a solution to their emissions problems, United Airlines (NASDAQ:UAL) is one of the largest investors in SAF, and its now expanding across the value chain with a $15 million investment in carbon capture company Svante.
United invests in CO2 capture and use company Svante, looking to build its presence across the SAF value chain.
The aviation industry has set net zero targets for 2050 but there is little clarity on how this is to be achieved.
United is building its presence both in carbon capture and the transformation of waste CO2 into jet fuel.
United Airlines (NASDAQ:UAL)  is extending its reach across the SAF value chain with its investment in Svante, a carbon capture company that is already working with CO2 to jet fuel company Dimension Energy, in which United invested last year.
"Carbon capture technology has the potential to be a critical solution in the fight to stop climate change and has the added benefit of helping us scale the production of SAF," said United CEO Scott Kirby. "And at United we're building on that approach by investing in both companies that can capture CO2 and others that can turn it into fuel. There's no question that this carbon utilization is in its infancy today, but as a leader in sustainable flying we must help build the foundation to deploy this technology of the future as expediently as possible."
What is sustainable aviation fuel and can it make air travel sustainable?
The airline industry is estimated to account for around 2.5% of global greenhouse gas emissions, highlighting the urgency of addressing its significant environmental impact.
Global air travel is expected to increase, however, with its fuel consumption projected to rise from 100 billion gallons per year to around 230 billion gallons by 2025. SAF is therefore likely to play a crucial role in reducing aviation emissions.
SAF is an alternative to conventional jet fuel that, on a lifecycle basis, reduces GHG emissions associated with air travel compared to conventional jet fuel alone. SAF is made from used cooking oil and agricultural waste, and, in the future, could be made from other feedstocks, including household trash, forest waste, or compressed CO2, the end product of Svante's carbon capture process.
Pathways for the production of SAF must be approved by international standards organisation ASTM, with seven processes currently accepted.
There are concerns that the use of SAF will be limited given that fuel makes up around 30% of the operating cost of any airline. Such fuel will need to be cost-competitive in order to be viable.
The costs involved in feedstock supply chains, including the infrastructure needed for storage and delivery, pose a significant challenge to the scaling and commercialisation of SAF technologies.
Even the most commercially viable SAFs remain substantially more expensive than conventional kerosene, and covering the difference is a struggle for airlines that already compete based on thin profit margins and incur 22% of their direct costs from fuel.
According to a 2021 report from the International Energy Agency, current policy measures are not adequately supporting the commercialisation and widespread deployment of SAF.
The 2022 Inflation Reduction Act however shows that these circumstances could be set to change. The IRA includes the largest governmental climate change investments in US history — a new blended tax credit specifically for SAF along with other critical incentives for clean energy and carbon capture – that is expected to help spur an increase in SAF infrastructure and supply while lowering costs for SAF consumers.
The US military currently uses nearly five billion gallons of jet fuel annually and the Department of Defense will use a jet fuel blend containing at least 10% SAF by 2028 because of the 2023 National Defense Authorization Act.
And according to the U.S. Department of Energy, the country's vast feedstock resources are enough to meet the projected SAF demand of the entire US aviation industry.
Where does carbon capture and use fit in?
One of the biggest concerns with SAF is the method of creation. As well as economic factors, the environmental, technical and social implications of each SAF production pathway must be carefully considered, which makes stakeholder decisions on policy and investment extremely complex.
For example, quantifying the carbon impact of different production pathways can be difficult given the diverse range of feedstocks, infrastructure and technologies they involve. SAFs vary significantly in their decarbonisation potential, with certain biological feedstocks causing particular concern over emissions generated by the land use change required for their growth. Greenpeace has argued that no fuel based on a food crop can be considered sustainable.
Svante is a specialist in second generation solid sorbent-based carbon capture and removal. The company's self-described 'scalable, eco-friendly, and commercially available carbon capture and removal technology' uses structured absorbent beds, known as filters, which can be used in a variety of ways.
Svante is targeting the capture of waste CO2, where its filters can capture 95% of CO2 emissions from industrial sites as well as CO2 that's already in the air. Once the CO2 is captured, it is concentrated and can be used in the creation of SAF or other products. It can also be safely transported and stored underground.
Svante's novel carbon capture filters are made by coating solid adsorbents, including metal-organic frameworks (MOFs), onto thin sheets of laminate that are stacked to become the company's nano-engineered filters. These filters can be used in multiple applications for capturing CO2 at refineries, cement, steel, aluminium, lime, boilers, pulp & paper, and more.
The technology can also be used for point-source post-combustion carbon capture in which the filters take CO2 out of industrial flue gas (the source of the emission) and prevent it from reaching the atmosphere. Because of the wide array of industries the company serves, Claude Letourneau, Svante's president and chief executive says Svante's technology can be applied to 85% of the total carbon capture and removal segment. 
Svante's manufacturing facility is anticipated to produce enough filter modules to capture millions of tons of carbon dioxide per year across hundreds of large-scale carbon capture facilities.
United's investment is part of a wider scaling up at Svante
The investment was made as part of Svante's Series E financing round and will fund and support Svante's commercial-scale filter manufacturing facility in Canada. Svante is already with relevant organisations, including Dimensional Energy, a carbon use – CO2 to jet fuel – company that United Airlines Ventures invested in last year.
Another investor in Svante's Series E was GE Gas Power, part of GE Vernova (NYSE:GE). GE Vernova is set to spin off from GE in 2024 as a business purpose-built to lead the energy transition, building on GE's sustainability commitments and position in the energy industry, where GE technology provides approximately 30% of the world's electricity.   The companies announced a joint development agreement (JDA) to develop and evaluate solid sorbent-based carbon capture technology for natural gas power generation applications. GE made an equity investment in Svante as a part of its $318-million Series E fundraising round in December 2022. 
United appears committed to its 2050 net zero targets
United was the first airline to commit to net-zero carbon emissions by 2050, without relying on traditional carbon offsets.  The airline aims to be 100% green by reducing its greenhouse gas (GHG) emissions 100% by 2050, without relying on traditional carbon offsets. To date, United has invested in the future production of over three billion gallons of SAF – and it estimates this is more than any other airline in the world.
The investment is the latest announcement from the new UAV Sustainable Flight Fund, a first-of-its-kind investment vehicle that is designed to leverage support from cross-industry businesses in order to support start-ups focused on decarbonizing air travel through SAF research, technology and production.
In addition to the UAV Sustainable Flight FundS, United has launched a SAF purchasing program called the Eco-Skies Alliance and established a venture fund – United Airlines Ventures – to identify and invest in companies and technologies that can decarbonize air travel. These strategic investments include carbon capture, hydrogen-electric engines, electric regional aircraft and airtaxis.