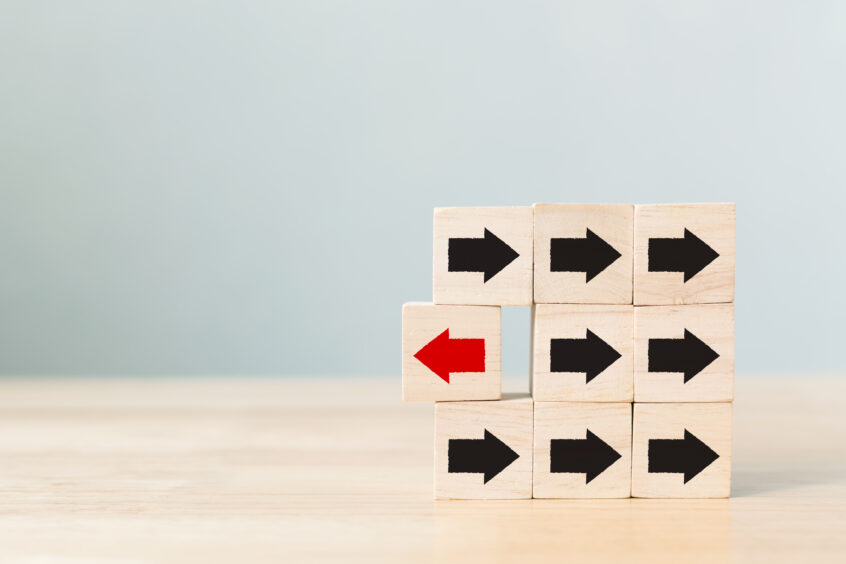 This week's headlines point to a number of disruptive trends, including the targeting of underperforming industries and the emergence of biological solutions.  
As the world strives to ensure a sustainable future, conventional industries are being forced to transform their operations. Sectors that fail to adapt in response are likely to be disrupted by novel technologies and early-stage companies. 
In this weekly round-up, we explore the latest headlines to shed light on emerging trends and developments that are transforming the status quo. 
Sustainable transition will depend on the disruption of worst industrial culprits
The fashion industry, notorious for its resource extraction, ecological impact and wasteful practices, is ripe for the disruption of sustainable transformation. Recent developments suggest that a number of companies are willing to take on the challenge. 
Portugal's Smartex, for example, has launched a new traceability solution that uses artificial intelligence to gather detailed information on the origins, composition, processing and handling of individual roles of fabric.  
Manufacturers can use the recorded insights to monitor the sustainability of their supply chain, identifying any issues as they emerge and verifying the credentials of the products they offer. Such reassurance could strengthen their appeal to today's consumers while reducing their exposure to greenwashing allegations. 
Furthering the disruption of fashion manufacturing, Xeros Technology Group (LSE:XSG) has confirmed its signing of a license and distribution agreement for its garment finishing technology. Its proprietary solutions will be distributed by KRM Tekstil Boya San, expanding Xeros' presence across several additional territories. According to Xeros, their use could significantly reduce the consumption and pollution of denim processing. 
Lululemon (NASDAQ:LULU), meanwhile, has purchased a minority stake in an Australian recycling startup. Samsara Eco uses optimised enzymes to recycle plastic waste at a molecular level. Its partnership with Lululemon will involve the transformation of wasted synthetic textiles into recycled materials of virgin quality. 
Biotechnology continues to emerge as a disruptive force
Continuing the biological approach, HexisLab has been awarded a £490,000 grant for its development of sustainable ingredients to be used in everyday products such as cosmetics, toiletries or pharmaceuticals. With the backing of UK Research and Innovation, the startup will further its research on how artificial intelligence can be used to identify possible solutions for the production of conventional ingredients through synthetic biology. 
Biotechnology is also being used to disrupt the food and agricultural sector. In the past week, Prime Roots has closed a $30 million fundraising round for the expansion of its fermented plant-based proteins, while Resurrect Bio has secured just over £1.6 million to develop its genetic engineering platform for the development of disease-resistant seeds that would reduce farmers' dependence on environmentally damaging chemicals. 
Investors award funding for decarbonised buildings
Also trending this week was the decarbonisation of the built environment. Several startups have secured investment for their development of sustainable heating solutions and novel building materials. Their efforts have been complemented by the emergence of a supportive online marketplace that demonstrates how early-stage companies could break into an incumbent market. 
With $30 million in series A funding, Kelvin intends to expand its heating and cooling systems into the European market. Its retrofit solutions include an insulated radiator cover that has been shown to improve the efficiency of legacy buildings, reducing carbon emissions while helping consumers to save on their bills. 
Kelvin's investment follows close on the heels of a similar announcement earlier made in the week. In a seed fundraising round led by Lowercarbon Capital and Gradient Ventures, California-based Quilt had secured $9 million in support of its heat pump solution. The company's systems use artificial intelligence to automate the temperature control of individual rooms.  
Shifting from energy efficiency and temperature management to the development of novel materials, CarbonBuilt and Blair Block have officially commercialised their low carbon concrete blocks. CarbonBuilt's technology replaces the portland cement that would typically be used in concrete manufacturing with a cheaper alternative made from widely available ingredients that are hardened by a self-heating reaction with CO2. The process makes use of wasted biomass, allowing emissions to be stored in a solidified form rather than being released.  
With the provision of a cheaper and more sustainable option, CarbonBuilt could emerge as a major disruptor of the conventional concrete industry. As things stand, concrete production accounts for around 8% of global carbon emissions, leading industry stakeholders to express their demand for viable alternatives. 
Despite the potential of emerging solutions, however, companies such as CarbonBuilt will struggle to compete with incumbent competitors unless they can raise sufficient awareness. When their growth is complemented by innovative market solutions, however, investors and downstream developers will be able to draw comparisons that may encourage a shift in demand. 
Exemplifying this scenario, Tangible has raised $3 million to develop a disruptive online platform that enables project managers to compare the sustainability of available construction materials. Once they have procured their preferred option, Tangible's platform allows them to generate a report of their project's social and environmental performance, creating a valuable body of evidence that supports the adoption of nascent solutions.