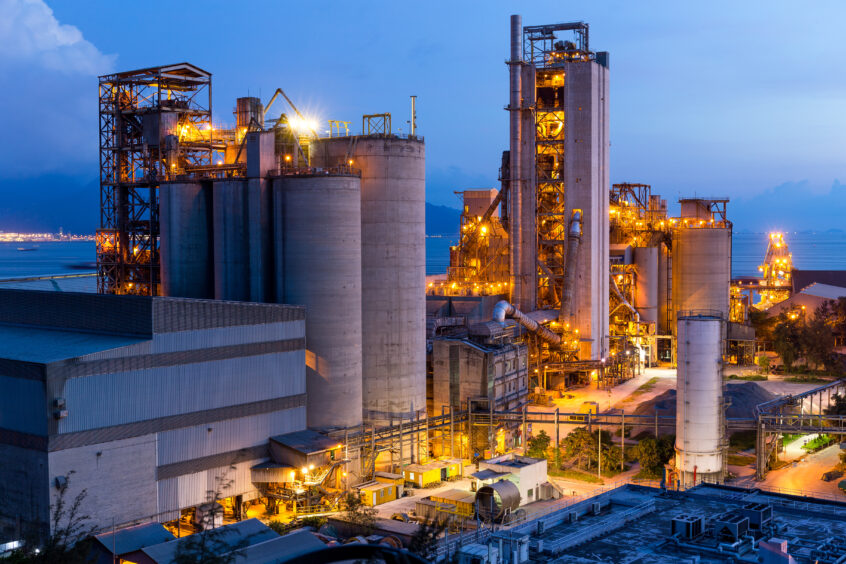 The Alliance for Low-Carbon Cement & Concrete (ALCCC) has been launched to 'bust the myth' that cement is hard to decarbonise. Ostensibly, its goal is to drive rapid decarbonisation of the cement industry (targeting near-zero emissions as early as 2040) with European industrial innovation expected to play a critical role. The alliance argues that technological solutions exist and we must now address market barriers.
Cement is ubiquitous in the modern world and accounts for 7-8% of global emissions – it must be decarbonised if climate goals are to be reached but demand is projected to increase by 50% by 2050.
New technologies can cut emissions by a factor of five, while carbon capture could transform the impact, but they need support for commercialisation.
Policy frameworks, standards and new financial instruments are the tools the ALCCC plans to use to transform the construction industry.
After water, concrete is one of the most used material on earth. Concrete's main ingredient, cement, has a significant environmental footprint, accounting for around 8% of global CO2 emissions. Research suggests that the chemical and industrial processes used to manufacture cement and related products accounted for 2.6 billion metric tonnes of greenhouse gas emissions in 2021, more than double the 1.2 billion metric tonnes estimate of 2002.
The problem is that cement production has remained relatively unchanged over the last 200 years – it is produced at temperatures reaching as high as 1,450°C in kilns containing clay and limestone, and heated to produce clinker, cement's main component.
A tonne of cement can produce a tonne of carbon emissions and up to 90% of cement emissions are estimated to come from clinker. The clinker process alone is responsible for at least two-thirds of the overall CO2 emissions from the sector.
ALCCC members represent mature materials designers and producers as well as startups working in biotechnology, capturing carbon, and sustainable construction. This includes global engineering consultants such as Arup and startups such as C2CA, Ecocem, ecoLocked, Fortera, Hoffman Green Cement and Biomason.
Growth projections are cause for concern
Global cement production reached 4.4 billion tonnes in 2021 as the world consumed 30 billion tonnes of concrete. To put that into perspective, the Alliance uses the analogy that 30 billion tonnes of cement equals 3,000,000 times the weight of the Eiffel Tower.
Rising demand could push annual output closer to five billion tonnes by 2030. One reason is, ironically, that concrete is crucial for climate-resilient (re)construction such as public infrastructure such as sea walls or flood defence barriers and water storage.
The EU's Fit for 55 initiative targets a minimum 55% reduction in CO2 emissions by 2030, which puts heavy-emitting sectors such as cement under pressure to decarbonise. Yet concerns remain over the sector achieving the EU's 2030 directive or even carbon neutrality by 2050. According to S&P Global, the EU's largest cement manufacturers' goal to reduce their Scope 1 CO2 emissions by 30% by 2030 relies mostly on enhanced thermal-energy efficiency and fuel switching, which appears achievable and at a reasonable cost – but seems unlikely to have a dramatic or disruptive impact.
Cutting emissions from cement
The reduction of clinker use or, better still, substituting it could significantly cut the carbon footprint of cement and truly support the green transition.  This can be done, for instance, by using industrial by-products or recycled content instead of clinker, or relying on alternative binders altogether.
Members of the Alliance have come up with a range of approaches. Hoffman Green Cement, for example, has created a heating-free, clinker-free and low energy consumption manufacturing process, while the company also supports a circular economy model by using local resources and co-products from the industry, thus preserving natural resources. Hoffman Green claims that the process is five times lower in emissions than traditional models.
Ecocem, in which Saint-Gobain holds a 25% share, has been making and supplying a range of low-carbon cements for the past 20 years. It has developed a substitute for clinker, the main component of cement, which it claims reduces pollution by around 50%.
Fortera's proprietary recarbonation (ReCarbTM) process works by tapping into the existing feedstock and equipment at the plant, while production carries on as usual from the quarry to the kiln. Instead of then releasing CO2, the kiln exhaust is captured and mineralised into a cementitious material. The material can be co-blended with Portland cement and used by ready-mix concrete and cement producers as a Supplementary Cementitious Material (SCM) or as a cementitious binder for preformed concrete materials like bricks, blocks, or precast structures.
In 2022, it was selected as one of the most promising low-carbon cement technologies by the Global Cement and Concrete Association within its Innovandi Open Challenge. Also in 2022, Fortera was selected by the Spanish construction group Sacyr as one of the three best solutions to reduce greenhouse gas emissions in construction, leading to collaboration on a pilot job site.
Solutions exist but must be deployed
Existing solutions are in keeping with the EU plans to 'green' the European economy via measures set out in the Circular Economy Action Plan but, despite this, the Alliance argues, safe and cost-effective low-carbon solutions but are not being deployed at scale. The challenge is the lack of appropriate policy, regulatory, and financial frameworks, which the ALCCC plans to tackle.
While the technological solutions may be in place, the Alliance argues that policy, standards and financial instruments need to be developed to help drive changes in the industry. There are a number of different factors that could transform the sector, which fall into three core groups: establishing baseline performance standards for concrete and cement; unlocking public finance; material innovation and the creation of markets.
Deploying baseline standards for the sector would include developing a harmonised European performance-based standard for common cement, allowing all cement to enter the market upon meeting performance requirements. It would also require harmonisation of relevant standards for concrete at an EU level to avoid divergent national approaches, and the revision and updating of  cement and concrete testing standards to create a level playing field.
In order to unlock public funding, the Alliance wants the EU to establish material innovation and clinker substitution as priorities for existing EU funding programmes. Another requirement, which is central to the overall climate tech start up sector, is the inclusion of the needs of cleantech startups and scaleups in EU innovation and finance policies. And, given the disruption such introductions might make in in established market, they want to see mechanisms that allow debt finance to be deployed without a premium.
In terms of material innovation, the issues are the same for all targets of climate driven market disruption. There needs to be a way found to break down existing barriers in the supply chain on low-carbon cement and concrete alternatives, further stimulation of innovation and of course, procurement. Support for the use of low carbon alternatives in the public sector could help drive the market forward. Overall the issue of demanding resource-efficient design, use and governance of low carbon alternatives would help to drive market development.
Justin Wilkes, executive director at standards NGO Ecos, said: "The cement industry has a massive emissions problem – and if we keep ignoring it, we simply won't meet our climate objectives. Technology and innovation are there, but we need political will. Standards and policies must allow low-carbon solutions to become the norm. Removing the  barriers posed by standards will allow a cost-effective and fast cut of  the sector's emissions by half. The future depends on how we build it, today, which is why industry players and environmentalists have come together in the ALCCC."