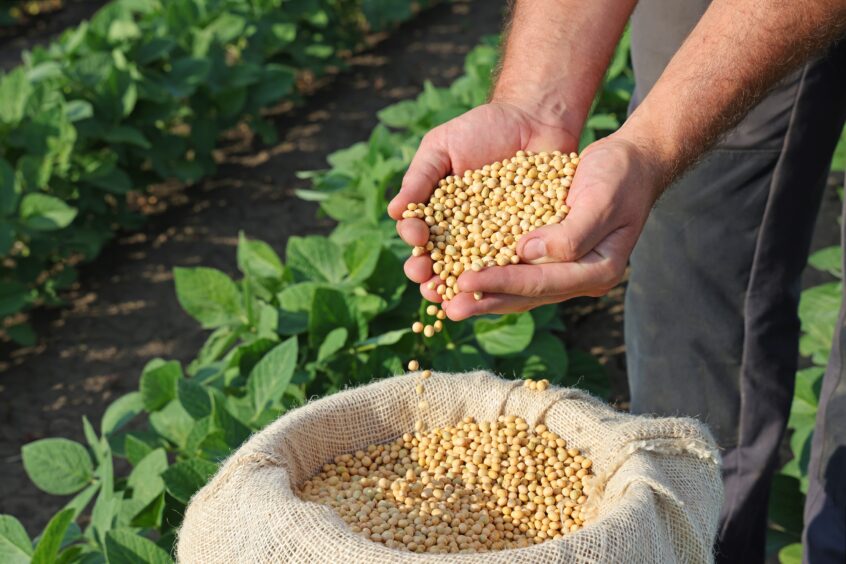 Nutrien Ag Solutions (NYSE:NTR), a global agricultural retailer, will stock sustainably enhanced soybean seeds in time for the growing season of 2024. 
ZeaKal's soybean seeds are biologically enhanced to produce a higher quality of product while absorbing a greater volume of carbon.
Soybean growers are trapped in a vicious cycle of rising demand from competing markets and the declining quality of attempts to increase their yields.
A focus on quality over quantity could teach the agricultural sector a valuable lesson.
As North America's largest agricultural retailer, Nutrien holds more than 2,000 retail locations across the world. Now, its powerful commercial influence will support the scale-up of specially adapted soybean seeds. 
The seeds are produced by ZeaKal, a Californian biotechnology company that was founded in 2010. Thanks to ZeaKal's proprietary technology, they produce a higher quality of soybean while maintaining modern field yields and absorbing a greater amount of carbon than conventional counterparts.  
Under the new agreement, Nutrien will stock the enhanced seeds in its US stores. Although a launch date is yet to be set, the partners have confirmed that the seeds will be available in time for the soy-growing season of 2024. 
"The world needs a better soybean," said Han Chen, ZeaKal's co-founder and chief executive. "The collaboration with Nutrien Ag Solutions brings us one step closer to that reality." 
"Together, we can accelerate and increase the depth of our product offering with flexible and customized agronomic solutions." 
Soybean demand continues to rise
Soybeans are among the world's most important crops, containing all nine of the essential amino acids that provide a complete source of plant-based protein. Its seeds are typically composed of around 40% protein, 20% oil and low levels of carbohydrates. 
Currently, almost 80% of the soybean produced is made into animal feed, contributing to the production of meat and dairy products. Its oil is regularly used in cooking, but can also be found in everyday items such as chocolate, margarine or soap. Increasingly, it is used in the production of biofuels and accepted as a sustainable substitute for fossil alternatives. 
With so many markets to serve, global soybean demand is projected to continue increasing for decades to come. Existing drivers such as population growth and increasing consumption of meat are being notably exacerbated by the gradual shift towards plant-based diets and the increasing support of bio-based fuels.  
Ongoing expansion feeds into cycle of consequences
Soybean production has already more than doubled over the past 20 years, and its expansion is not without consequences. Valuable ecosystems including forests, savannahs and grasslands have been converted into farmland, contributing to climate change and the loss of natural habitats.  
Selective breeding, while successful in increasing yields, has led to a decline in soybean quality. The average concentration of protein is gradually falling, leading to a vicious cycle of desperate increases in volume to the detriment of the final product. 
This cycle is fueled by the emerging impacts of climate change. Rising temperatures and periods of drought are causing further reductions in soybean quality, but continuous land-conversion will only worsen the problem.  
These interwoven issues are putting the soybean value chain under significant stress. Quality is declining while demand is growing across several competing markets. Climate change is making soybeans harder to grow, with increasing competition for vital resources such as fresh water or fertile soils. Growers are losing profitability while attempting to navigate a complex system of disparate subsidies for their contributions to everything from biofuel production to global food security. 
Increased yields and improved quality do not have to cost the planet
ZeaKal intends to resolve this dilemma through the use its proprietary PhotoSeed system. Through advanced scientific techniques, it enhances its seeds with useful genomic traits that increase their capacity for photosynthesis.  
With more photosynthesis comes the ability to capture a greater amount of carbon while producing soybeans with an improved nutritional profile and increased quantities of both protein and vegetable oil. This suggests that ZeaKal's seeds could help the US' farmers to increase their profitability while meeting the demands of an increasingly fragmented market. 
It is also worth noting that the enhanced seeds do not require any unusual inputs or additional resources. They can be grown on the same quality and volume of land as conventional soy, so their benefits could be leveraged without disruptive changes in land-use.  
The PhotoSeed soybeans are the first ZeaKal product to be brought to the US market. Moving forwards, the company will continue its efforts to identify and make use of genetic traits that could help to produce reliable yields of quality crops without relying on harmful industrial expansion. It hopes to establish an extensive network of partners, in line with its 'NewType' vision for the harmonisation of a sustainable agricultural value chain. 
SGV Take
The commercialisation of ZeaKal's seeds creates hope that the market is willing to adopt a smarter approach. Rather than maintaining the counterintuitive pursuit of greater volumes, growers will be able to improve the quality of their produce and diversify its sale into various different markets. 
This model ought to inspire the rest of the agricultural sector, as it shows that economic priorities can fit into a sustainable future. By carefully assessing our needs while accounting for the long-term risks of careless solutions, we can ensure the supply of vital resources without compromising the health of the planet.  
From carbon sequestration and soil stability to nutritious food and alternative fuels, the agricultural industry has an enormous opportunity to align with global goals. In doing so, it would also be saving itself.