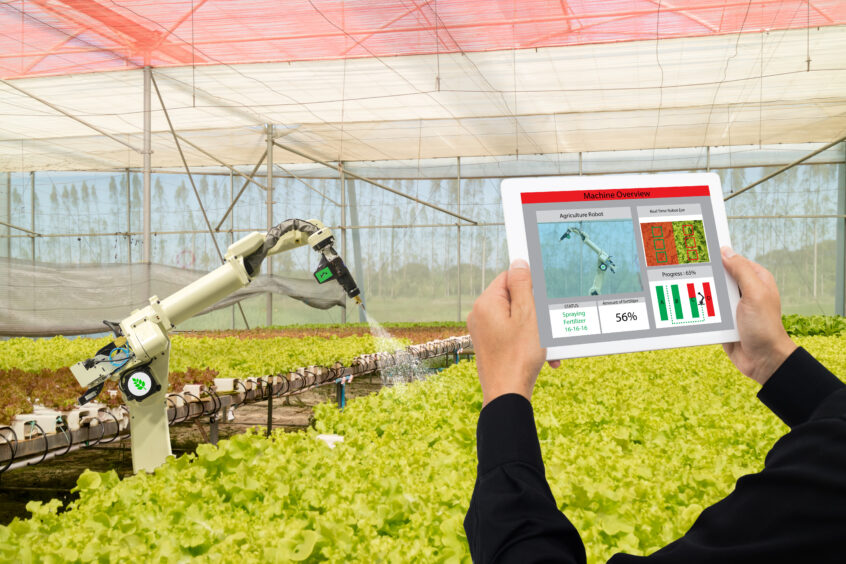 IUNU has released its annual report on the state of controlled environment agriculture, exploring the need for new technologies in fulfilling the sector's potential.
The report is based on an extensive survey of indoor farmers from across Northern America.

Indoor farming has struggled to take off, but growers are optimistic that emerging technologies will propel them forward in the coming years.

New technologies will have to be backed by supportive policies and market demand.
IUNU, a US technology developer with a focus on greenhouse solutions, has released its latest annual report on the state of controlled environment agriculture (CEA). Though the sector is facing an uphill struggle, the findings suggest that emerging technologies will see its potential fulfilled. 
"2023 has proven to be a pivotal year in CEA so far," said Allison Kopf, chief growth officer at IUNU. "Operations are laser-focused on profitability and operational excellence. This creates a unique opportunity for technology companies and growers to work together to enable scale." 
The promise of indoor farming
Conventional agriculture accounts for almost a quarter of the world's greenhouse gas emissions and 70% of freshwater withdrawals. Half of our habitable land is already devoted to farming, with continued expansion driving the destruction of natural ecosystems. 
As the population continues to climb, this expansion will only continue. More food will be needed than ever before, just as the changing climate restricts our chance of providing. Already, rising temperatures are causing crop yields to fail and our soils are becoming less fertile. Severe weather events are occurring more frequently, and pest infestations are rising. 
CEA, also referred to as indoor farming, may yet provide a solution. An umbrella term, CEA encompasses everything from basic plastic-covered greenhouses to highly technical vertical systems. What brings these approaches together is their use of an enclosed space that allows the grower to have some control over conditions such as lighting, temperature or moisture level. 
With environmental controls in place, growing crops can be protected from climate change. They can be produced at any time of year, while consuming fewer resources than conventional agriculture. 
As they require less land than traditional farms, CEA facilities can be established in urban areas, reducing the emissions and logistical expenses of food transportation. They may bring several co-benefits to their surrounding communities, such as job creation, the development of technical skills or competitive advantage for cafes and grocers that choose to market their food as being locally and ethically produced. 
CEA can also be useful in rural settings. It creates an opportunity for the co-location of renewable energy plants, which can then be of service to nearby residents. Fresh produce can be supplied throughout the winter, when it is often harder to source.
Rural landowners may be able to reduce the area they would typically use for food production, enabling them to focus on sustainable activities and relevant subsidies. If their CEA facility can easily be moved, they may be able to alleviate pressure by introducing a cyclical model of cultivation and restoration. 
In either setting, CEA helps authorities to reduce their dependence on imports. Against a backdrop of economic turmoil and geopolitical strain, this advantage is not to be sniffed at. Even for those in a relative state of peace, fewer imports could help in achieving national climate targets while saving money for other purposes. 
Yet the sector continues to struggle
Despite the clear advantages of CEA, the sector has yet to fulfil its potential. Several companies that were once viewed as champions have been spat back out by the market machine. 
AeroFarms, for example, once saw itself as an industry leader. In June 2023, however, the firm had to file for bankruptcy. Agricool had entered into receivership just a couple of months prior, while Fifth Season had shuttered its doors in 2022. Others are hanging on by the skin of their teeth, having jettisoned staff in a series of mass redundancies. 
There are many factors feeding into the sector's struggle, with financial constraints being a consistent concern. CEA facilities are expensive to develop, often requiring a degree of expert knowledge and technical skill. Most sites require a great deal of energy, raising their operational costs and continuously eating into their margins. Local demand may be low, particularly for the limited selection of crops considered suitable for indoor growing, but distribution costs can be high. 
Recent energy prices have hardly been favourable, and input costs have risen dramatically. When combined with the increased caution of capital markets, the past few years have certainly not been kind. 
Restoring hope in a downtrodden market
IUNU's research was conducted in partnership with the University of California's Agriculture and Natural Resources Department. Together, the partners conducted a survey of growers from right across Northern America. In total, their participants operated more than 50 million square feet of area devoted to CEA.  
The report begins by acknowledging the hardship of recent years, before quickly moving on to future projections. Here, it paints a fairly positive picture of what is to come. 
Of the respondents that specialised in the production of leafy greens, around 80% were expecting an increase in year-on-year profits. For tomato and ornamental producers, the figure dropped to just over half but was still a significant number. Rising demand and the emergence of cheaper sources of capital had led many to plan for expansion within the next year.  
According to the report, the single biggest challenge faced by growers during 2023 has been the recruitment and retention of manual labour. Recognising the issue, IUNU proposes that technology could provide the solution. 
"Automation for manual tasks is one way growers can reduce the risk of this massive challenge," it says. "Technology can replace labor for manual, repetitive tasks like scouting, counting inventory, seeding, transplanting, and harvesting. Many operations have already adopted machinery to help with these aspects of the business, but there are countless other areas where technology can add value to an organization by reducing labor costs."  
The survey participants were asked a series of questions on their need and desire for new technologies. Overwhelmingly, growers were keen to see solutions that could improve their operational efficiency while lowering their cost of production. Among their priorities were inventory management, climate control and scouting for pests or diseases. 
While most of the growers would not be opposed to having multiple systems for each different problem, they would generally prefer an integrated approach. The convenience of integration was seen as worthy of further investment, with 72% of the survey's respondents being happy to shell out on a third-party vendor. 
"Greenhouse operators are excited about new technologies," declares the report. "Advanced technologies such as Artificial Intelligence, robotics, computer vision, and closed-loop autonomous growing topped the charts." 
"The future is bright for CEA," it concludes. "New technology will enable growers to drive toward operational excellence and higher profits, and growers are prepared and adapting." 
SGV Take
It is worth acknowledging that IUNU stands to gain from the perception that technology is the solution to CEA's struggles. With this in mind, its findings should be taken with a large pinch of salt. Nonetheless, the sector has clearly been struggling, and it is hard to deny that technology has plenty to offer. 
Ultimately, the fate of CEA is yet to unfold. Automation and artificial intelligence may provide some support, but favourable policies and market demand will also be critical. Given the sector's potential, it seems counter-productive to allow its decline. Indeed, there is little harm in accepting IUNU's report as an optimistic vision of a future to be pursued through perseverance and innovation.