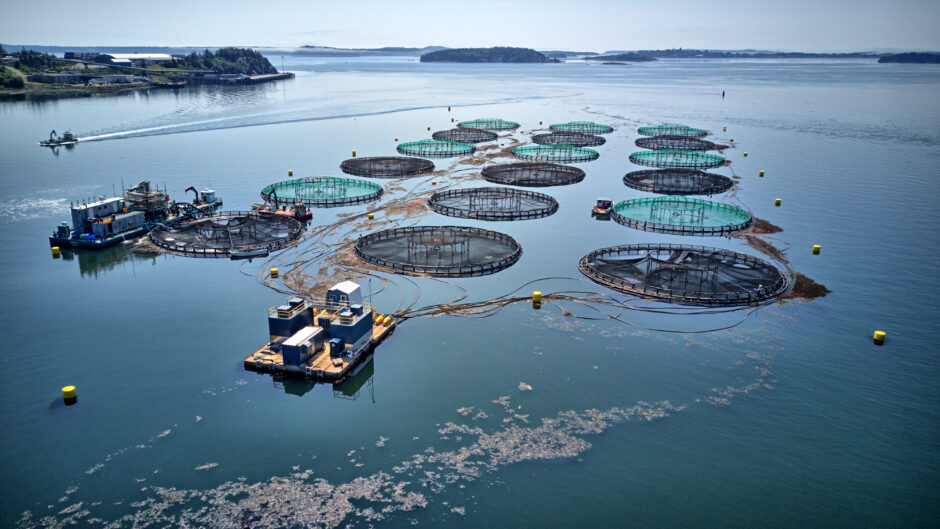 Rare Earth Global, a climate tech company developing a hemp supply chain platform for the feed/food, built environment and energy sectors, has received £260,000 for a trial of hemp seed as salmon feedstock.
Trials of hemp seed as salmon feed could transform salmon aquaculture. While salmon has a lower CO2 footprint than cattle, most of its CO2 footprint comes from the fishmeal used.
UK projections show growth of hemp as a major crop could bring £700 million in economic benefits within ten years.
The transformation of protein supply chains is going to play a critical role in addressing the interdependent climate, nature and resources challenges.
Researchers are looking to do the first full feed assessment of using hemp seed protein (a relation of the cannabis plant) in salmon feed. Farmers in Angus and Aberdeenshire will grow the crops for the purpose of the trial, and in the long term it could become a more sustainable alternative to imported soy and fishmeal protein.
Working with a team of UK researchers, Rare Earth has received more than £260,000 in funding from the UK Seafood Innovation Fund (SIF) for a full-scale hemp seed salmon feed research and development project. Administered by the Centre for Environment, Fisheries and Aquaculture Science (Cefas) on behalf of the Department for Environment, Food and Rural Affairs (Defra), the programme encourages sustainable and innovative ideas to bring about seafood security, new partnerships across seafood and technology sectors, and to contribute to strong evidence-based management.
Exploring hemp seeds as a food source for farmed salmon
A feasibility study conducted in 2022 set out to explore how hemp seeds could be integrated into the diets of farmed salmon in Scotland. The team tested two types of hemp meal against a range of factors such as digestibility, fish growth, and the effect on gut health, finding that the ingredient had a comparable nutritional profile with soy and fishmeal – the most common protein sources for feeds. While salmon has a lower CO2 footprint than cattle, most of its CO2 footprint comes from the fishmeal used.
Monica Betancor, associate professor at the University of Stirling's Institute of Aquaculture and one of the researchers, said: "By conducting a two-month feed trial we hope to prove that hemp protein can serve as a direct replacement for soy in terms of digestibility, nutrition and growth. From what we have seen already, it has only had a positive impact on the salmon involved in our first trials."
The next stage of testing involves monitoring how fish perform over the long term when fed hemp seed protein as part of their diet, with the company also supported by the Sustainable Aquaculture Innovation Centre (SAIC) and the University of Stirling's Institute of Aquaculture. Mowi (OSLO: MOWI), the producer of Atlantic salmon, will support the formulation and production of the feed, while farmers in Angus and Aberdeenshire will grow the crops.
The research team is aiming to understand the viability of hemp meal protein for commercial inclusion and to discover whether an optimum composition can be identified that delivers the best nutritional results for salmon, as well as test secondary ingredients used as part of the feed. Another element of the project will cover sustainability, identifying methods for hemp farmers, feed companies and seafood producers to measure the carbon footprint of the entire process.
Hemp seed as a feedstock would transform the impact of salmon aquaculture
Suneet Shivaprasad, director and co-founder of Rare Earth Global, said: "The first feasibility trial returned positive results for the viability of hemp seed protein as a core aquaculture feed ingredient, and we are now testing whether it could be included on a commercial scale. Further research will enable us to look at a range of other factors over a longer time period, with the aim of demonstrating that this novel protein can be a success."
Up to two tonnes of hemp seed can be produced per hectare of the crop, and Rare Earth Global is working with a range of farming cooperatives and family-run farms – including farmers in Scotland, Yorkshire, Lincolnshire and Hertfordshire – to develop the supply of the raw material throughout the UK.
Shivaprasad added: "Locally grown, plant-based ingredients are already more environmentally friendly than any imported soy or fishmeal but our zero waste approach to growing it also ensures that every part of the hemp plant is used for maximum value. In this case, the seeds will be used as a protein source for aquaculture, while the stalks will be used for sustainable construction materials, bioplastics and bioenergy feedstocks."
Hemp has the potential to become a significant crop in the UK, with major benefits
In 2022, the UK Government published its Hemp-30 roadmap – a 10-year strategy to increase the amount grown at least 100-fold to 80,000 hectares per annum making industrial hemp a major UK crop. It has been estimated this could add around £700 million to the economy and sequester or displace one million tonnes of carbon dioxide each year.
Sarah Riddle, director of innovation and engagement at SAIC, said: "It is great to see the research team taking the development of a new plant-based feed to the next stages. There are opportunities here for new UK-based supply chains to emerge, reducing our reliance on imported ingredients and lessening the overall environmental footprint of aquaculture while increasing its economic contribution. It is also highly positive to see a company that is new to the aquaculture sector collaborating with world-class researchers and major producers to turn an innovative idea into a reality."
As Rare Earth Global points out, hemp as an industrial crop has many benefits including the avoidance of land use conflicts, benefits to soil health and land remediation, and as a crop is profitable within one year. The way in which Rare Earth grows it, for every ton of hemp harvested, 1.6 tonnes of CO2 has been sequestered for it to have reached the size at which its harvested.
SGV Take
While there is widespread understanding that one of the most powerful actions that individuals can take in terms of climate change is to cut down the amount of red meat they eat, there are still significant impacts associated with the feedstock for farmed salmon and chicken. By building up a sustainable biomass alternative to soy, not only will the team will providing a functional alternative but any part of the soy supply chain where demand is cut can only help address ongoing deforestation.