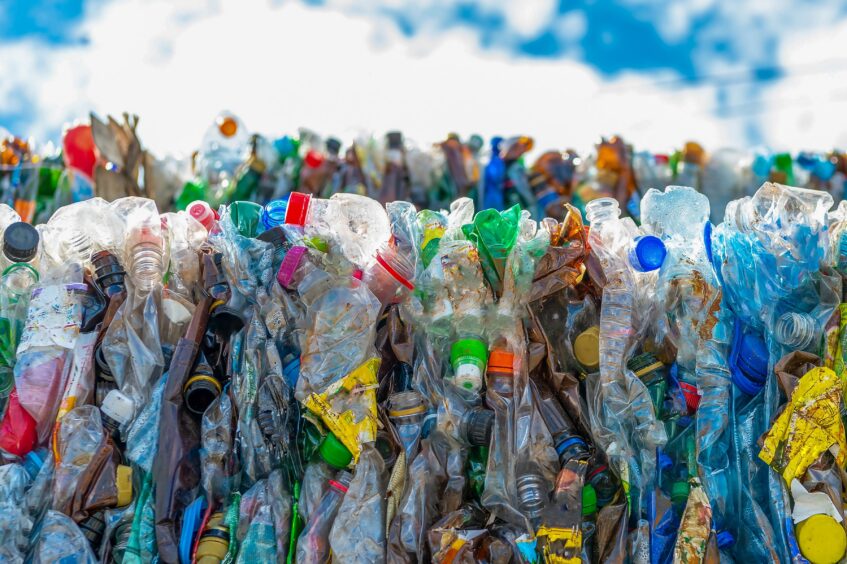 New research from Planet Tracker found that nearly half of plastics companies are failing to link performance incentives to sustainability goals. It says that means the plastics industry approach to sustainability is  'all wrapping and no substance'.
Non-profit financial think tank Planet Tracker analysed the pay performance of 39 leading plastic companies and found that despite nearly all being publicly committed to sustainability policies, there were insufficient pay-related incentives for 95%. 
With a new report that global plastic pollution is set to double by 2040 if business as usual continues, it becomes more urgent to implement powerful structural incentive for sustainability in the plastics industry.
The report calls on investors to uphold pay performance policies beyond solely financial metrics and include sustainability-linked parameters.
In its latest report 'Plastics – Executive Compensation' Planet Tracker explored  the pay-performance plans of 40 leading plastic players, including ExxonMobil (NYSE: XOM), Saudi Aramco (SR:2223), Costco (NASDAQ: COST) and Mars. 
It found that 41 % of the top 39  plastic companies in the world have no established links between ESG deliverables and pay, despite facing one of the longest risk registers of any sector. Moreover, only 5 % of the companies studied had 'sufficient' links (a quantitative link of above 10% compensation at risk) to incentivise significant executive performance for sustainability.
The report assessed companies in three segments of the plastic value chain: the upstream single-use plastic producers, the midstream containers and packaging converters and the downstream fast-moving consumer goods (FMCG) & food retailers. 
While all companies had sustainability policies with specific goals, only six showed links between sustainability and performance-based pay that are based on clearly disclosed quantitative targets reported annually: Seven & I Holdings (TSE:3382), Ahold Delhaize (ASE: AD), Coca-Cola (NYSE:KO), Unilever (LSE: ULVR), Philip Morris (NYSE: PM), and Exxon Mobil (NYSE: XOM). Only two had at least 10% of compensation tied to sustainability measures reported annually – Ahold Delhaize and Danone. 
There was also a geographic trend: all the European companies have a quantitative link between sustainability and performance-based compensation above 5%, while 33% of North American companies and 64% of companies in Asia and the Middle East have no established link. Additionally, more than half of companies did not set science-based targets.
This finding underscores a concerning gap in sustainability initiatives in the plastic industry, in line with a previous finding in the report 'Exposing plastic risk' by Planet Tracker, published in early 2023. The report studied 59 corporates spanning the entire plastic industry value chain and revealed that 83% of the documents analysed did not address any industry risks. Moreover, it appeared that top executives paid little attention to risk-related issues such as pollution and low levels of recycling and circularity.
Why should pay in the plastics industry be linked with ESG performance?
As one of the key environmental polluters in the world, the plastics industry's ESG and sustainability performance is of global significance and should be addressed in a structured matter – including on the question of incentivisation.  
Thalia Bofiliou, senior investment analyst in plastic at Planet Tracker said:  "To reduce the significant risks the plastic industry faces from CO2 emissions and microplastics to new regulations, investors can no longer afford to wave pay packages through that aren't linked to sustainability-related elements. It's also imperative that these are material and quantifiable, rather than minimal percentages of compensation or vague goals for the future."
Without any progress on sustainability efforts, major plastic companies could also be exposed to a risk of $20-100 billion in liabilities and litigation costs through legal action by the next decade. In January 2023, environmental law charity ClientEarth and partners took French conglomerate Danone to court over the harm related to its plastic use, asking it to assess and map its plastic footprint on environment, health, climate and human rights.
It is thus in investors' interests that sustainability is prioritised across the plastic industry value chain. The report finds that the top 25 independent shareholders including Vanguard, BlackRock, State Street, Capital Group and FMR, have $1.1 trillion invested in these companies and calls on them to promote the importance of setting  transparent targets on ways of managing plastic. These include ensuring:
Performance-linked pay is material:

companies should set a meaningful (10%+) percentage of compensation at risk based on sustainability performance.

Targets and results are independently verified:

companies should align with initiatives such as SBTi, which requires companies to set and disclose specific targets.

Targets are quantitative:

sustainability targets should be clear and quantitative, similar to profit targets.

Targets are annual as well as long-term: 

targets should be annual, rather than vague indications of direction of travel.

Sustainability targets are independent from financial targets:

targets should be independent of rather than subordinate to profitability targets.

Achievements are clearly disclosed: 

companies should disclose what has and has not been delivered, rather than reporting on direction of travel only.
The urgent need for a paradigm shift in global plastics
On 28th July 2023, the Earth marked its first ever 'Global Plastic Overshoot Day', the day that the Earth surpassed its global capacity to effectively manage plastic waste resulting in global environmental pollution, and plastic consumption is set to double by 2050.
A September 2023 report from Systemiq titled 'Towards Ending Plastic Pollution by 2040' projects that a business-as-usual scenario would double annual levels of mismanaged plastic to 205 million tonnes by 2040 from a 2019 baseline of 110 million tonnes. According to the report, plastic consumption will also rise to 712 million tonnes globally by 2040, from 430 million tonnes. 
Von Hernandez, global coordinator of Break Free From Plastic, a global movement of more than 12,000 organisations against plastic pollution said about the Systemiq report: "The report makes clear that existing private-sector commitments and public policies to limit plastic pollution are wholly inadequate and demonstrates that industry's expansion plans will produce even more staggering quantities of plastic pollution, greenhouse gas emissions, and irreversible damage to the ocean."
The Organisation for Economic Co-operation and Development has predicted that plastic production could triple by 2060 without progress in sustainability – and there is growing acceptance of the dangers of plastics to ecosystems and human health.
In March 2022, a  unanimous decision was reached by all 193 UN Member States to end plastic pollution. This agreement, underpinned by overwhelming global public support, resulted in an agreement to develop a Global Plastics Treaty . This is set to be agreed by by 2024, with the next round of negotiations due to take place in November 2023.
Solutions for the plastics industry
Setting targets to improve the plastics supply chain matters, but what's important is ensuring that the right actions are targeted and that incentives for behaviour that changes the market is in place.
Planet Tracker argues that companies should ensure that annual sustainability targets are clear and quantitative, and verified by independent initiatives such as SBTi, which requires companies to set and disclose specific targets. 
The plastics target should be set independent of financial or profitability targets and be set at a 'material' 10%+ percentage of executive compensation at risk, based on performance. In addition, companies should disclose achievements regarding ESG in detail, including what has not been delivered. 
Systemic suggests a set of 15 policies that address the four key pillars of:
reducing virgin plastic consumption and production;

eliminating avoidable and problematic plastics and chemicals;

expanding safe circularity through reusing, durability and recycling;

 controlled disposal of waste that cannot be safely recycled. 
The UN itself has provided guidance on how to address the plastics problem. In May 2023 it published its report Turning off the Tap: How the world can end plastic pollution and create a circular economy which identified a set of solutions aimed at slashing plastic pollution by 80% before 2040.
Since 2021, the concept of plastic credits (similar to the carbon offset credits traded in the voluntary carbon markets) has been gaining traction as an effective instrument to generate funding for plastic waste management systems around the world. In 2023, Verra launched its own Plastic Waste Reduction Standard this year, which now issues Waste Collection Credits and Waste Recycling Credits as well.
In April 2023, CDP also introduced a plastic-related disclosure in its new environmental disclosure platform for 2023, inviting companies to report on the production, consumption and disposal of different types of plastics across its production.  
There are a broad range of actions that can be taken – the concern is that without a focus on executive compensation, theses changes won't get the focus they need.
SGV TAKE 
In an industry built on fossil fuel usage and posing a threat of irreversible environmental pollution globally if business as usual continues, employees must be strongly encouraged to deliver on sustainability goals. 
Forming strong links between executive pay and ESG goals would form a robust and powerful incentive for executives to prioritise the company's performance in these areas, and must be implemented across the board, encouraged by investors.