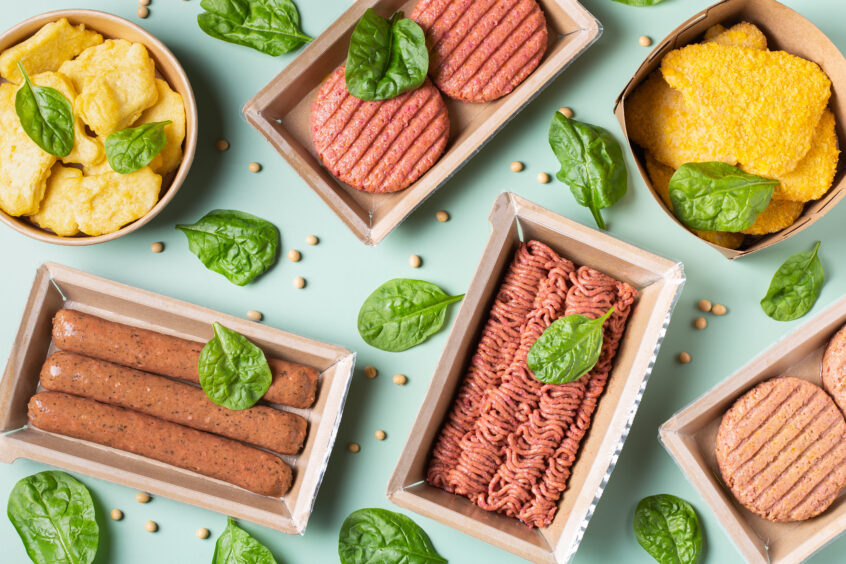 In this deep-dive explainer, we explore the diverse range of alternative proteins available and highlight the different pros and cons that each has to offer. 
Protein is a vital component of human nutrition, but our current dependence on meat and seafood cannot be sustained as the population continues to grow. 
There are several types of alternative protein, each with their own pros and cons. 
Businesses involved in the production or selling of food products ought to carefully consider the options available and their potential role in driving widespread dietary change. 
Protein is an essential component of any human diet, playing a critical role in various aspects of our health and wellbeing. It supports our growth and development, facilitates many of our bodily functions and processes, and strengthens our defences against harmful pathogens. In dire circumstances, when neither carbohydrates nor fats are available, our bodies turn protein into energy to keep us alive. 
Why do we need alternative proteins?
Currently, livestock farming accounts for just over a third of global protein supplies, with seafood consumption playing a similarly critical role in the fight for sufficient nutrition. Unfortunately, these conventional options come at an extraordinary cost to the planet while simultaneously being threatened by the impacts of climate change.  
Indeed, animal agriculture accounts for almost 60% of the total emissions generated during food production while also contributing to biodiversity loss, land-use conversion and various forms of pollution. At the same time, livestock farming is extremely vulnerable to rising temperatures, severe weather conditions and changing patterns of pestilence and disease. 
Seafood production, meanwhile, has led to the overexploitation of global fish stocks, reducing biodiversity and causing profound changes in the structure and function of marine ecosystems. These changes compromise the oceans' ability to deliver crucial natural services, such as carbon sequestration or nutrient cycling. Declining biodiversity has a vicious cyclical effect on the industry, reducing its future supplies. As temperatures continue to rise, marine heatwaves are further compounding these issues. 
Recognising the need for more sustainable options, a plethora of alternative proteins have begun to emerge. With the global population projected to reach up to 10.4 billion people by 2100, these solutions will be needed in order to provide sufficient nutrition for all. 
"Alternative proteins can play a crucial role in boosting food security, feeding the world's growing population far more efficiently than the current system," says Helen Breewood research and resource manager at the Good Food Institute's European division.  
"Plant-based, cultivated meat and fermentation-made foods can deliver the meat and dairy people want with a fraction of the climate emissions and land use, and reduce the risks of antimicrobial resistance linked to intensive animal agriculture. To realise these huge societal benefits, governments and businesses must invest in the R&D and infrastructure needed to ensure these foods are available." 
Types of alternative proteins
The different types of alternative proteins each come along with their own pros and cons. Here, we take a look at the various options.  
Some are widely available at a relatively affordable price, but their obvious difference in taste and texture may not appeal to consumers who enjoy conventional meat. Others are an exact replica of products already enjoyed, but may be limited by regulatory barriers or unviable costs.  
Straightforward plant-based alternatives 
The simplest and most common forms of alternative proteins are plant-based products such as whole foods, traditionally fermented ingredients, or items made by extracting the protein naturally found within plants. Examples could include nuts and legumes, tempeh or items containing pea or soy protein. 
Plant-based protein alternatives can be fairly cheap to produce, and can be commercialised without having to jump through regulatory hoops. Consumers are widely accustomed to these types of offerings, and their total exclusion of animal ingredients may be particularly appealing to those who dislike the meat-eating experience or choose to opt-out for religious or ethical reasons. 
Novel fermented solutions 
With the evolution of synthetic biology and novel fermentation techniques, alternative proteins can be produced by leveraging microbial organisms. Biomass fermentation uses the rapid reproduction of natural microbes to efficiently produce a larger volume of food, with the microbes being directly incorporated as an ingredient. This differs from precision fermentation, a technique involving the deliberate programming of microbes to produce specific functional ingredients such as flavouring agents, pigments or fats. 
These novel fermented solutions are often derived from yeast or mycelium, the fibrous root structure of mushrooms. As fungi, these feedstocks are not technically classed as plant-based, nor are they reliant on animals. They are still fully vegan, typically providing a more realistic meat alternative than their simpler counterparts. 
As new techniques and technologies come under development, the potential of fermented solutions continues to grow. Solar Foods, for example, has come up with a process through which microbes are fed on atmospheric gases to produce a versatile powder that adds protein to a wide range of traditional food products. 
Traditional products, grown in a lab 
For those who shudder at the slightest divergence in taste or texture, lab-grown products have emerged as a promising option. Also referred to as cultured or cultivated, these products are made by extracting small samples of living animal cells and feeding them with a mixture of nutrients, salts, vitamins and other components that stimulate growth. This growth medium helps the cells to reproduce, creating a cellular mass of meat or seafood with the same characteristics as would be provided by the animal from which the sample was taken. 
As they require no sacrifice of traditional food preferences, lab-grown proteins could play an important role in driving dietary changes. Given their continued reliance on living animals, both for initial cell samples and ingredients typically used in growth media, however, they will not live up to the ethical expectations of certain consumers. 
Furthermore, cultured products are somewhat further ahead than regulation allows. The novel technology is still to be approved in most major markets, though others are edging ahead. Even with permissions in place, producers may struggle to gain consumers' approval for what many consider an other-worldly approach. There is also some concern that lab cultivation may not be as sustainable as initial research suggests. 
Intriguing insect potential 
Once a niche delicacy consumed in a few select parts of the world, insect protein is beginning to gain global traction. Insects can be farmed with just a fraction of the resources required by conventional animal agriculture, not only because of their size but also due to their efficient conversion of feed into protein.
As well as their high protein content, they provide a rich nutritional profile of minerals, vitamins, fibres and fatty acids. Recent studies have found that they may also help in reducing cholesterol, and lowering the risk of cardiovascular issues and various associated conditions. 
The potential of insect protein is yet to be maximised, due to ambiguous regulations and the challenge of persuading consumers to try something new. As an easier route to market, companies involved in the space have tended to focus on pet food production or the creation of sustainable feeds for farmed fish and livestock. 
SGV TAKE
The range of alternative proteins continues to expand and diversify as new technologies enter into the market.  Businesses involved in the making or selling of food products should carefully consider the options available and their potential role in driving widespread dietary changes.