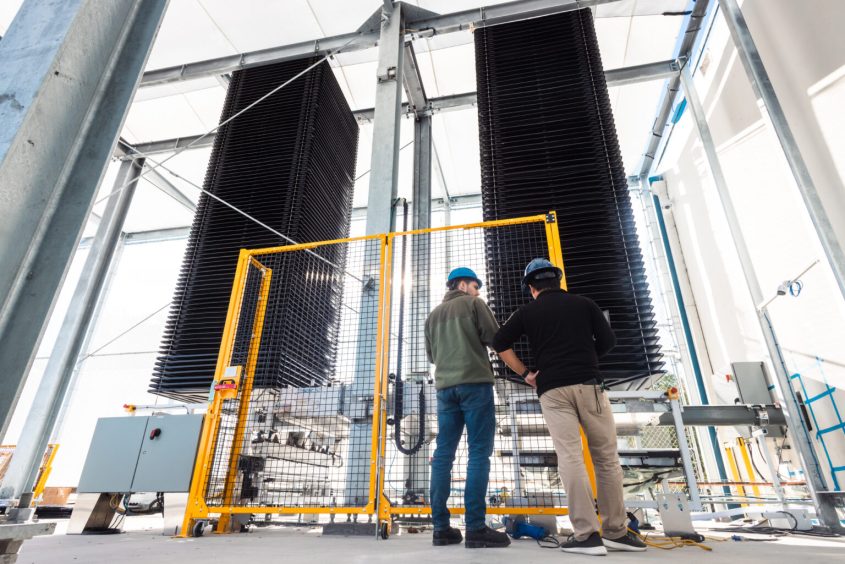 CarbonCure Technologies and Heirloom have joined forces to permanently store atmospheric CO2 captured by Heirloom's Direct Air Capture (DAC) technology in concrete using CarbonCure's carbon mineralisation technologies.
Cement is responsible for an estimated 7% of the world's carbon dioxide emissions and new construction adds 3.7 billion tonnes of CO2 to the atmosphere every year.
CO2 storage in cement could provide a useful tool both in emissions removal and in addressing the challenge of embodied carbon.
The built environment is in the throes of significant change and the use of low carbon concrete could be transformative in supply chain emissions management.
In February 2023, Heirloom, CarbonCure and concrete producer Central Concrete claimed to have made history by demonstrating for the first time the ability to capture CO2 from the atmosphere and permanently embed it in concrete. The CO2 was captured at Heirloom's DAC facility in Brisbane.
Using CarbonCure's Reclaimed Water Technology, that CO2 was permanently stored in concrete that was then supplied to construction projects across San Jose, California. Building on this success, the new agreement will see CarbonCure permanently store CO2 captured by Heirloom's DAC facilities in proximate concrete plants.
CarbonCure provides a proven, immediately available and verifiable concrete storage solution as Heirloom prepares to launch its first commercial facility. In addition to this agreement, Heirloom and CarbonCure are also working together following notification of selection by the Department of Energy for a DAC Hub project in Illinois.
"CarbonCure is very excited to collaborate with Heirloom, demonstrating the very near-term opportunity for carbon removal, not just this decade but over the next few months," said Robert Niven, chief executive of CarbonCure Technologies. "Ours is a climate solution that puts captured CO2 to good use, permanently storing it and using it to build greener homes, highways, high-rises and more."
CarbonCure licenses a suite of carbon mineralisation technologies to nearly 800 concrete plants across 35 countries. To date, the company said that its technologies have already been used to produce nearly 28 million cubic meters of lower-carbon concrete, saving about 290,000 metric tons of carbon dioxide, the equivalent of taking more than 64,000 gas-powered cars off the road for a year.
In April 2023, the company announced the launch of its own verified carbon units. These are based on the idea that it ensures the permanent storage of carbon dioxide in concrete, with the advantages of concrete's global scale, active deployment and massive storage capacity, use CO2 as a value-added product rather than simply burying it underground as waste. Since then the company has raised $80 million to drive development.
The importance of CO2 removal
The latest update to the United Nations' Intergovernmental Panel on Climate Change (IPCC), the Sixth Assessment Report Climate Change 2022: Mitigation of Climate Change included research calling carbon dioxide removal and carbon capture, use and storage as crucial climate solutions alongside the adoption of renewable energy and other decarbonisation strategies.
Even the most aggressive emissions reduction projections from the IPCC will require the removal of 6-10 billion tons of CO2 per year by 2050 to stick to a 1.5˚C warming pathway. According to the International Energy Agency, in 2021 only 36 billion tonnes were removed. New technologies such as the one offered by CarbonCure are going to be in increasingly high demand if they can be delivered at scale.
"The urgency of deploying and scaling removal technologies becomes more clear with each temperature record that is broken," said Shashank Samala, chief executive of Heirloom. "Working with CarbonCure opens an immediately-available, permanent storage pathway that will allow Heirloom to continue scaling our technology today. Being able to immediately move forward with real-world deployments that permanently sequester CO2 will be invaluable as we race to meet the urgency that climate change requires."
Perhaps the most important issue, however, is buildings, as the supply chain involved in delivering the built environment is under increasing pressure to address emissions. With global building stock expected to double by 2060 – the equivalent of building another New York City every month – addressing embodied carbon will play a central role.
Embodied carbon refers to the emissions associated with the materials and processes involved in the development of the built environment. Buildings already accounted for 30% of global energy consumption in 2021. In turn, buildings then account for 27% of total greenhouse gas (GHG) emissions from the energy sector.
When factoring in the 6% carbon footprint of the cement, steel and aluminium used in building construction, the sector's total contribution to global GHG emissions rises to almost a third of total energy and process-related emissions. Concrete that stores carbon presents an important opportunity to store immense quantities of carbon dioxide in our built environment.
SGV TAKE
The passive carbonisation process means that concrete structures can, using the right processes, act as a carbon sink for atmospheric CO2. The CarbonCure process locks away CO2 for centuries, ensuring it will not be returned to the atmosphere, even if the concrete is demolished.
The potential for changing ever-increasing global infrastructure development, even if only to a small degree, from a source of emissions to a sink, could provide a significant contribution to reducing the emissions footprint of the built environment. As such technologies become commercial and scale up, developers, infrastructure and real estate investors are going to need to rethink their approach to net zero.