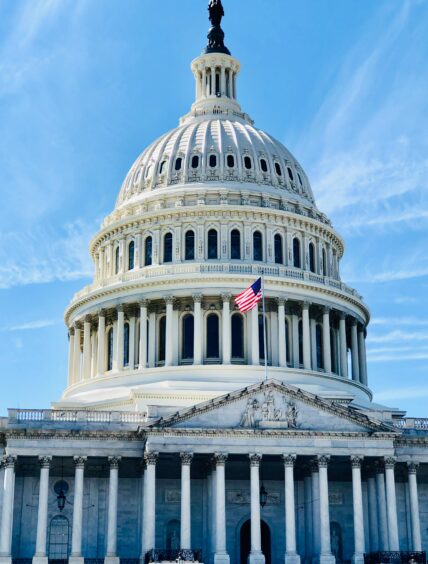 Climate-related disasters ranging from floods to wildfires are driving increasing costs across the US. For some extreme weather events, such as Hurricane Idalia and the fires in Hawai'i, the full cost is not yet completely known. Such disasters are accelerating, highlighting the need for urgent action.
The total cost of climate-related disasters in the US has already reached over $75 billion and hundreds of lives.
To date, 2023 has seen 25 climate disasters costing over one billion dollars, which is one every three weeks.
While the issues around climate change have become politicised, the mere economics of these extreme weather events demands action.
The Fifth National Climate Assessment (NCA5) warns of the increased cost of climate change. It is an annual report evaluating climate impacts across 10 US regions and a wide range of interests, including water, forests and ecosystems, coasts and oceans, agriculture and rural communities, the built environment, energy and transportation, health and air quality, and economic and social systems.
In addition, the new NCA Atlas allows users to explore localised climate projections to inform resilience, adaptation, and mitigation efforts in their communities. The NCA5 is considered the most up-to-date and comprehensive assessment of climate change in the US, providing authoritative, decision-relevant information on how people across the country are experiencing climate change, the risks being faced now and in the future, and actions underway to reduce greenhouse gas emissions and build resilience.
US climate costs are rising
According to the report, the US has already been hit with over $75 billion in climate-related impacts, and the total cost of some incidents has not yet been finalised. The rate at which such disasters occur is also increasing: the National Oceanic and Atmospheric Administration (NOAA) warned that 2023 has seen an incident on an average of every three weeks, against once every four months when records first began.
NOAA Administrator Rick Spinrad said: "The report details the far-reaching effects of human-caused climate change on the U.S. and concludes that every additional increment of warming that we avoid — every action to reduce warming — matters for reducing harmful impacts. This report with its strong emphasis on mitigation and adaptation can empower the nation to scale up these efforts as the Biden-Harris Administration accelerates the reduction of greenhouse emissions to limit devastating climate impacts."
Understanding the level of climate risk matters to the economy
Understanding the cost of extreme weather events plays a critical role in estimating financial impact. As events become more extreme and more regular, there is growing concern that some weather-related risks will become uninsurable. At the same time, it's important to understand the implications of the costs associated with extreme weather events, as that may shift the needle in terms of balancing trade-offs between short-term and long-term risks.
According to the NOAA National Centers for Environmental Information, between 2016 and 2022, 122 separate billion-dollar disasters have killed at least 5,000 people and cost more than $1 trillion in damage. In addition, the cost has been over $100 billion in five of the last six years (2017-2022 with 2019 being the exception). One of the drivers of this cost is that the US has been impacted by landfalling Category 4 or 5 hurricanes in the period, including Hurricanes Harvey, Irma, Maria, Michael, Laura, Ida, and Ian.
Climate change as a risk multiplier
Climate disasters that occur in one region of the US can have cascading or compounding effects in other regions. For example, wildfires in a certain area can worsen air quality and health elsewhere. When hazards occur in different regions but at the same time, such as the simultaneous megafires that burned across multiple western states and record back-to-back Atlantic hurricanes in 2020, they can put unprecedented demand on federal emergency response resources.
Climate change also interacts with other stressors, such as the Covid-19 pandemic and social inequities, which can multiply harm and further increase demand for resources that are needed when responding to disasters. This is particularly true for overburdened and poorer communities – often communities of colour which have been heavily impacted by extreme weather events and had the least access to restoration.
The US is also exposed to global climate risk
The report warns that such interactions can lead to cascading impacts that cross state and national borders. For example, both gradual changes in average climate conditions (such as shifts in temperature and precipitation) and extreme events (such as floods, droughts, and wildfires) can shock the global food supply chain and lead to food insecurity, geopolitical instability, and mass migration. These cascading and compounding impacts affect people's well-being, the economy, and US national security.
In 2022 alone, the 10 most expensive weather events cost more than $3 billion apiece. More than 600 people were killed by floods in West Africa, while around 36 million people were affected by drought on the continent's Horn. A cyclone in Bangladesh resulted in the displacement of one million residents, and more than 200 people met their deaths due to floods in Brazil.
Such disasters are now affecting the Global North as well as the South. Europe has been devastated by heatwaves and wildfires, while the US has been hit by disaster after disaster. Over the course of a single year, almost 500 people were killed by extreme weather events while the nation's economy suffered losses of around $165 billion in total.
Technologies exist to mitigate this risk today
The report said that rapidly reducing greenhouse gas emissions and accelerating adaptation can limit further warming and protect lives and property from many climate risks. In coordination with the release of the report, President Biden announced more than $6 billion through the Investing in America agenda to make communities across the country more resilient to climate change.
The Union of Concerned Scientists released its own report Accelerating Clean Energy Ambition, where it analysed four scenarios for changing the US energy system, including two 'Net Zero' scenarios for decarbonising the US economy by 2050, as well as two reference cases with and without the Inflation Reduction Act and Infrastructure Investment and Jobs Act.
By rapidly phasing out fossil fuels and transitioning to clean energy, the report said the United States can meet its climate targets with lower near-term energy costs and only modest long-term costs. It also found enormous economic, health, and climate benefits to transforming the energy system – including more than $800 billion in annual public health savings, and nearly $1.3 trillion in avoided climate damages by 2050.
SGV TAKE
There are serious barriers to taking effective action in the US, not least of which is the polarisation of the political discourse around action. It is to hoped that a better understanding of the impacts, and the potential for the economy and human life, will drive further focus on developing an effective response.
As the costs of natural disasters continue to rise, investment to address climate change is going to drive new climate technologies. Businesses will be searching for new ways to protect their assets while government agencies scramble to maintain vital infrastructure and preserve the lives and homes of their local communities.