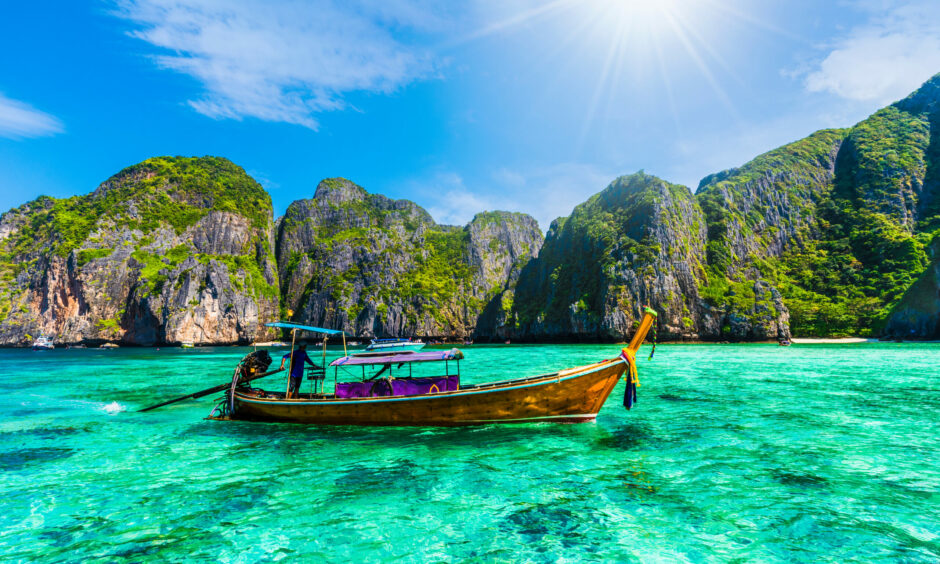 The Tourism Authority of Thailand (TAT) has partnered with real estate group Asset World Corporation (AWC) to establish a framework in support of the country's position as a global sustainable tourism destination. 
TAT is developing a new framework to include environmental criteria within its 'Amazing Thailand Safety & Health Administration certification', which will be met by each of AWC's properties (SET:AWC).

 

The tourism industry is often associated with environmental damage but, when effectively managed, it can offer a range of social, economic and ecological benefits.

 

Thailand's efforts could serve as an early example of how the tourism sector can recover from the COVID-19 pandemic to offer long-term, sustainable development opportunities.

 
The Tourism Authority of Thailand is developing a framework to include sustainability criteria within its existing 'Amazing Thailand Safety & Health Administration' (SHA) standard. Under the partnership agreement, AWC has committed to bringing all of its properties in line with the new programme. The real estate firm has also announced the launch of its latest sustainability strategy, which will further contribute to Thailand's sustainable tourism ambitions. 
Wallapa Traisorat, chief executive and president of AWC, said: "We believe that the cooperation from all sectors can contribute and drive Thailand to become a global sustainable tourism destination. AWC has cooperated with TAT, our government partner, which is an important part in driving and being a center for all entrepreneurs to build sustainable value in tourism together."   
"TAT recognizes the importance of enhancing the Thai tourism industry's sustainable growth in the long term, which is in line with modern sustainable tourism", adds TAT governor Yuthasak Supasorn. 
The Amazing Thailand Safety & Health Administration standard
The Tourism Authority of Thailand launched its Amazing Thailand Safety and Health Administration standard in 2020, in collaboration with Thailand's Ministry of Public Health. The programme was initially created to improve the health and safety standards of the domestic tourism industry, as a means to ensure visitors' trust in the wake of the COVID-19 pandemic.  
The programme provided certification to business owners and operators that adopted sector-specific measures to prevent the virus's transmission and monitor any outbreaks. TAT now plans to expand the criteria of its SHA scheme to include criteria that align with the UN Sustainable Development Goals (SDGs).  
In doing so, it aims to encourage local businesses and entrepreneurs to engage in innovative strategies that will position Thailand as a global sustainable tourism destination in accordance with an internationally recognised agenda. 
Asset World Corporation's sustainability strategy
AWC'S current portfolio comprises 19 hospitality businesses, nine retail stores, four commercial properties and two wholesale businesses. As part of its collaboration with the Tourism Authority of Thailand, the real estate group will align each of these properties, as well as future developments, with the new SHA standards. 
The firm will also encourage its private sector partners to follow suit. These partners include major financial institutions and international hotel chains including Marriott (NASDAQ:MAR), Hilton (NYSE:HLT) and IHG (LSE:IHG). 
In addition to these commitments under its agreement with TAT, AWC has announced its launch of a new sustainability framework. The strategy is based on three core pillars, with provisions for the planet, people and prosperity. Its future projects, including the 15 buildings currently in its pipeline, will be developed in accordance with this strategy, as well as with TAT's SHA programme. 
Continuing Thailand's recovery from COVID-19
In recent decades, Thailand's economy has been heavily reliant on international tourism. In 2019, the travel and tourism industry accounted for $117.5 billion of the country's gross domestic product (GDP), with 36 million jobs having been created since 2014. 
The COVID-19 pandemic, however, brought this industry to a standstill. The record-breaking 40 million visitors in 2019 suddenly fell to zero, costing the country an estimated $47 billion in 2020 alone. 
Since then, Thailand has introduced several measures to stimulate its tourism industry. It began by offering a range of subsidies to encourage domestic travel before introducing its 'Phuket Sandbox' scheme to offer international travellers a network of trustworthy, SHA-certified destinations. 
Through these efforts, the Thai tourism industry has gradually recovered. As of 30 October, the country has hosted seven million incoming visitors in 2022, nearing its target of 10 million within the year. 
Thailand's sustainable tourism initiatives
In addition to its fiscal and health policies, Thailand has implemented a number of initiatives to ensure the sustainability of its tourism industry. In April 2022, for example, it announced a ban on single-use plastics within its national parks.  
In terms of social sustainability, the Tourism Authority of Thailand has partnered with the Thai Chamber of Commerce to pilot its 'Happy Model' project in five Thai provinces. The project aims to develop a tourism model that empowers individual communities with a unique identity, connected by private-sector networks and engaging local citizens in entrepreneurial opportunities. 
Can tourism be sustainable?
The tourism industry does not come without cost. Prior to the pandemic, tourism was estimated to account for around 8% of global CO2 emissions, while also contributing to biodiversity loss and social exclusion.
Tourism, deforestation and disruption of local ecosystems
The development of tourist-focused hubs and services often sees the rapid development of infrastructure and facilities, which can lead to deforestation, wetland drainage or other land-use change that disrupts local ecosystems.
Overcrowding can also cause degradation that further impacts the environment, particularly in fragile ecological zones such as coastal areas or mountains. Mainstream tourism is also associated with littering and water pollution, often in areas where clean-up efforts can be logistically complex. This destruction of nature is a contradiction within the industry, as it often disrupts the very thing that attracts visitors.
Tourism's effect on local communities
On the social side, tourism can contribute to resource depletion which leaves few supplies available for local communities. When the main operators are international conglomerates, any livelihoods that could be strengthened by tourism are at risk of being crowded out or exploited. 
Benefits of tourism
When managed effectively, however, tourism can have several benefits. Local businesses can increase their revenues while offering employment to surrounding communities.
Tourism can be an alternative to more ecologically damaging industries such as mining or logging, and provides an incentive to invest in conserving the ecosystems it depends on. There have also been successful attempts at combining conservation with tourism.
As such, tourism can bring economic, environmental and social benefits, covering each of the three dimensions of sustainable development. Indeed, the establishment of sustainable tourism is specifically mentioned in the targets of two of the UN SDGs.  
Moving towards sustainable tourism
As devastating as the COVID-19 pandemic was to the global tourism industry, it also provides a key opportunity to rebuild the sector in a more sustainable way.  
There is clear support for this idea, with several initiatives underway. COP26 saw the launch of The Glasgow Declaration, a coordinated sustainability strategy for the tourism industry that has now been signed by over 450 organisations.
G20 Tourism Ministers have broadly accepted the recommendations of the UN World Tourism Organization's One Planet Vision which calls for a responsible recovery of the tourism industry that is founded on sustainability. 
The One Planet Vision recognises the need to balance social, environmental and economic factors, to ensure a just transition that delivers decent work, social inclusion, poverty reduction and the delivery of a climate-resilient economy that simultaneously delivers on biodiversity goals. 
Such a systemic approach acknowledges the complex interplay between natural capital and socio-economic considerations, and will undoubtedly be crucial in ensuring that industries like tourism remain sustainable in the long term. Indeed, the UN itself has publicly stated that systems thinking will be vital in supporting global efforts to achieve the SDGs. 
Although the outcomes of Thailand's latest efforts remain to be seen, it appears to be providing an early example of how a holistic approach to the recovery of the tourism industry could deliver a plethora of social, economic and environmental benefits.