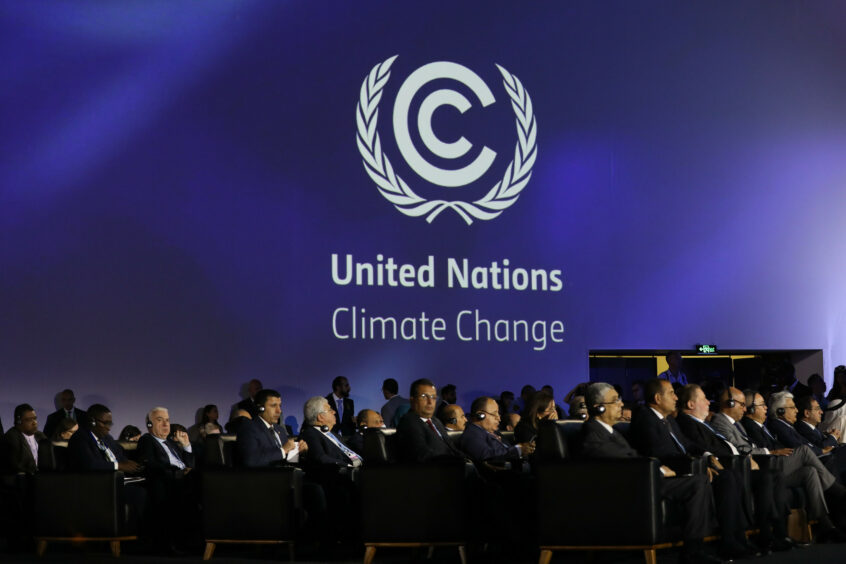 There is global consensus on the need to target 1.5°, despite UN warnings that there is no credible pathway to achieve that goal. The challenge facing COP27 is the lack of agreement on how to get there.
Emissions are increasing and the world is moving away from 1.5°
UN Secretary General Antonio Guterres made it clear in his speech that the rapid increase in fossil fuel use is heading the world in the wrong direction. He said that the world was on the 'highway to hell with its foot on the accelerator'. The science may say that there is no room for new fossil fuels in a pathway to 1.5°, but policymakers and fuel-exporting countries are simply not prepared to discuss that as an option.
Extreme weather events including floods in China, Pakistan and Europe, as well as wildfires in the US and Australia, are proving fatal. Such events are likely to continue to accelerate. In Kenya, the worst drought in four decades is killing wildlife and people, and destroying ecosystems. Financial compensation for loss and damage has finally been added to the negotiation agenda, yet consensus on how or when to act seems further away than ever.
Divergent ideas about how to reach the climate goals is clear
The Egyptian presidency has made implementation the central goal of COP27. While many have expressed concern that this will distract from increasing climate ambition, statements from the first day of the World Leader's Summit suggest that even agreeing on an implementation pathway is going to be a problem.
There are three divergent approaches that have been set out at this year's COP, and it's difficult to see where compromise might be achieved.
Developing nations are adamant that they want to see developed countries step up to the plate and honour their financial commitments on climate finance. They also want to see strong and swift action on adaptation – that's even before we get to the point of discussing loss and damage. Mia Mottley, prime minister of Barbados, had a range of suggestions as to how funds could be raised: these ranged from new ways of using IMF reserves through Special Drawing Rights (SDRs) to getting said the oil and gas sector to pay for climate damages.
Fossil fuel nations are focused on the just transition and the need to allow for development using the same pathways as the developed world did historically. Mohammed bin Zayed, the ruler of the United Arab Emirates talked up how the UAE's gas is the least 'carbon intensive', the most 'sustainable' in the world, again opening up the question of how sustainability should be defined.
While Saudi Arabia did commit to making its sovereign wealth fund net zero by 2050, the billions being generated today from the sale of oil are accelerating its trajectory in the wrong direction. The King of Jordan made clear, however, that a greener economy must provide space for economic growth.  Freely translated, that means allowing for the continued exploitation of oil and gas in a bid to grow its economy.
For the developed world, the moral authority on calling for action has been sapped by the responses to the Ukraine war. The billions spent on fossil fuels and the reopening of coal have left them looking like hypocrites. Even the attempts to replace Russian oil and gas with African supplies could be seen as yet further exploitation of the continent. The majority of developments in Africa are for the export markets, not for the benefit of its own people, many of whom lack basic access to electricity. While France's President Macron can call on the US and China to perform on their finance commitments, he cannot make them do it.
Although there are strong messages emerging from side events at the COP – including demands from civil society, collaborative attempts to find new ways of addressing the climate challenge – in the end, it looks as if the next two weeks are going to be a battle over the perennial concern of states: power and money.
When implementation is required, commitments seem to fall away
While the final reckoning is still some time away, the opening statements of the COP have raised concerns amongst many delegates. The demands of actually fulfilling the detailed implementation of commitments could well cause some parties to back off.
This year has seen such behaviour going beyond state commitments. While it has been officially denied, there has been a great deal of talk about members of the Glasgow Financial Alliance for Net Zero (GFANZ) pulling out. This was in part driven by concerns about US political responses to climate action and the use of an ESG investment lens, but two parties did in fact pull out citing the complexity of reporting and the lack of resources to comply.
The fact that GFANZ then announced that members were 'encouraged' and not required to sign up for the UN Race to Zero targets soon after it was announced they would be strengthened, did not look good. In another forum, news of the launch of the Forest and Climate Leaders Partnership (built on the COP26 Glasgow Pledge) was welcomed.
Zac Goldsmith said on Monday that the COP26 Pledge package was worth 10% of the pathway to net zero. The COP27 announcement, however, only highlighted the countries that didn't sign up. Brazil, China, the Republic of Congo and Peru, which represent half the world's forests, were not parties to the agreement.
Transparency and credibility are key
While state governments continue to clarify their positions, one highly anticipated announcement is expected on Tuesday, from the UN High Level Export Group on the Net Zero Commitments of Non-State Entities. This will be a report on corporate net zero commitments, and where and how such commitments should be turned into action.
This is especially timely given Accenture's (NYSE:ACN) recent analysis of such commitments. It said that while more than one-third (34%) of the world's largest companies are now committed to net zero, nearly all (93%) will fail to achieve their goals if they don't at least double the pace of emissions reduction by 2030.
The geopolitical and economic backdrop is resulting in growing energy price inflation and supply insecurity, which are pushing climate commitments out of reach. This is despite the fact that increasing numbers of companies in every region are setting clear and publicly visible decarbonisation goals, with a record rise in the number of corporate targets validated by the Science-Based Targets initiative (SBTi) this year alone.
Only 7% of companies are understood to be on track to achieve their net zero targets for scope 1 and 2 emissions at the observed rates of change. Moving targets to 2050 increases that share just slightly, to a mere 8%. Even in a scenario where companies accelerate emissions reduction to twice the current rates in the years to 2030 and then three times after – 59% would still fail by 2050; the deadline deemed necessary to avert the most catastrophic and irreversible impacts of climate change.
Companies will do their best but in the end, it is up to policymakers to set the enabling frameworks that change the way in which businesses operate, in which value is assigned. That means countries must find a way forward that ensures that all business is operating on a level playing field that prioritises climate action. Sustainable growth is possible, given the cost-cutting potential of actions such as increasing renewable energy, efficiency and closed-loop manufacturing.
What is standing out most clearly in these early days of COP is that, while there is agreement that commitments are no longer enough and that action must be taken, that action must be visible, transparent, credible and able to make a difference. The prevailing issue is that no one at the state level can agree on what that should look like.